Digital signage, when used effectively, can be a powerful weapon for capturing the hearts and minds of consumers during their shopping experience. Many merchants now use digital signage to promote bargains, content, and other offerings throughout their networks. The misuse of digital signage, on the other hand, can irritate customers, leading to complaints about obtrusive digital signage ads or obnoxious pop-ups on digital screens.
Frustrations with overloaded digital billboards aren't new, as businesses have struggled for years with the best way to use these powerful tools. In this article, we'll look at the dos and don'ts of digital signage, what makes a good in-store digital experience, and how to engage customers with digital signage.
DON'T: USE DIGITAL AS A STATIC BILLBOARD
In-store digital experiences are frequently under-utilized. With their numerous applications, deploying digital screens and content systems as static billboards is a costly waste of potential. The reality is that digital signage must be used in a way that is meaningful to the consumer if it is to be implemented. Because static images do not resonate with the customer, quick animations and movement are essential for interacting with your audience.
DO: HYPER-PERSONALIZE CONTENT FOR THE RIGHT AUDIENCE
A key approach for implementing the ideal digital strategy in your retail environment is to guarantee that digital content is hyper-personalized and hyper-localized for your target audience. While developing a basic digital strategy will aid in the development of a generic presence, the key to connecting with customers on a deeper level is to connect with their requirements.
Flow, a Caribbean telecom, used hyperlocalization of information in its digital strategy to persuade customers to interact with both its products and its brand on a deeper level. Rather than developing universal material, the brand had unique templates remotely supplied to individual stores. This bespoke content covers everything from localized specials and offers to local trends and events. Instead of another cookie-cutter digital strategy, the result was a significantly more engaging consumer experience — one that felt personable and understanding.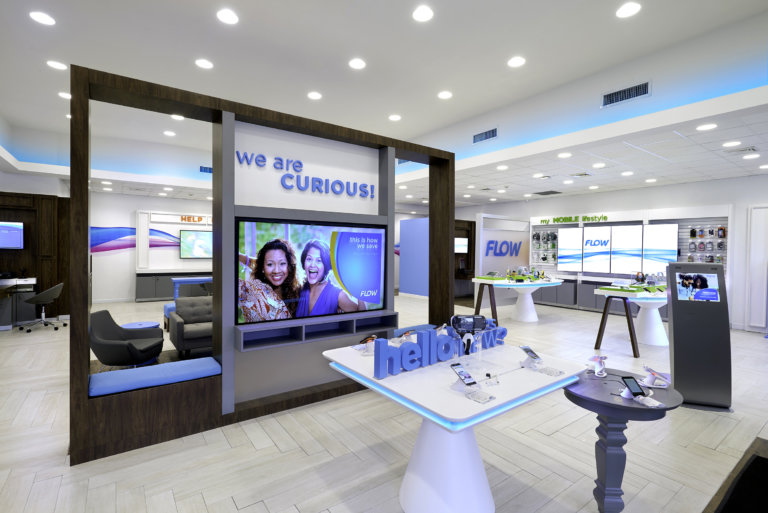 Image Source: SLD
DON'T: CREATE CONTENT THAT DOESN'T INSPIRE
When considering the role of digital material within the store, it should be utilized to inspire customers rather than directly push offers or sell things. Too frequently, digital is viewed as a channel for marketing rather than a source of inspiration. Customers are bombarded with sales messages and incentives, which are typically supplied through digital channels, thus the desire to be inspired is high and must be met in the retail experience. Annoying content loops on digital signage do not motivate customers but rather generate annoyance.
DO: CREATE INSPIRING, INTEGRATED DIGITAL EXPERIENCES
Digital signage does not have to be a screen that flashes a few generic phrases. In reality, technology is most effective when it is incorporated into in-store interactions that constitute a part of an excellent customer experience. Digital, when integrated into points of sale or product displays, can have a long-lasting and beneficial impact on the customer.
When the Toronto Blue Jays remodeled their Eaton Center store, they included a revamped digital approach that was visible throughout the store. The use of digital to create an immersive experience, from entry all the way to checkout, was one way that digital created an experience rather than a sale.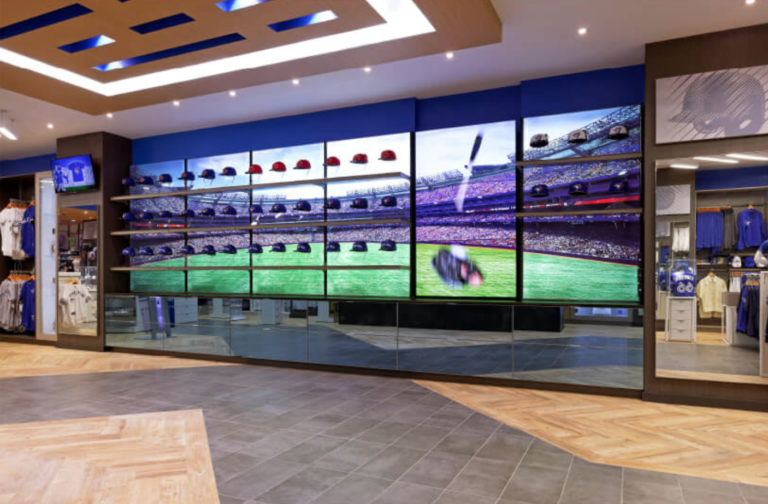 Image Source: SLD
Digital was employed as part of a broader production in this case to generate thrilling animations that engrossed the customer in the experience. Potential consumers passing by the store were met by a giant sign in the entranceway that used video behind a large graphic to create an intriguing entranceway. When you first walk in, an entire piece of the wall is digital, with the Blue Jays stadium in the background and one panel strategically placed as the "experience maker." This single panel was in charge of displaying various content, ranging from different players in "action shots" to highlighting the distinctive attributes of the certified authentic baseball hats. Finally, the store had digital screens that displayed statistics, facts, and other information about the players and team for the year.
In the instance of the Blue Jays, digital signage established an ecosystem of material that resulted in a customer experience. Immersion is a significant feature of digital signage, and establishing an immersive experience within a retail site can improve consumer experiences.
DON'T: CREATE IRRELEVANT CONTENT
Nothing is more frustrating than being delighted to connect with anything digital, such as a movie, video, or program, only to be presented with an advertisement for something completely unrelated to your interests and purchase activity. Customers are rightfully outraged and irritated. Some customers complain about too many advertisements on digital screens, but many others have problems with useless digital information.
DO: ENSURE RELEVANCY IN THE CONTENT DISPLAYED
Creating relevant material that may be exhibited in the retail experience is a strategy to ensure that customers are truly engaged with your business. The remodeled Boston Pizza restaurant in downtown Toronto is an excellent example. This site, which was identified as a hub for not just families but also sports fans, guaranteed that digital was introduced throughout the restaurant with references and scoresheets of the local teams. The Maple Leafs, Raptors, Blue Jays, and other local teams were proudly shown with live news and score updates. These enable customers to enjoy a meal or a drink at the bar while keeping up with their favorite teams, making the restaurant a destination for fans.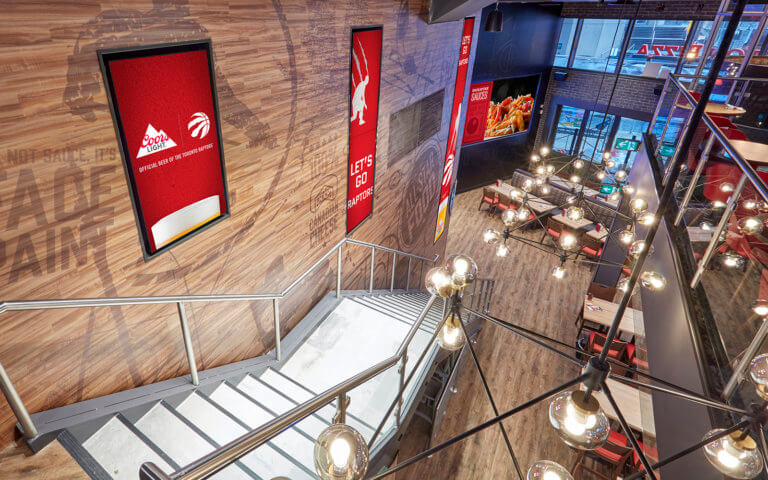 Image Source: SLD
CONCLUSION
When used incorrectly, digital signage may negatively impact customer experiences. They may complain about content loops, unwanted ads, unpleasant pop-ups, obtrusive digital displays, and unnecessary content. When applied appropriately, however, the opposite is true. Digital signage can be a strong tool since it increases consumer engagement, enhances the retail experience, and immerses the customer in a unique in-store experience. Retailers should design store experiences with a proper, potentially low-cost digital strategy in mind to fully realize its potential as a customer magnet, which will most likely increase customer engagement and sales with the brand.