With the introduction of digital displays and, more importantly, the limitless possibilities of digital signage content designs, signage has entered the technological era. Any screen that a company can use to display any type of content, such as public information, internal content for employees, product and service offerings to customers, and promotions driving brand awareness, is referred to as digital or electronic signage.
Electronic signage has the unique ability to change content instantly, allowing it to connect with customers on a more personal level, which can be an overlooked aspect of the experience and overarching content marketing strategy. According to studies, effective digital display systems can increase sales; however, how can businesses use digital signage to strengthen community bonds? This blog looks at how businesses can and have used digital signage solutions to leave a lasting impression on their customers.
Local Community, Local Content
Store by store, digital signage allows you to tailor branded content to your local audience. You can welcome customers from a specific city or town into a place that feels familiar by placing discreet signage in locations where they frequently visit. Content design for digital signage is critical for developing customer relationships, as Boston Pizza has done with its flagship Toronto location.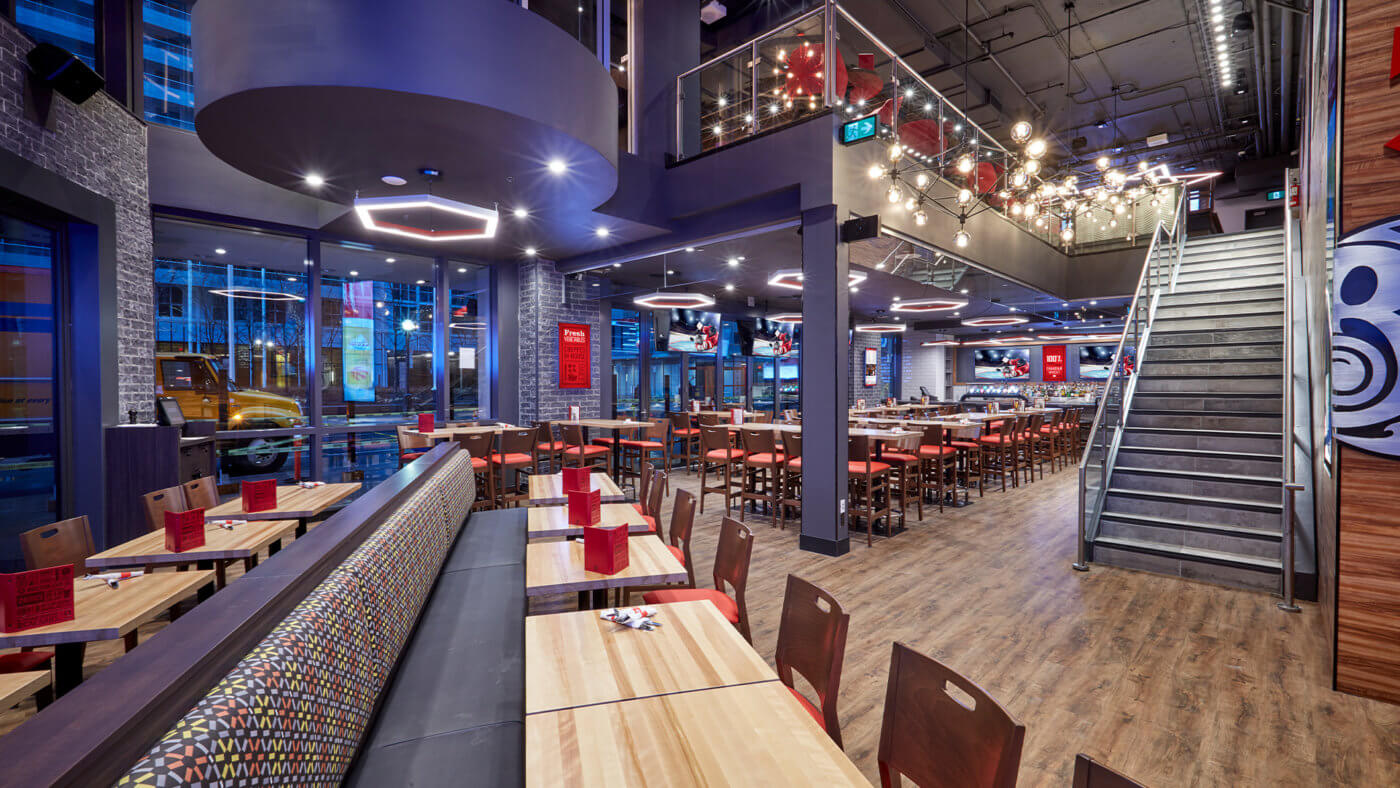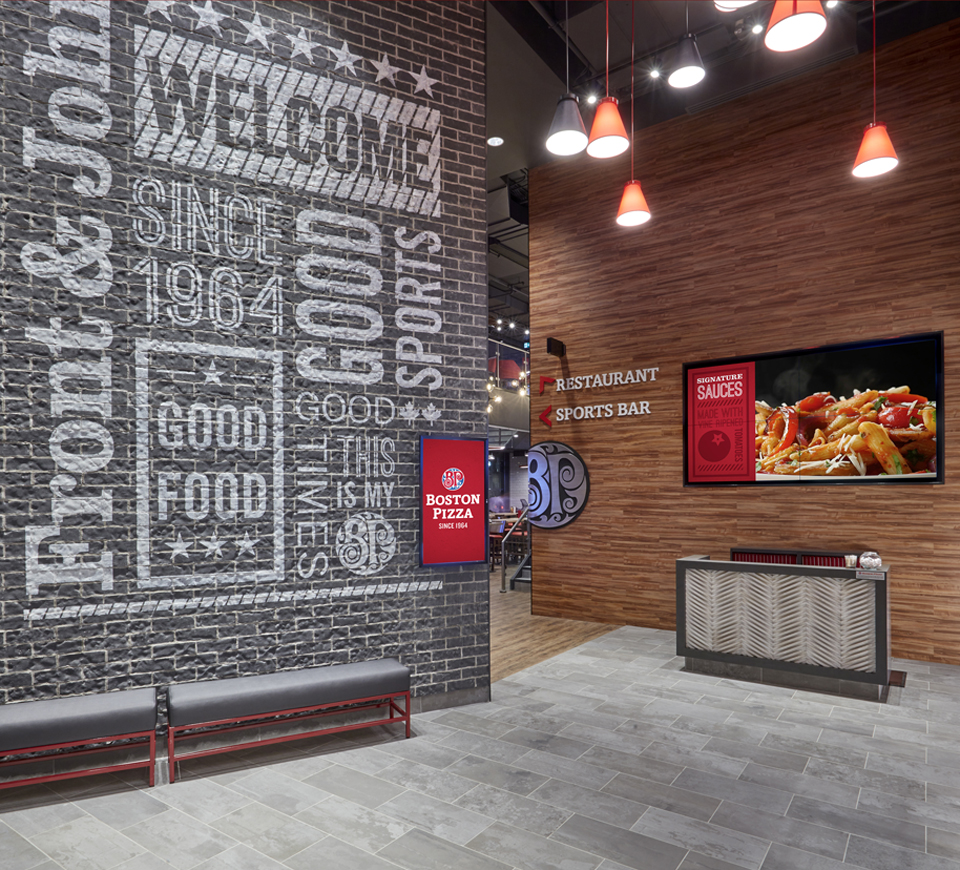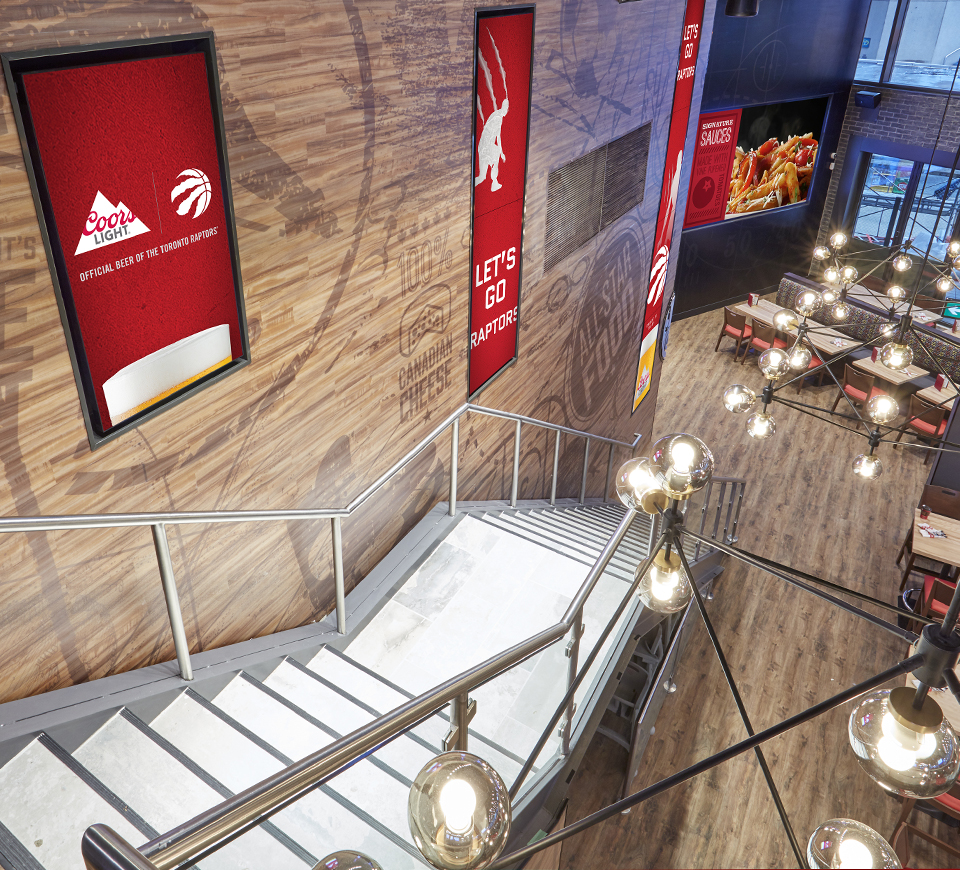 Boston Pizza took advantage of the opportunity to implement effective digital signage solutions by utilizing local sports teams. They discovered that their brand was appealing to both local sports teams and fans. As a result, they incorporated digital content centered on major franchises such as the Toronto Maple Leafs, Raptors, and Blue Jays throughout the location, truly delivering on the fan experience.
Along with the local sports teams displayed at all times, welcoming signage with identifiable local landmarks such as the CN Tower welcoming customers to "the 6ix" created an atmosphere that felt like home in a national chain, with digital signage further enhancing the customer experience.
Immersing The Fan With Digital Signage Content
Another opportunity to connect locally with customers was seen with the redesigned Toronto Blue Jays store at the Eaton Center. The store had to be the hub for Blue Jays fans outside of Rogers Center, and the redesign saw this achieved with digital signage to immerse the customer in the fan experience.

The digital experience began at the entrance, with the main wall displaying all of the Blue Jays' championships against a digital backdrop, luring customers in. When fans enter, they are greeted by a massive hat wall that is fully supported by customizable digital signage. Customers were given reasons to buy specific items supported by their local team through images of players, product offerings, and features, as well as promotional messages.
Localization was enhanced with digital signage near the back end of the store that supported jersey customization, allowing fans to get the ultimate experience by personalizing a jersey of their choice, an important aspect of retail customer experiences. The customized jersey was then fully visualized for the customer on the digital kiosk, which was backed up by digital messaging on the wall behind the kiosk. The Blue Jays store experience was designed with locals in mind, and it was supported by various elements of digital signage installed throughout the store.
Another example of brands immersing fans through localized content is sporting tournaments. FOX News, the official broadcaster of the 2015 FIFA Women's World Cup, had placed signage outside the Los Angeles Entertainment Complex promoting the start of the tournament for the American women's team. Using full digital displays with localized messaging, as well as a countdown to their first tournament game, the strategy was to inspire locals to get invested in the team. The weather in Los Angeles would even be matched in the videos, as if the team was right there with the fans. The messaging inspired locals to cheer on their team, and the women's team went on to win the championship.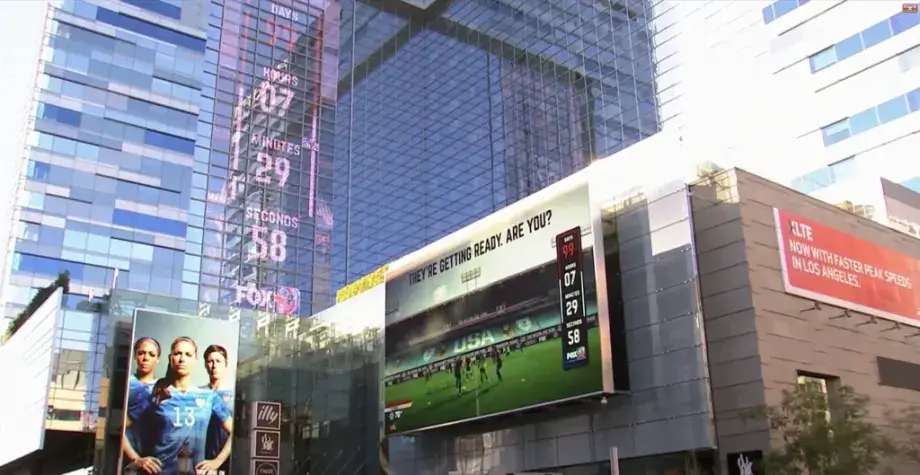 Building Customer Trust With Digital Signage
Only 46% of customers trust banks, according to research. With dwindling trust in banks as a result of a significant shift to digital banking services, bank branches must develop trust with their customers wherever possible, especially in a branded space like the bank branch. China's Industrial Bank used digital screens effectively to demonstrate their concern for each stage of the customer journey.
Industrial Bank used digital signage throughout its flagship branch, from consultation rooms to the waiting area. A massive digital display in the waiting area changes from general information like time, weather, and stock prices to personalized advice for customers like the "7 Life Stages of Finance" and how Industrial Bank can help at each stage of life.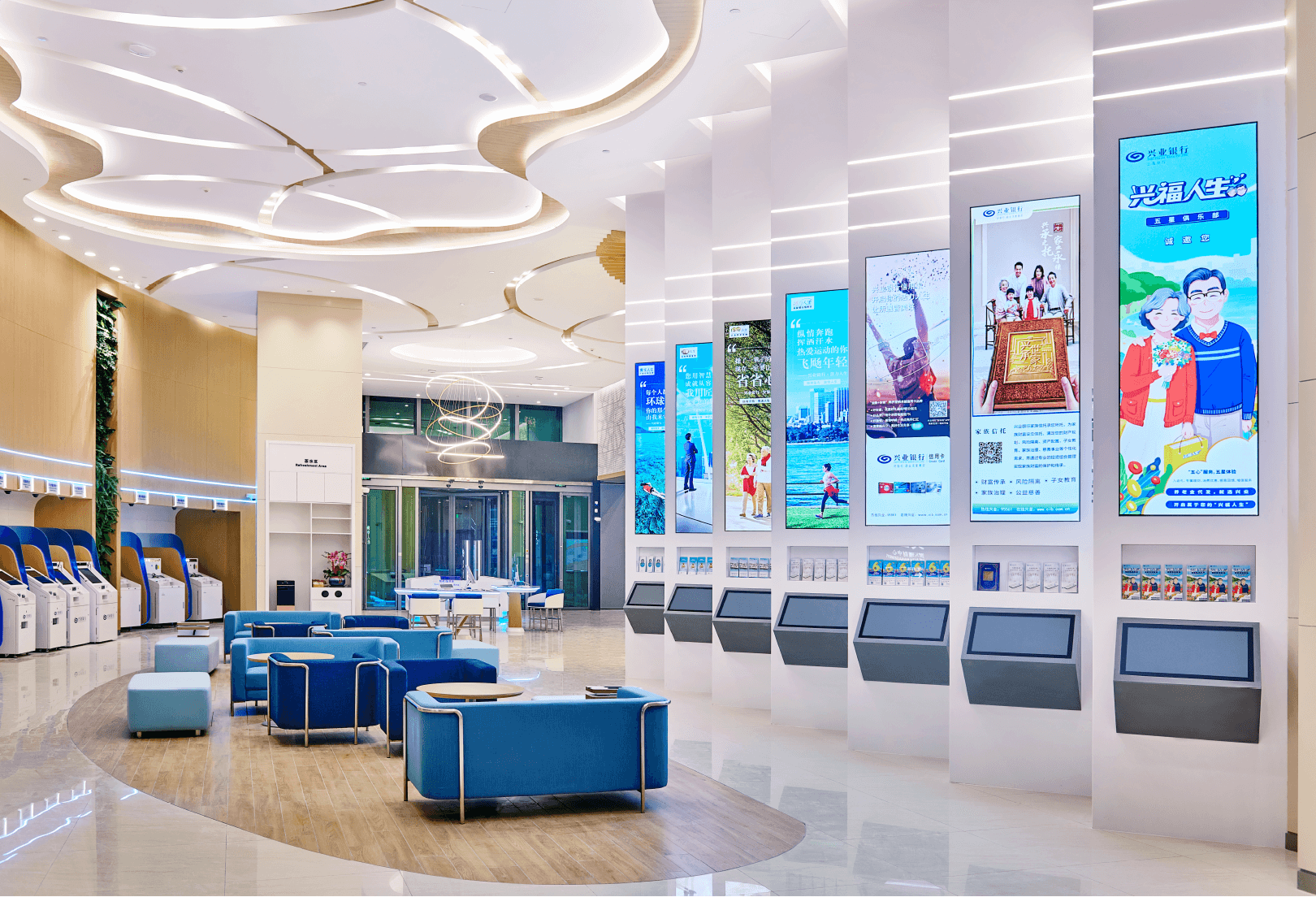 Having this technology available for customers to view while they wait is one of the benefits of digital displays with effective content design. It drives brand connection and loyalty. Furthermore, by using smart integrations that use less power and cost less than traditional signage, it can save the company money over time.
Digital Signage Solutions With Local Healthcare
Patients can experience stress and anxiety in waiting rooms in hospitals, dental offices, and other healthcare settings, and effective use of digital signage content can help to alleviate these feelings.
Docbraces implemented LED digital signage in their waiting area to alleviate customer anxiety, with a customized content strategy that included branded content and real-time waiting time displays. Displays can also highlight local initiatives in which the brand is involved or wishes to promote in relation to its business objectives.
This not only reduces customers' perceived wait times, but it also enables Docbraces to control the branded experience by creating tailored content for their target audience not only in the waiting room, but throughout the user journey.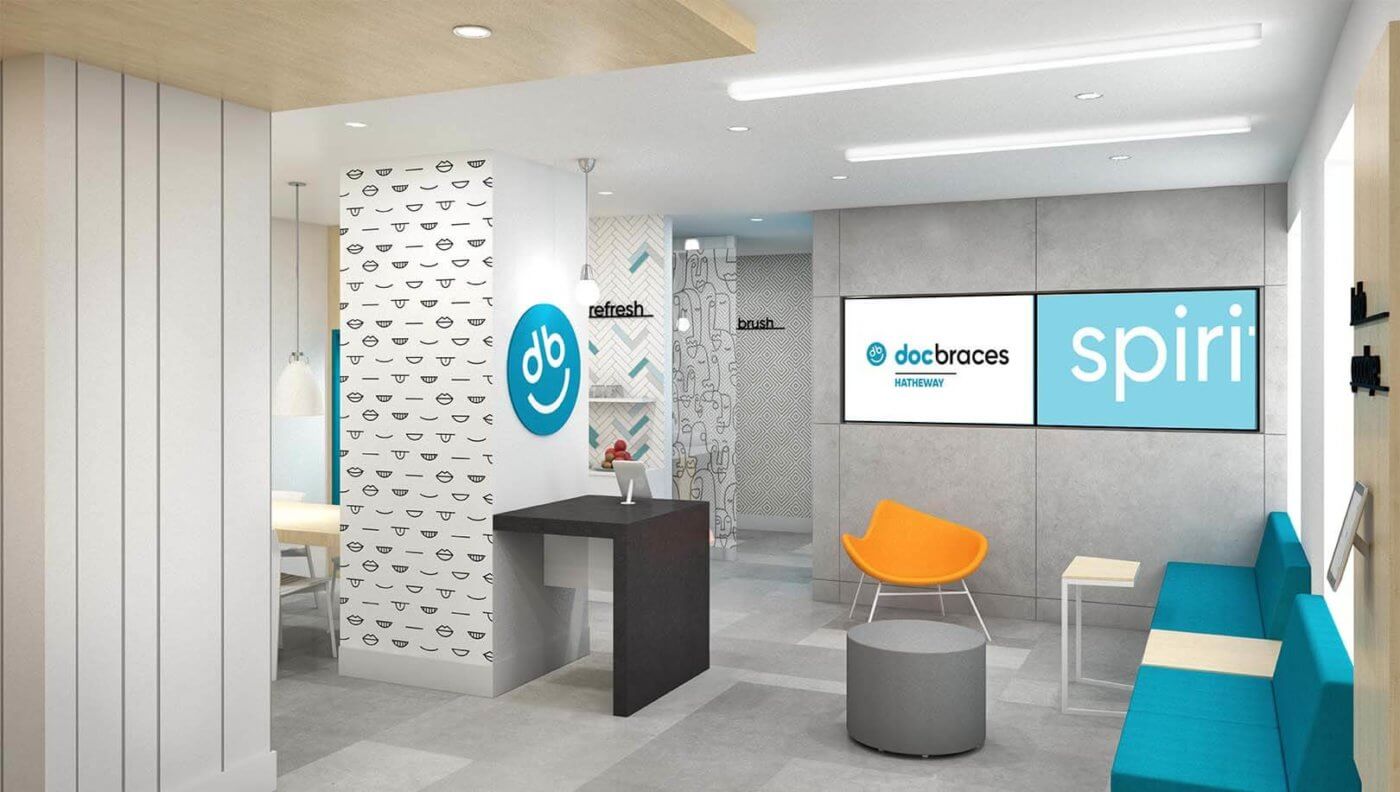 Why Is Digital Signage Important?
Since it creates a unique customer experience that the brand can customize, content marketing mixed with digital signage is important in everything from waiting rooms to electronic menu boards. Although they have higher startup costs than print, they provide the ability to personalize the customer experience in ways that no other signage can, with targeted local initiatives that build communities and create bonds between the brand and the customer. With technology being adopted at such a rapid pace, businesses must consider the return on experience that digital signage provides for their customers.