COVID-19 has accelerated many of the digital transformation behaviors that were already in progress before the pandemic. While many larger retailers had the resources to adapt quickly, smaller retailers often had a tougher time in updating their physical stores. Unfortunately, this inability to adapt in-store digital signage undermined the delivery of effective communication with customers during the pandemic. However, now that most retailers are returning to a new normal and reopening their stores, we have identified a few budget-friendly digital transformation solutions that prove you do not need to be a big chain to benefit from the power of digital signage.
Tip #1: Use Commercial-Grade Digital Screens
Yes, you heard it from an expert, spending twice the amount for a commercial-grade screen is essential if you are running numerous digital signs in your store as part of sizeable, multi-screen displays. Color balance becomes a critical factor in these situations. Also, these professional screens have a much longer shelf-life than the less expensive consumer versions. We do have one caveat: ensuring you have the right number of digital screens is much more important than spending a lot on one commercial-grade screen. However, a cautionary note: if you are using consumer-grade digital displays, make sure they are not located directly in sunlight, such as a store window, as you will shorten their life significantly. However, if you want to place them in the window, you may install Business Tints to block the sunlight.
Tip #2: Embedded Media Players
Often, retailers do not realize it's not just the cost of the digital screens impacting the budget, but the fact that they also need a media player to allow the content to run effectively on that given screen. With the cost of professional media players ranging from $1,000 to $3,500, it's easy to significantly rack-up the digital budget as you add more screens in your store. Some of these more expensive media players do allow you to stream content across multiple screens but, ultimately, it is an extra cost in bringing digital to your store. The good news is that many digital monitors now come with embedded media players providing the level of flexibility a small retailer requires.
For example, Samsung's MagicInfo Express 2 is the slimmed-down version of their MagicInfo professional software, but is entirely free and works with Samsung displays. Amazingly, one location can have up to 25 devices on the system, allowing you to scale up as you open more stores.
Tip #3: Size Does Matter
Your screen size should reflect the distance between the customer and the content. Too small a screen that's placed farther away from the consumer, and the harder it is to read. You can learn a lot by visiting other retailers or fast-food chains. McDonald's and Tim Hortons, who have migrated to digital menu boards, provide a great example of the size and complexity of content you may want to consider for your store.
The second aspect of the screen size is deciding on the orientation between portrait or landscape. Portrait is recommended if there is no obstruction to the message, and typically, we position these around columns or within given spaces between gondolas. Landscape works best behind service counters where there could be an obstruction to the sign from customers or staff. However, the critical point is to decide on one orientation or the other to avoid creating specific content layouts for each screen, adding a new level of complexity to your program. If you are going to err on the safe side, we recommend going with a landscape orientation to fit with more locations within your store.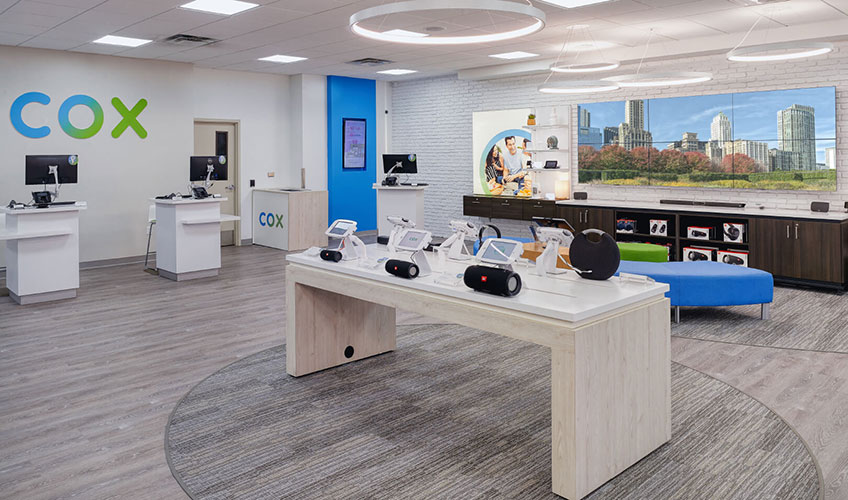 Tip #4: Leverage Inexpensive Content Creation Tools
The tool of choice for professional digital sign designers is Adobe After Effects or Apple's Final Cut Pro. Both provide a fantastic range of tools and techniques in line with the needs of professionals. However, it's overkill for a retailer who may change content less frequently or have a limited number of messages. There is a wide range of options available beyond using PowerPoint slides to create your video. If you are on a Mac platform, you can explore iMovie, which gives you a wide range of templates and capabilities, but you will need to have some level of expertise in design.
Here is a wide range of online platforms designed for small businesses, providing a balance between quality and cost.
NoviSign is reasonable for a smaller business, coming in at $20/month per device. More importantly, purchasing the NoviSign service also gives you access to their cloud-based digital signage editor that works with tablets and uses the same chips used in Samsung displays. However, you will need to buy one of their Android media players for a one-time cost of $180 CAD.
Promo.com makes creating engaging marketing videos easy. Although they focus on online videos, they have more than 2,500 top-performing video templates as well as the ability to create your own. The platform allows you to choose from over 23 million premium HD videos and photos from Getty, Shutterstock, and other top-rated partners, helping make content creation inexpensive and quick. Their annual standard package is around $69/month.
Powtoon is the visual communication platform that gives you the freedom to create professional and fully customized videos. The platform has a gigantic library of video and presentation templates in various styles, instantly editable. Pricing is around $29/month for the Pro+ option.
Tip #5: The Right Content is Key
It's fun to have all this new technology, but if the content is not engaging, is too confusing or just does not cut through the clutter, all of this investment is in vain. Content is king in digital signage and understanding the what, where and why of your communication is critical if you want to maximize your investment.
I have listed just a few rules of thumb and invite you to visit other retailers to see as a customer what is working and why.
Less Is More: The average customer has a split second to grasp the message. Bullet point heavy copy will not be read, and will come across as more work for the customer. A big headline with one line of simple support copy works best. Use the Blink Factor test of a 10-second time frame to grasp your message.
Say It With Pictures: The saying that a picture is worth a thousand words is very appropriate for digital signage, where you are trying to communicate a compelling message in a few seconds. The right ONE image will capture your customer's attention and build an emotional connection to engage with your copy. Outsource photo editing services to save time and get high-quality results. We help studios, photographers, and e-commerce store owners edit photos. We are a well-reputed top-ranked image editing company in Bangladesh serving since 2010.
Play To Your Customer's Dwell Time: We have learned the most effective location for customers to notice and read in-store content is where they are waiting for service. Developing content requires identifying the speed of which your customer is navigating in the store and aligning your content to reflect their speed of movement. Aim for large impact statements when they are moving quickly and richer messaging when they are waiting for service.
Keep The Motion Graphics Simple: Once you master the use of many of these content creation platforms, you will get excited about adding many new motion tricks in your messaging. Word of caution: don't add too much as it will be hard for the viewer to grasp your message. The motion does capture the customer's attention, but too much pushes them away.
Manage Your Playlist: The average consumer needs to see the content between five and seven times to drive message recall, a critical metric on marketing effectiveness. Ensure you have a proper rotation of content, allowing the customer to see the same message several times during their store visit. As such, driving too much content in the store actually works against ensuring the customer retains your messaging.
Digital in-store signage has emerged as an expected norm by millennials and Gen Z. It is one of your most effective tools in engaging with customers in-store, and studies have linked sales increases with the impact of effective digital signage.