Digital Experiences
Retail Design
Environmental Graphic Design
Digital Signage
UX/UI Design
Service Design
The landscape in sports and casual family dining has changed dramatically with elevated décor, design and technology making both markets very competitive. Boston Pizza wanted a new, synergetic free-standing restaurant design that would maintain their equity in both markets in a unique 2-in-1 concept.
SLD conducted research in Canada, Mexico and the US to gain insights into what sports aficionados across North America want from a restaurant or bar experience. This helped us shape a dynamic approach that would bring the family and sports bar together under the united banner of "the fan experience." We knew that beyond a new physical experience, an immersive digital experience was critical in bringing the energy and excitement of fandom to life.
The Toronto flagship at Front and John, close to two major sports stadiums, also needed an enhanced take-out area, staff uniforms and exterior signage and wayfinding. With a compressed timeline and fixed budget, the project was one that required not only a high level of design thinking and creativity but resourceful project management.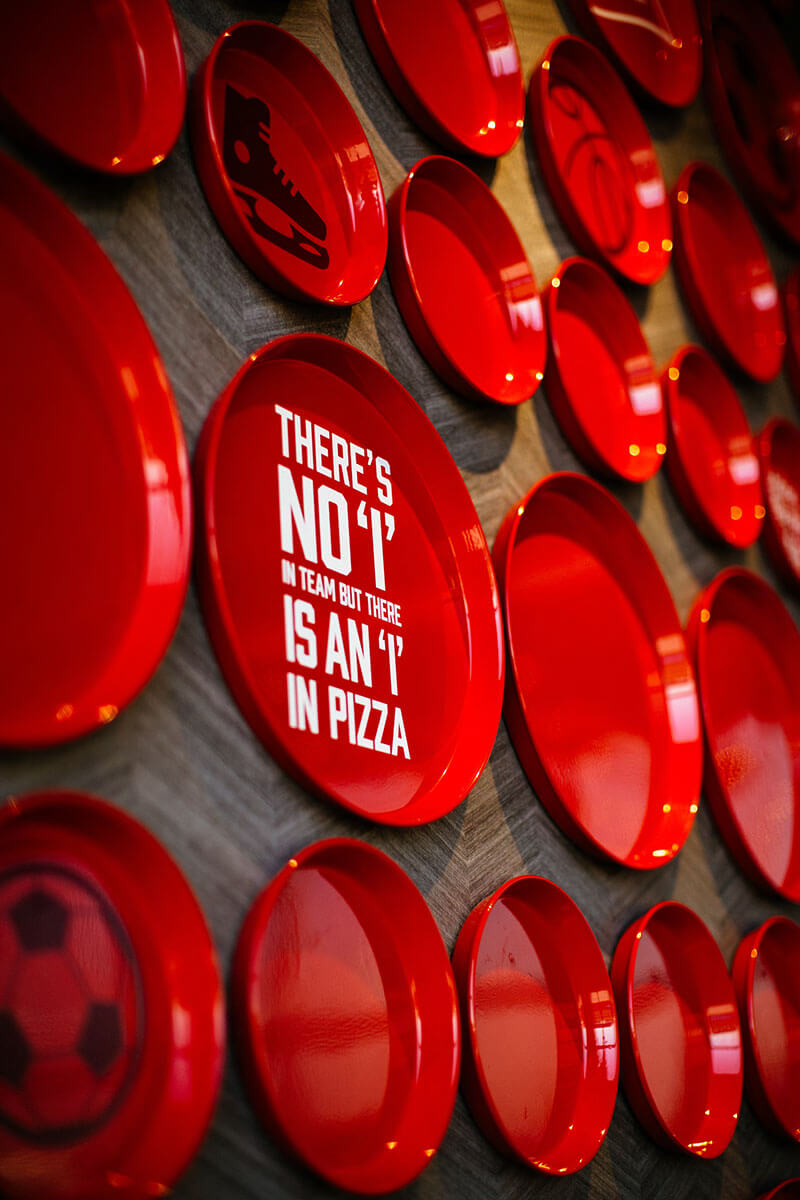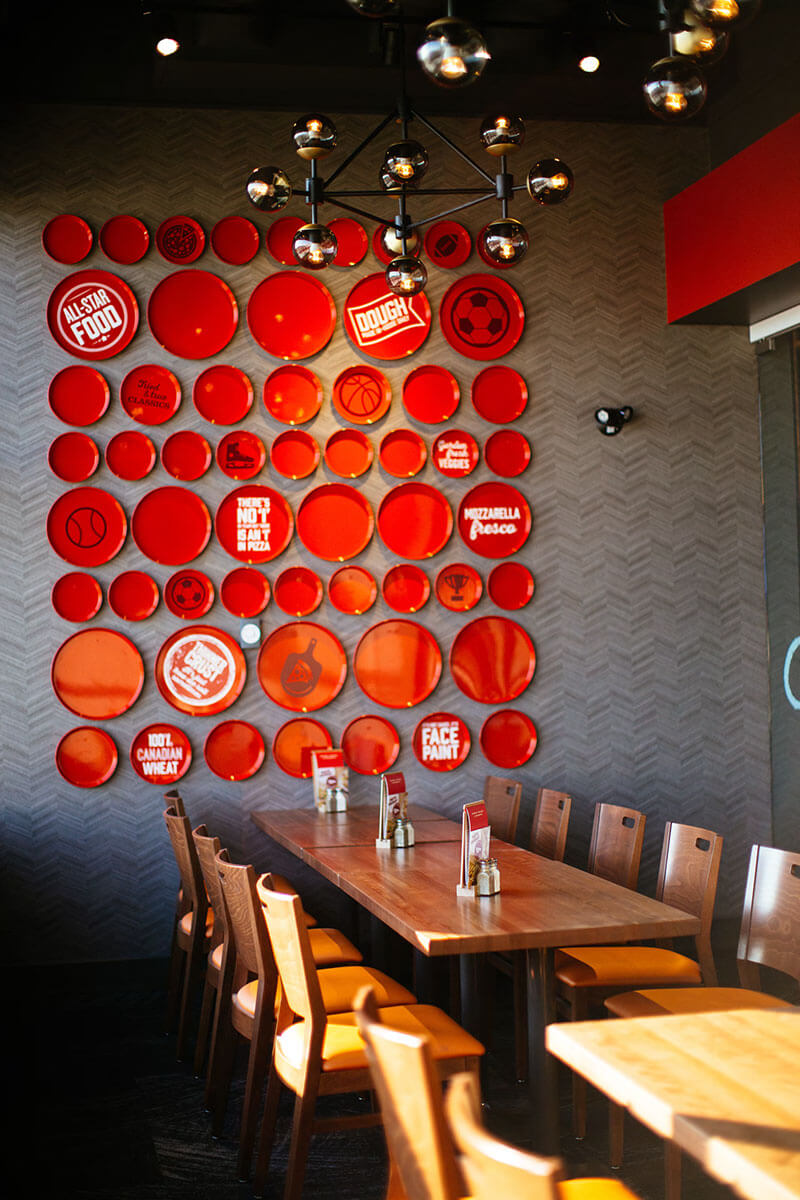 "Being a fan" was the mantra that guided the design, which features interactive digital and playful graphics that pay homage to sports, the city and its citizens. Being a fan is a shared experience. Modular design, communal tables and a designated Team Room allow groups of every size to celebrate wins, and the four-season patio spills out through bi-fold sliding doors, allowing passers-by to share in the fun.
The design needed to be warm, welcoming and bright to stand out from the existing dark dining room and bar competitors. Comfortable and contemporary, brick veneer walls, concrete looking porcelain tiles and dark grey metals give an urban and modern feel. Wayfinding is used to clearly differentiate restaurant and bar, and vinyl wood plank walls add warmth, texture and depth to the space.
There was an immediate opportunity to tell guests about the passion and fresh ingredients that differentiates BP's food offering. The digital experience allowed us to engage the customer in the waiting area with an interactive touch screen menu and to satiate guests with other visually appetizing content.
And of course, everyone wants to watch the game. Every seat in the house has a clear view not only of the large digital screens where major games are displayed, but of smaller portrait screens that provide dynamic real-time, RSS-driven, digital messaging with team statistics, player statistics, news, game schedules, team match ups, player match ups for fantasy leagues for all major sports. The Toronto flagship also featured unique localized content celebrating the city's teams.
After the enormously successful opening for the Toronto flagship location, the new experience is being rolled out across Canada, the US and Mexico.