Big brand grocery stores dominate the Canadian and US marketplace. From Trader Joe's to Loblaws to Costco, whether you want cheap groceries or specialty items, the grocery wars are being waged with all guns blazing: private label programs, new interior design that mimics marketplaces, and deals, deals, deals. It seems as though there might not be room left for a local, indie grocer to survive – and yet, many are not only surviving, but thriving.
In Toronto, Fiesta Farms sits only a few blocks away from several large chain stores with bigger, better parking lots, brand new designs and self-check-out kiosks. And yet, this year Fiesta Farms was able to purchase the land their store sits on – and any day of the week the store is packed full of foodie families there to get everything from locally grown gooseberries to Cheerios.
In Southern California, local health food grocer Erewhon is practically synonymous with healthy living. H-E-B, an independent chain hailing from the heart of Texas, has more than 340 stores in Mexico and Texas. How are they doing it in the face of such intense competition?
All of these brands are leveraging a key difference they have from Big Box and other national or multi-national brands: they are part of the community. As Gen X, Millennial and Gen Z demographic groups rise, being local is becoming an enormous advantage indie brands can and must use in their favor.
Using "Local" to Boost Grocery Sales
Make sure customers know you are local
Calgary Co-op uses its main location's community as part of its name, as many food co-ops do. They integrate messaging about their mandate to support locally sourced food throughout their store design and on their website.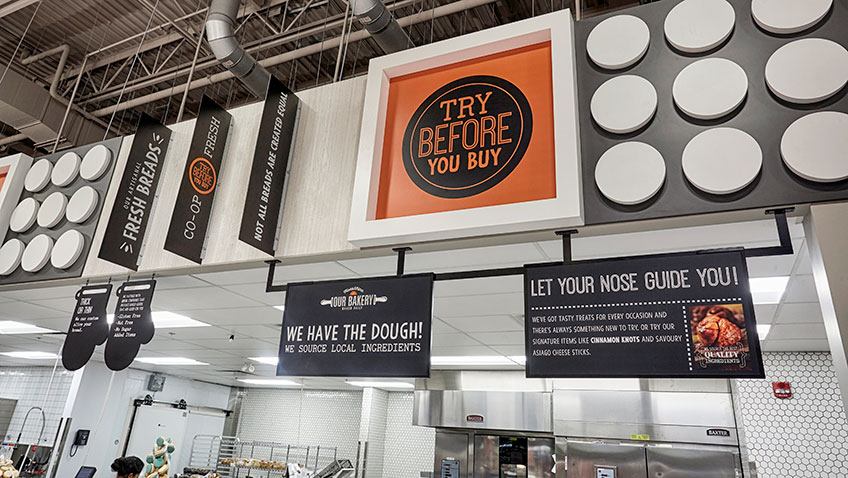 Image Source: SLD
Engaging in community events is another way to communicate local ties. Erewhon supports the California Farm to School Network and NETIYA, both organizations that support local food production and food security initiatives in Southern California. And many local brands tell the story of who founded the company, why, and how they are still connected to the community throughout their messaging.
Sell as much local food as you can
Scale will make it difficult for large brands to compete when it comes to providing local products. This gives local indie stores a niche to own. Fiesta Farms places locally made pasta sauce and ice cream in the aisles alongside national brands, while H-E-B strongly features Tex-Mex recipes on their website and emphasizes their Texas Produce Calendar which indicates "We buy Texas first".
Millennials are more than ever demanding to know where their food is coming from, with a strong preference for local sourcing – and they will pay more for it.

Image Source: HEB
Emphasize the environmental and social impact of buying local
It is more environmentally friendly to buy local food, largely because it reduces the travel distance. And the benefit to local economies is something Millennials deem very important. This is an advantage local grocery chains can leverage, especially if they offer a greater selection of both local foods, and also foods that are made or sourced more ethically.
Calgary Co-op and Fiesta Farms both partner with local farms to bring in meat that is sustainably and ethically raised, even offering local items like bison. Although big brands can reduce their meat supplies' reliance on antibiotics and hormones, they will never be able to rely completely on local farm sources – especially farms that operate free-range, grass-fed operations.
In produce sections, ensure local fruits and veggies are clearly designated, and stock local specialty items large stores may overlook, such as fiddleheads and mulberries in Eastern Canada, or nopales (cactus) and fresh garbanzos in the Southwest US.
Emphasize health and organic
Yes, the big brands can do this too, but local stores have a decided advantage. When customers are choosing a local store over a national store, they are buying more than just food – they are buying a philosophy that "local" is better for them and their families. Millennials are concerned about food security and healthy living. Generation X is suspicious of big brands and is passing that philosophy on to their Gen Z children, the name given to children currently aged 6 to 18.
As Boomers recede from power, local, healthy, and organic will become increasingly in demand. Erewhon has built its brand on the promise that "If it's here it's good for you," and has enjoyed continued success in spite of numerous Whole Foods and Trader Joe's in their market, suggesting the small local company has loyal customers who believe in and trust their brand.
Erewhon has a stringent clean foods standard which is clearly indicated on their website, and has a Tonic Bar that includes items such as "Immunity Shot" and "The Herb Bomb". They use natural design elements such as brick and wood, with lots of natural light, flowers, chalkboards, and mason jars to emphasize their healthy living message.
Cater to the foodie culture
This is an idea that can lend itself well to certain independent grocers. Locavore culture is gaining momentum and may be something local grocers can capitalize on. H-E-B also owns and operates Central Market, a gourmet foods store chain that features full in-store kitchens and offers cooking classes, catering, special food events, and numerous hard-to-find items such as candied ginger syrup and pink lemons.
Fiesta Farms offers a large selection of delicacies such as local mushrooms and rhubarb-licorice gelato. Instagrammable meals are not simply a trend – Millennials especially like to share beautiful-looking meals, especially if they are unique.
Know your community, be your community
Erewhon would likely find it hard to compete in H-E-B's market, and Fiesta Farms' canning supplies would likely gather dust in Southern California. The strength of a local independent grocer is in the unique qualities about the community that the grocer then reflects back to customers in shared values. The specificity with which local grocers are able to mirror those values in the food and other offerings they present to the community is the key differentiating factor that national chains and big boxes cannot challenge.
Local grocers have a golden opportunity to thrive as Gen X, Millennial and Gen Z values replace the Boomer mentality that has dominated North American culture for 50 years. Deepening and emphasizing the "local" in your independent grocery store can create enormous value for your brand.