Concept stores are an innovative departure from conventional brick-and-mortar stores, offering carefully curated, immersive encounters with a brand. Investing in a store that features minimal or no products on-site seems bold and costly. Why should brands consider such an investment?
While profitability might not be the immediate outcome, concept stores possess great marketing potential. Their multifaceted utility may not be directly quantified and translated to sales KPI; yet, it can be essential to the strategic framework of your brand. In this blog, we will delve into the advantages of having concept stores. Innovative examples with transformative capacity will be analyzed as well.
What do concept stores "sell"?
Concept stores offer a distinct avenue to convey brand messages, core values, and narratives in an omnichannel context. They "sell" experiences and a lifestyle related to your offerings. More than just showcasing products, concept stores involve the creation of an encompassing journey that resonates with patrons. By immersing visitors in a carefully curated vibe, brands can express their personalities and vision through store design. The stores provide insights into their essence, evoking a positive emotional resonance. When the audience thinks of your brand, the concept store design will definitely come to their mind.
What else can concept stores offer?
A concept store can be a focal point for media coverage, a strategic tool for corporate communication and reputation management. It acts as the canvas for brands to unleash their innovative and experimental ideas. In a world where Gen Z actively seeks interactive brick-and-mortar encounters, concept stores become the perfect stage for customer engagement. They play an instrumental role in the customer journey, especially in the "awareness" and "consideration" stages.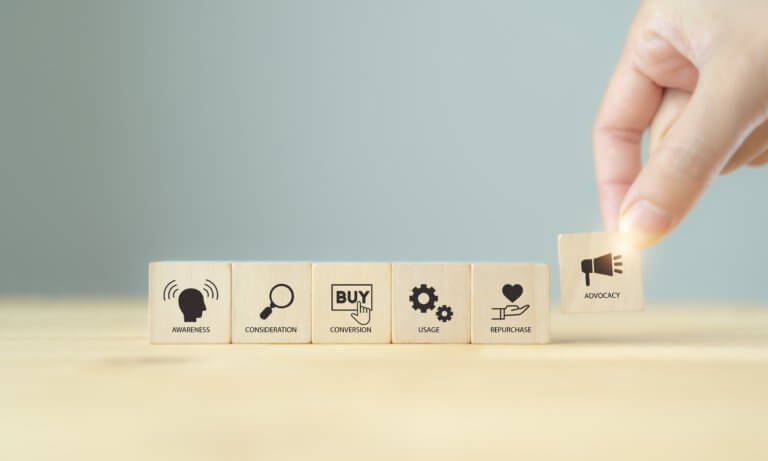 Image Source: Shutterstock
Limited-edition products sold at concept stores may be more profitable than you think. These offerings not only transform the store into a collectible or souvenir heaven but also cultivate a sense of exclusivity and privilege among customers. Leveraging user-generated content (UGC) on social media becomes a potential strategy. By curating "Instagrammable" spaces with decorated walls, props, and hashtags, brands encourage visitors to become spontaneous advocates. In today's digital landscape, UGC can play a vital role in brand reputation as customers engage in and trust a brand based on authentic peer experiences shared on social media. Thus, concept stores not only provide a platform for sales but also facilitate organic, compelling brand advocacy.
By immersing customers in sensory experiences, concept stores bridge the expectation gap between the idealized perception and the reality of a product. Customers can look, touch, and feel it themselves. While product descriptions and photos are always fascinating, if customers get to test the product in reality before purchasing, it would effectively manage their expectations. Negative reviews such as size or color mismatch would be minimized. Customer satisfaction can be improved as a result. Even if customers opt for online purchases, concept stores remain pivotal by leveraging URLs and QR codes to drive sales, capitalizing on the impulse instantly generated during in-store visits. With these traceable links, you can see the direct sales brought by the store — as an add-on to this marketing tool.
Evoking the 5 Senses
1. Smell: Fragrance Engraved – L'Occitane
L'Occitane's innovative concept store on New York City's Fifth Avenue taps into the magic of scents. As visitors step in, they're enveloped in fragrances of the south of France, while staff offers consultation on cozy benches under an olive tree. Beyond the alluring power of smell, the store offers interactive and seasonal experiences, such as personalizing fragrance-engraved gifts.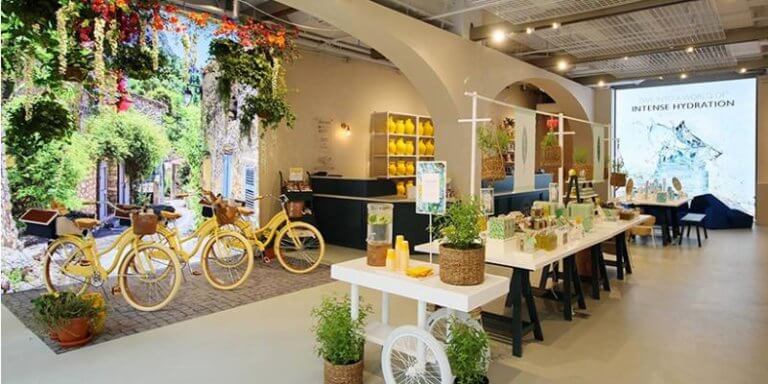 Image Source: L'Occitane
2. Hear: Stylist Advice – Nordstrom Local
Nordstrom Local redefines the retail experience through focused expertise and minimal inventory. These compact yet impactful spaces act as pivotal touchpoints along the omnichannel customer journey. Prioritizing services over products, Nordstrom Local emphasizes personalization, offering features like Nordstrom Style Boards, one-on-one sessions with stylists, and tailoring services. Customers receive professional advice and ask questions. This inventory-free approach transcends traditional retail, catering to modern customers seeking premium, customized interactions.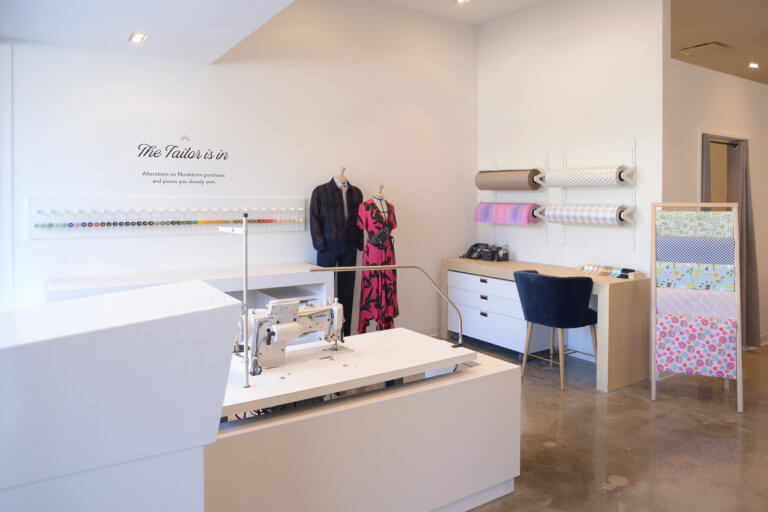 Image Source: Nordstrom
3. Touch: Simulated Winter – Canada Goose
Canada Goose's store at Sherway Gardens allows visitors to try on their parkas in the "Cold Room". With wind and snow simulating the winter atmosphere, the store enables visitors to feel the exceptional warmth provided by their products. Canada Goose bridges the gap between expectation and reality, with high confidence in their product performance.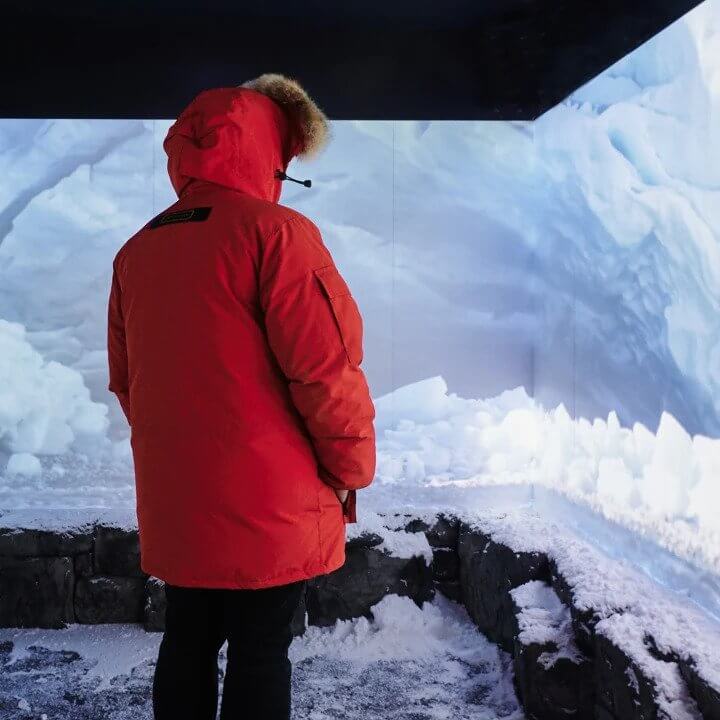 Image Source: Canada Goose
4. Sight: Physi-Digital Mashups – Toronto Blue Jays
Concept stores are not just for luxury brands. The Toronto Blue Jays store revolutionizes fan engagement by leveraging the sense of sight. Crafted to rekindle national baseball fervor, the store's immersive design integrates both physical and digital elements with a purposeful layout. From the dynamic entranceway to the animated hat wall, the experience becomes an enticing visual journey. By placing emphasis on interaction over merchandise, this approach creates an unparalleled Toronto Blue Jays experience that resonates with enthusiasts across Canada.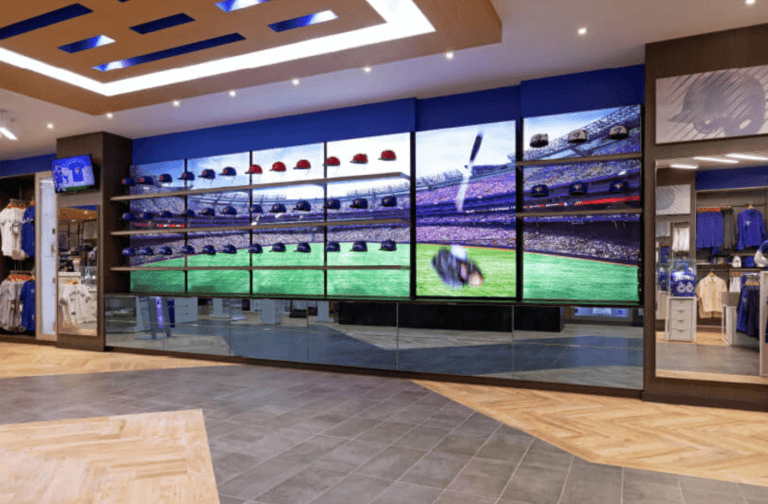 Image Source: SLD
5. Taste: DIY Your CPG – Nissin Foods
In Japan, Cupnoodles Museum by Nissin Foods awakens the sense of taste, immersing visitors in a journey of instant ramen with various global flavors. Visitors can embark on a culinary exploration at the "Noodles Bazaar — World Noodles Road" section, savoring diverse noodle varieties. In the "Chicken Ramen Factory" section, visitors can craft this iconic dish from scratch, such as steaming and seasoning the wheat flour. The essence of customization continues at the "My CUPNOODLES Factory" section, where visitors design their own packages and curate flavors from a medley of soups and toppings. An unprecedented gustatory adventure is offered at this one-stop museum.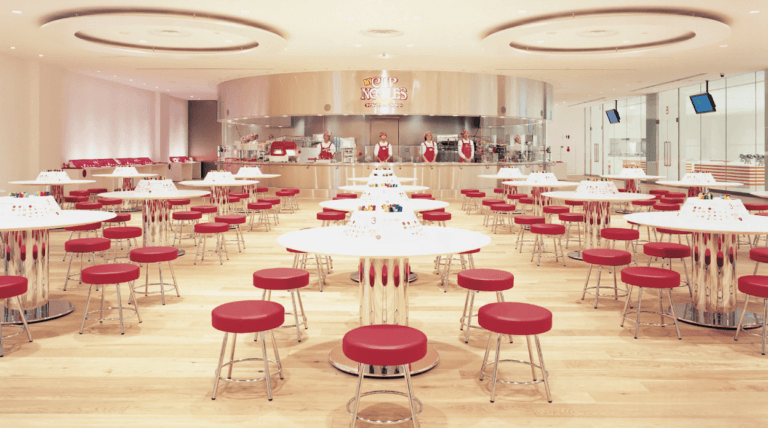 Image Source: Cupnoodles Museum
Bonus: The Research Potential of a Concept Store
Concept stores are more than hands-on marketing. They harbor the potential to yield invaluable consumer insights. These physical spaces can function as strategic data collection hubs, offering a view into visitors' attention and navigation pathways. Retail design, with elements such as lighting and fixture, plays a vital role in shaping customer experiences. By gathering data on their reactions and responses, brands can gain a heightened understanding of what captures their audience, and how they interact within the store environment. What catches visitors' eyes the most? What are their initial reactions to your new products/services? These data become great resources to inform the development of other traditional physical stores, as well as your design approaches for products or packages. 
The question then arises: why opt for a concept store over a conventional physical outlet for such data collection? Concept stores are perfect experimental spaces for pioneering ideas. Compared with a traditional brick-and-mortar store, concept stores require minimal or no inventory management, space, and manpower. They are better in terms of scalability and cost/risk minimization. Moreover, these stores are an ideal platform for pre-product launch testing, which offers immediate, unfiltered customer reactions. With traditional market research methodologies such as surveys and interviews, outcomes may be distorted by the Hawthorne effect, which means individuals may alter their behavior realizing that they are being "observed".
But, visitors' actions won't lie. They go to and stay at the shelf blocks that interest them the most. Their ways of navigating the store are instinctive. They won't hide their facial expressions for the products on-site. Firsthand observations of intricate behavioral and emotional changes, reactions to lighting and fixture, and interactions with products can provide brands with a more comprehensive understanding of customer engagement, which may not be available from ordinary market research.
In a Nutshell
Regardless of the budget size, brands can always find a place in the unconventional store landscape, be it concept stores or other game-changing formats like flagships, multi-use retail spaces, and pop-ups. Implemented well, these spaces hold enormous promises beyond short-term profit, offering pathways to visibility enhancement and co-branding opportunities. Concept stores can drive foot traffic and act as cost-effective platforms for soft product launches and exploratory research. As retail evolves, concept stores beckon brands to embrace innovation and strategic branding.