After over two years since the last live gathering of senior retail executives in operations, design, digital, and technology, this year's Future Stores Conference took place in Seattle, Washington, on July 14 and 15. The seminar explored various topics and opportunities in retail and featured sessions on how leading retailers integrate a hybrid approach to their in-store experience by balancing high tech with high touch. The conference had over 150 attendees and featured over 40 speakers representing a cross-section of retail industries, industry suppliers, and company sizes. The WBR-managed conference provided those that attended with actionable strategies for using store technology effectively, educating front-line associates, and creating the next generation of store experience.
HUMANIZING RETAIL TRANSFORMATION
The conference had a general focus on humanizing retail revitalization programs. As retailers emerge from the pandemic, there is a renewed optimism in a growing business, with many seeing a rise in sales and store traffic. New store concepts and marketing plans are being established, and there is an emerging sense of importance on store associates' role in driving this growth, influencing many presenters to focus on aligning corporate strategies with their associates. The store's role in creating a sense of belonging and personalized experiences for customers and associates is the second critical insight. Finally, with the rise of digital transformation and the need to create a seamless omni-experience, the third theme focused on how technology enables better customer experiences. We shared the insights based on three major themes:
Part 1: The evolving role of the store
Part 2: Elevating the associate experience
Part 3: Making technology work for human needs
Let's begin with Part 1: The Evolving Role of the Store
With Growth Comes A Need To Transform
The growth of visitations and sales evolved the purpose of stores while delivering an enhanced omnichannel experience. Presenters agreed on giving new reasons for consumers to visit the stores and noted that many retailers currently focus on solutions that do not align with customer needs, leading to a lack of long-term relevancy. This aligns with our humanizing retail study, where most executives agreed technology is not adequately serving the consumer. The current approach of creating a retail experience as "Instagram-able" and selfie-enabled, although enjoyed by customers, does not drive the frequency of visits or long-term growth.
The day of cooky cutter stores is gone, and instead, retailers must deliver unique experiences, sizes, digital integration, and relevant offerings to satisfy customers. The need for new store experiences brings up the challenge of how we create digital content in smaller stores, live events in larger stores, and move away from transactional relationships. In the future, stores will need to deliver localized content and experiences in various sizes. Retailers identified the need to go back and rethink past customer experiences, which were about creating engagement and belonging rather than selling.
Chicos, a leading women's apparel chain, introduced smart mirrors in different sizes to drive engagement and a sense of belonging. The mirrors provide styling options on the store floor, giving customers more opportunities while easing the shopping experience. Customers can also purchase from the fitting room to deliver a seamless experience and reduce check-out times. The technology also provides insights on change room abandonment and which rooms sell the most while supplying the store manager with an overview of this information. The new store experience empowers store associates, managers, and leadership teams with a better view of the omnichannel experience while enhancing the customer experience. 
Macy's is overcoming the relevancy issues of today's department stores with a mission to drive agility and remain nimble for years to come. For them, it's about the connected tech ecosystem, online, mobile or in-store, which will take many years. One of the signature elements of Macy's smaller stores are events, pop-ups, and delivering an omni-experience. The smaller store provides an easy and scalable platform to have a curated experience with less merchandise and ensures the ability to drive changes efficiently, constantly evolving to reflect the needs of the everchanging customer.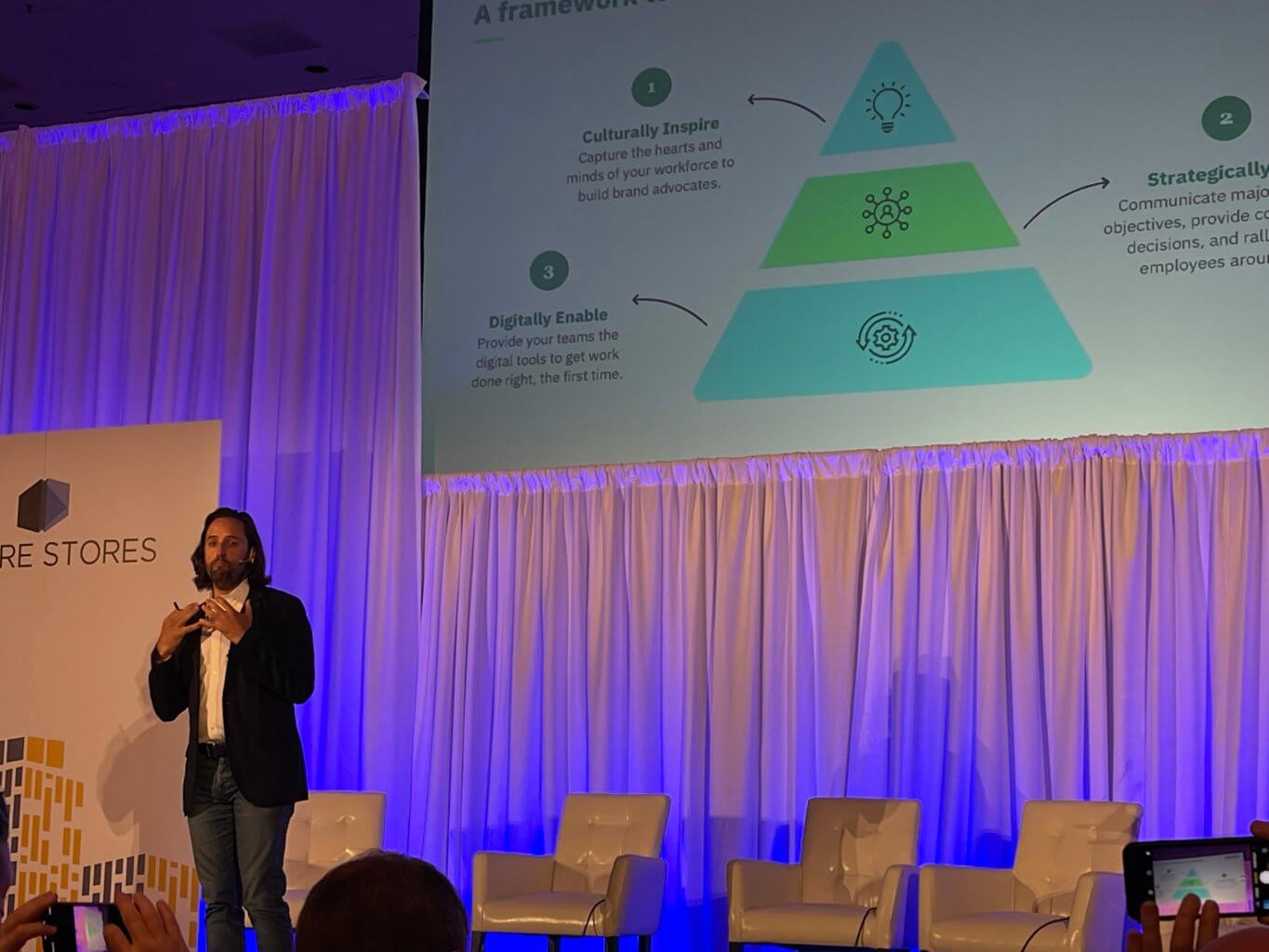 Speaker Jordan Ekers, Co-Founder & COO, Nudge
Rethinking The Retail Channel Strategy
The pandemic created retail vacancies leading to good deals and terms. The vacancy is now below pre-pandemic, and rates are on the rise. Many new digital brands are expanding into malls and retail businesses as they realize the importance of the physical store in the customer journey. Other industries such as health and wellness in malls, fitness services, pet services, and experiential retailers are moving their business into physical locations, seeing a change in the relationship between tenants and developers. To realize tenants, bring excitement to the centers leading to merchandising support.
Discount Tire has launched two concepts to drive greater efficiencies and a better customer experience while minimizing its footprint. The second concept is a legacy store format with a drive-thru that also delivers an enhanced digital experience. Both designs aim to ensure the same exceptional customer experience across their 1,100 legacy footprint stores. The company also has a well-defined strategy for the future of EV vehicles since these tires must be changed often. Still, Discount Tire's process and wait time is between fifteen to twenty-five minutes, making EV chargers of no value for staying customers.
Macy's introduced new small store concepts to drive sales in the micro market while gaining market share. With the closure of underperforming larger stores, introducing a smaller footprint ensures the brand maintains a presence in that market while supporting its omnichannel strategy. The challenge was taking Macy's and shrinking it down. How could they reinvent who they were? It starts with understanding what the role of the smaller stores is. The smaller store allowed them to experiment with elements such as a centralized check-out with only one entrance for pick-up and return. The concept allowed them to explore what works best for the check-out, fitting room, curbside pick-up, and the best way to deliver the experience.
Macy's believes in progress over perfection, using data to validate tests in the category. This process allows the department store to make decisions, gain insights, and align the insights with store staff and managers. The role of e-commerce for Macy's assortment cannot fit in the smaller stores, but their mobile app is a fast-growing part of their channel. It allows customers to price check, unlock the endless aisle concept and remain in the Macy's ecosystem. It also helps define the future of the endless aisle and the integration of physical and digital. Macy's noted there is a role for a big box department store by ensuring it continues to meet the customer's expectations. All those touchpoints meet the customer's needs, and technology helps connect stores and consumers. While stores deliver the inspirational and experiential part of the brand, technology supports the entire shopper ecosystem.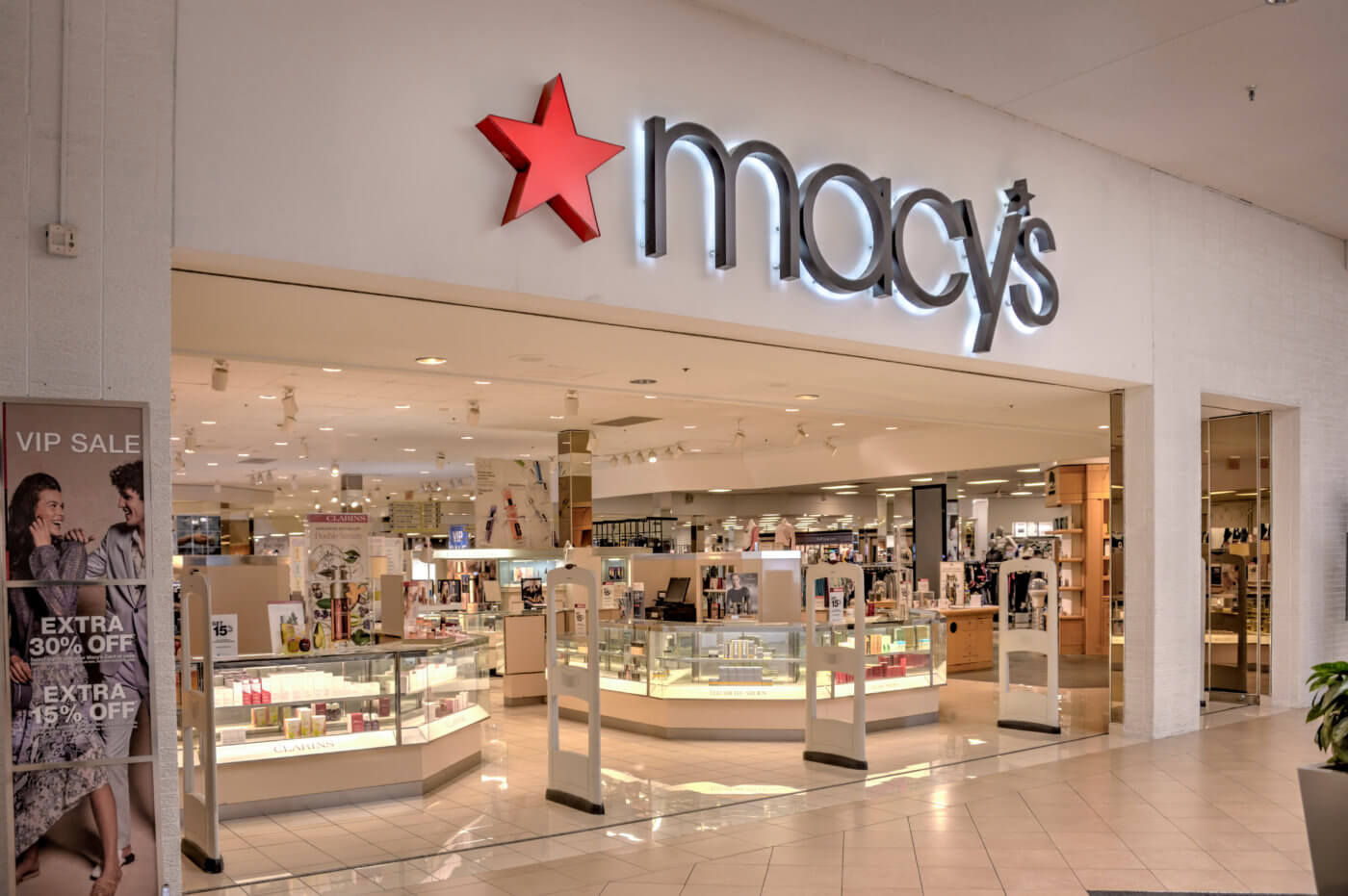 Image Source: Shutterstock
Creating A Strong Sense Of Belonging
Many of the presenters and further round table discussions raised the importance of creating a strong sense of purpose by letting employees know they have a future with the company while providing the tools and dynamic space to support them. Neighborhood Goods, a new upstart retailer, had to temporarily close all its stores during COVID-19 and pride itself on paying more for its employees. They fill the void created by the larger department stores, focusing on the highly relevant issues of sustainability and diversity.
Neighborhood Goods created a new retail expression and business model to revitalize the industry. Macy's and Neighborhood Goods are creating special store events to create that sense of employee advocacy and belonging for customers. The events come through the brands they feature and how we think about policies. In the case of Chicos, from day one, the core of their brand has been about community, humanizing the experience, and bringing women joy and confidence.
Signet, the leading jewelry company with retail brands such as Zale and Peoples, created a strong sense of belonging from the pandemic to ensure their employees had the right tools and a safe working environment. The organization followed government guidelines for employee safety during the pandemic and also delivered pulse surveys from monitoring the employee sentiment, shifting to their ENPS metrics.
Inclusion Is Becoming A Key Driver For Growth.
Open to All is a not-for-profit organization that believes in inclusion for everyone and now supports more than 6,000 retailers. The Open to All tool allows customers to identify employees who are being discriminated against at work, helping to reduce the impact and increase safety. They also focus on customers and employees with disabilities to ensure inclusiveness through a monthly briefing with partners.
Signet is also heavily committed to diversity in its hiring process. They are changing the conversation towards equity opportunities for all by expanding their reach where they recruit and reviewing their management level and make-up. The company's sustainability goal is to support where its associates and employees live by 2030. Their inclusion mindset challenges hiring decisions to enhance their commitment, ultimately creating an opportunity for people to grow. Their process begins in phases, beginning with mentorship opportunities for Black team members.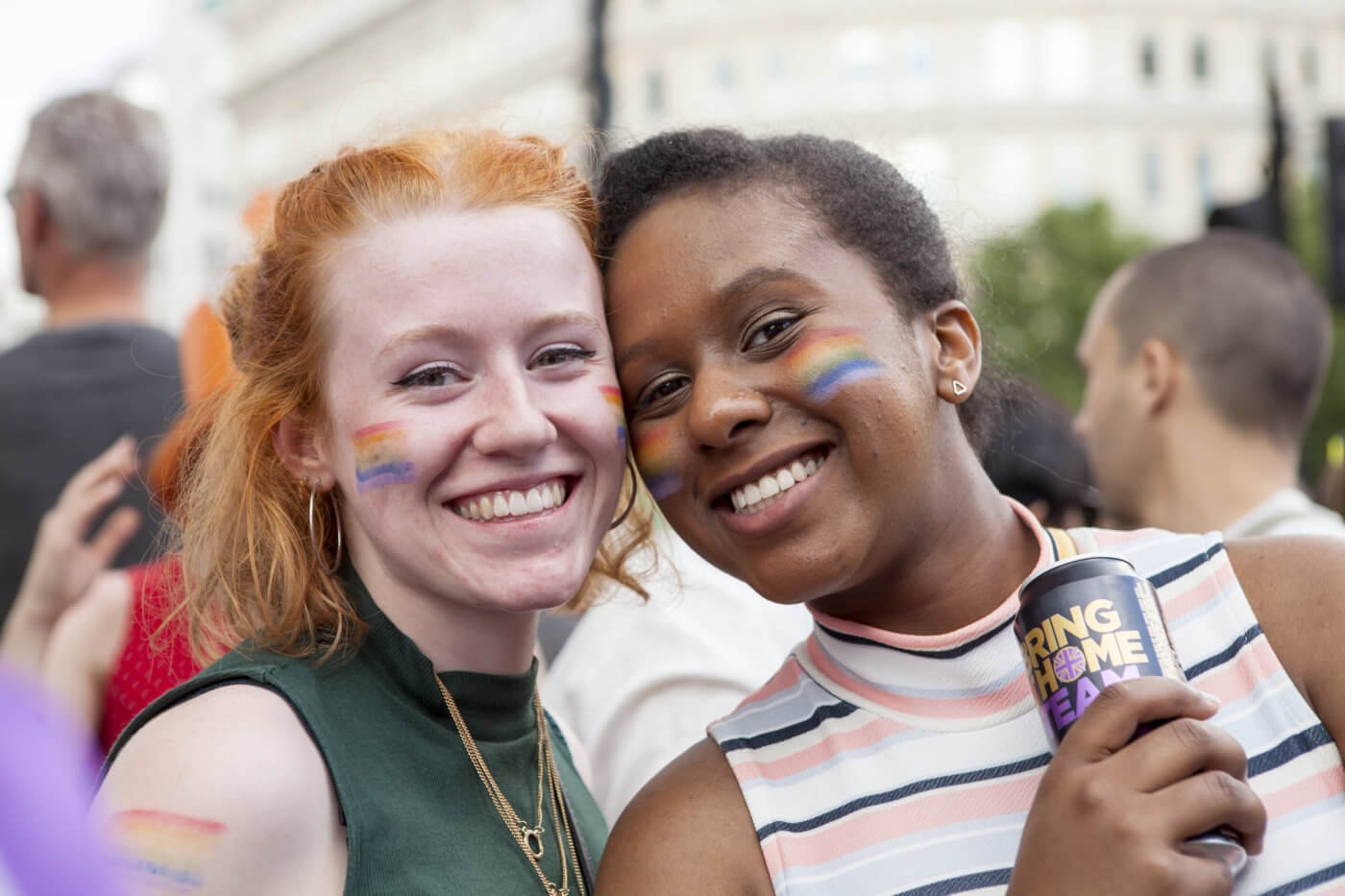 Image Source: Shutterstock
Signet has not tried to dictate how companies should or shouldn't operate, and success has come from organic growth. Since 2022, Signet BRG's representation has increased by 130%, irrespective of the current economic environment. Open to All's biggest sponsor is Yelp, which helps to reflect the ability to identify inclusive companies on their search platforms. The organization noted that 60% of consumers switch to brands that stand and support social initiatives, with the company's reputation being as crucial as the products they sell. These findings mirror our Deepreel study on the importance of transparency and treating employees fairly.
In support of their diversity and inclusion program, Signet has also launched Business Resource Groups and is very intentional about helping to contribute to their business, development, and growth. Signet has FOUR Cs – Culture, Communities, Career, and Connection- and has expanded to add even more core values. Ten percent of their members are active in their BRGs, and their C-suite is also sponsoring to ensure credibility and access.
KEY TAKEAWAYS
The store remains relevant only if it adjusts to customers' everchanging needs.
New store formats are driven by a nimble and agile process that leverages real-time market insights while supporting an omnichannel experience is key to driving relevancy.
Retailers are exploring the role of events, supporting local organizations, and engaging with two-way employee dialogue to drive a stronger sense of belonging.
Retailers must further develop their inclusion and diversity strategy across the entire organization, from hiring to customer engagement, if they want their brands to remain vibrant.