The number of multi-use retail spaces has increased dramatically as retail stores have become increasingly focused on providing a unique, memorable experience for their customers. Retailers are increasingly blurring the line between a shopping destination and a lifestyle destination, with more stores offering multiple in-store experiences that go beyond shopping. Experimenting with innovative in-store concepts and experiences has proven to increase foot traffic and help brands stand out in a sea of competition. Building brand awareness and recognition through in-store experiences is critical to a retailer's success as having a brick-and-mortar store is no longer just about increasing a company's revenue through sales.
From coffee shops to office space rentals, brands are leveraging their available real-estate space to serve multiple functions. Having a retail space that serves multiple functions allows your customers to interact with your brand in more diverse ways, making their experience more memorable. This can be accomplished by utilizing separate departments within a single store or by providing different services in different areas of the same space. For example, a store may have a restaurant on one side of the building and a clothing boutique on the other. Offering customers a hybrid retail experience allows brands to appeal to a larger customer base. And if ever you're looking for a space where you can store some of your products, Fripp Warehousing has the best space to offer. If you're planning to have a new floor with its durability, visit this website: https://resinflooringinstallers.uk. They will perfectly install a floor that fits your commercial space.
While this trend has been building for some time, it has accelerated significantly in recent years due to a number of factors. Primarily, there is a greater desire among consumers to connect on a deeper level with brands. They want to feel like they are a part of something bigger than simply purchasing a product or service—they want a connection that goes beyond their wallets.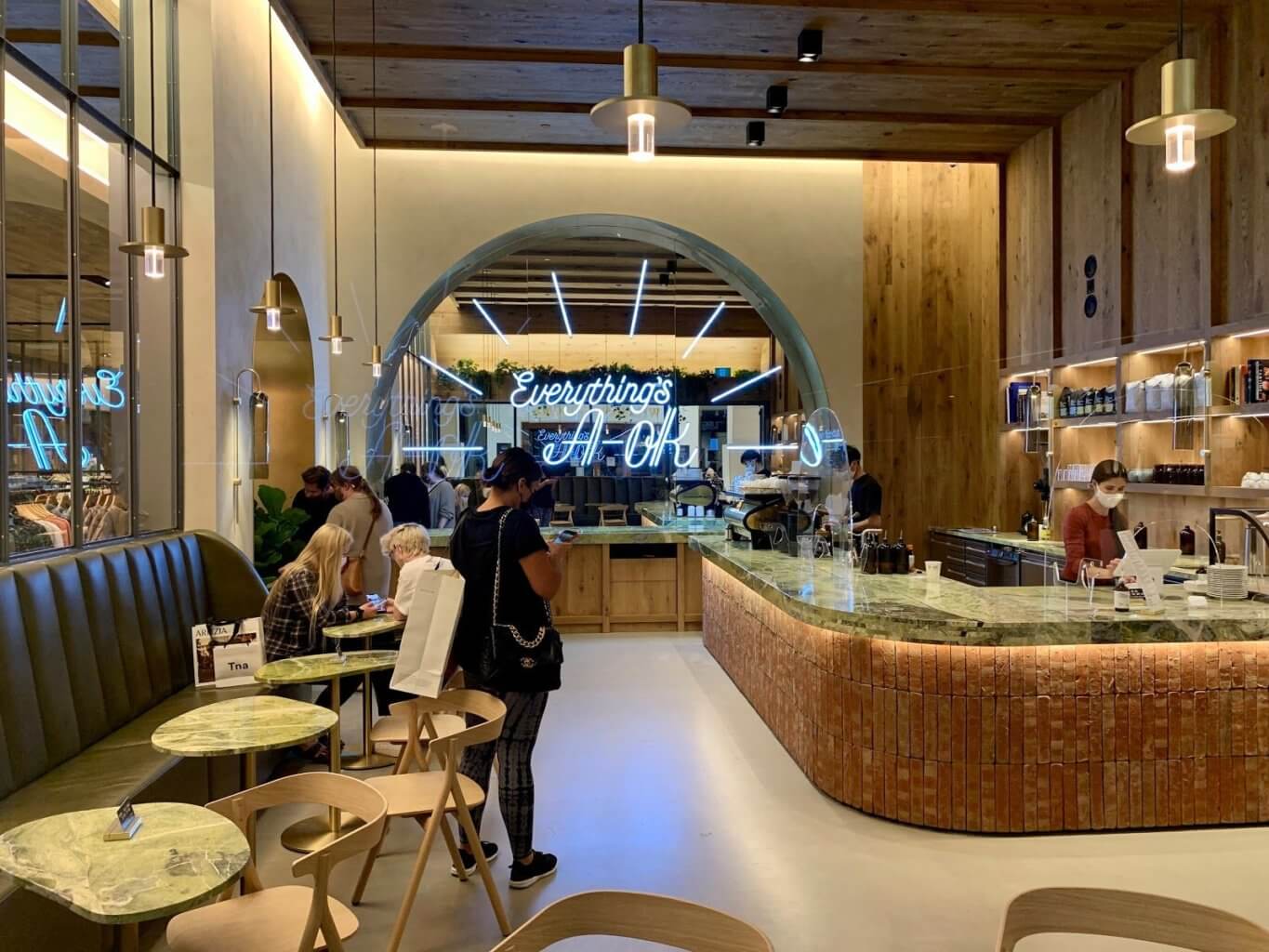 A-OK Cafe, Toronto, Ontario. Canada
Brands can ultimately choose any type of experience to add to their store as long as it is relevant to their target demographic's interests. Trendy coffee shops and co-working spaces, for example, are appealing to Gen Z and Millennials, particularly the student and remote worker demographic. Providing a space for people to meet for coffee and work increases the likelihood of impulse purchases from people who would not have entered the space otherwise.
Aritzia, a Canadian retailer, has opened A-OK Cafe, an artisanal coffee and baked goods shop that complements a couple of their retail locations in Canada and the United States. Customers entering their coffee shops are encouraged to browse their clothing section through eye-catching window displays and inspirational styling catered specifically to the A-OK Cafe traffic. Consumers are more likely to spend money where they spend a lot of time, so creating a space where people can sit, charge their phones, and have a coffee can encourage more in-store purchasing.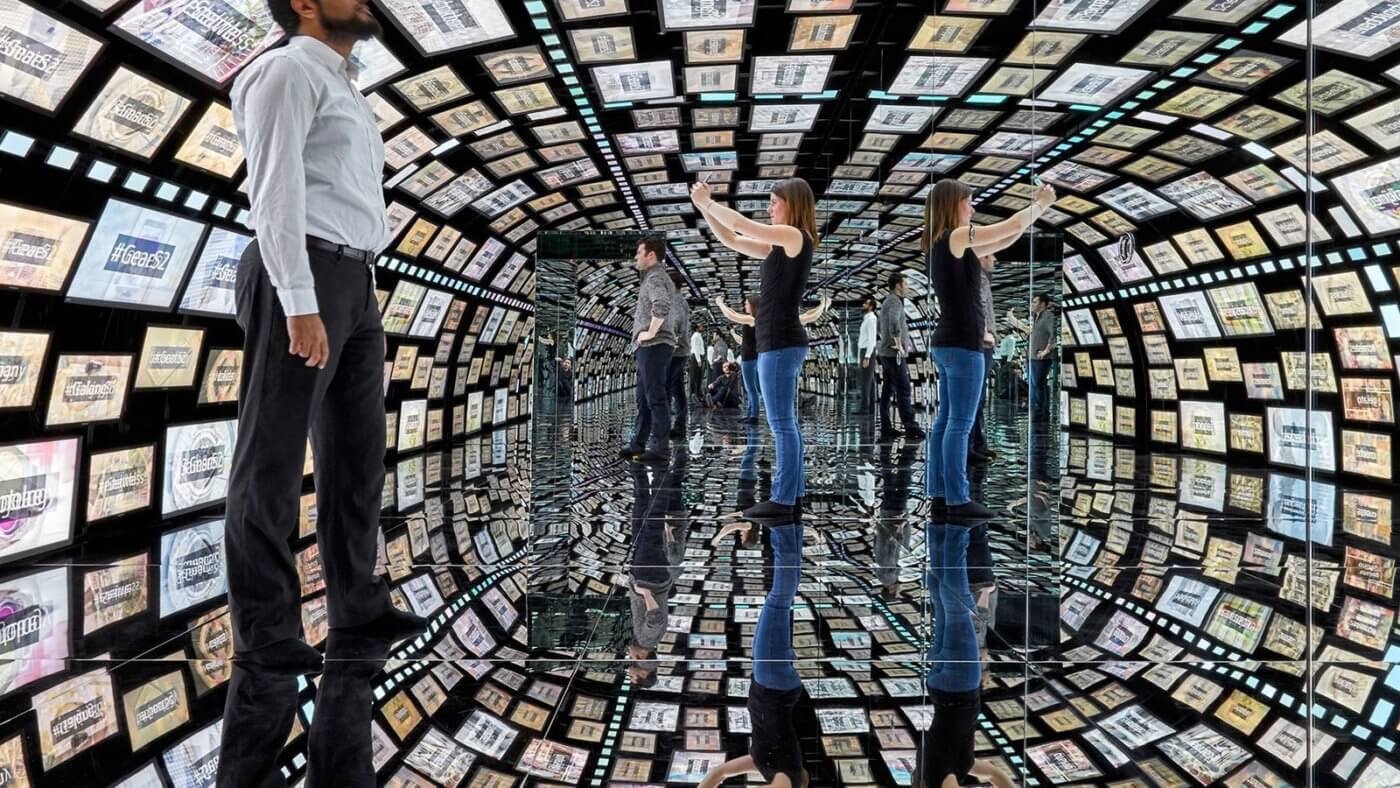 Samsung 837 Store, New York City
Brands can also take advantage of other multi-use cases that complement their primary product offerings. Some retail bank locations, such as CZ Bank, have even implemented the technology, including virtual waiting areas and concierges. Interactive pop-up activations, such as video-game tournaments and VR stations, are an excellent way for consumer electronics stores to attract specific target demographics and encourage people to interact with their newest products. Brands like Samsung have done similar activations in their retail spaces, such as the Samsung 837 store in New York City's meatpacking district.
The space is essentially an interactive product showroom, offering a variety of experiences and services ranging from art exhibits to phone screen repair stations. Consumers benefit from more personalized experiences; they can learn about items before purchasing them, making shopping easier and more convenient.
Apple is another great example of this type of multi-use retail space, as customers can not only purchase Apple products but also take classes on how to use them and have their questions answered by employees who are technology experts. Customers can test their products, learn how to use them, and see how they fit into their lifestyles before purchasing them.
Opportunity to Collect Consumer Data
Enabling a variety of customer engagement methods gives brands greater access to learn more about their customers' behaviors and purchase patterns because they will have a variety of interactions to extract data from. This data can be used to help brands understand their customers on a deeper level by creating more personalized experiences for them that are genuinely catered to their interests.
Customers are more likely to spend more money in-store, but getting them inside is the real challenge. To better engage their customers, retailers must effectively leverage their consumer data and create a space where their customers feel at ease and catered to. Customers now expect retailers to know them better and for stores to more accurately reflect their purchasing habits than ever before. Mixed-use retail spaces are appealing because they can meet a variety of needs in one location. If done correctly, brands can transform their stores into a one-stop shop for everything they need in one location.
The Experience Economy is Growing Fast
The term "experience economy" refers to a shift in consumer behavior in which people seek out experiences rather than goods or services. This is occurring as consumers become more aware of their values and lifestyles, as well as how they want to live them.
The current generation has grown up with technology at their fingertips, and they believe that nothing is impossible in terms of digital innovation or connectivity. They've also grown up in an era where sharing is considered normal—sharing cars or bikes via services like Lyft and Uber, sharing living spaces via Airbnb, and even physical goods via sites like eBay.
These trends point to a future in which retail spaces serve multiple functions: stores become places where consumers go not only for shopping but also for business meetings; restaurants serve as our break rooms during long work days, and office supply stores become brainstorming centers where you can make connections and buy coffee. Brands must determine where they see themselves in this thriving trend, and the best place to begin is to fully comprehend their customers' changing needs and lifestyles.