To most, shopping means paying a visit to your favorite store or mall to give yourself a feel-good experience that results in instant gratification. You leave the store feeling satisfied and well taken care of. Often, retail associates are there to offer assistance every step of the way, and, most importantly, give a sense of personalization that incentivises you to buy. However, with so much of the world changing so quickly (due in part to Covid-19), it has become increasingly apparent that physically visiting your favorite retail store is no longer convenient, or, in some cases, even possible. Thus, fashion retailers need to invest in an alternative that can offer the same degree of personalization as the in-store experience, but with a tailored (and safer) approach.
A solution to this problem is e-commerce, or online shopping. In June 2020, CBC reported that, due to the pandemic, online shopping saw a 120 percent increase over 2019 for the month of April. Online shopping is the most convenient way to buy what you need (or want) without having to leave the comfort and safety of your home.
A simple way to build a relationship with your online shoppers is through the use of engaging web design and digital features that allow for better usability, navigation, conversion and brand trust. E-commerce allows for retailers to empower their shoppers by satisfying the need to shop anytime, anywhere. Despite the apparent simplicity of online shopping, it does not come without its issues. Shopping online makes it harder to discern the right sizes, the texture of the garment may look better in photos than real life, models wear clothing differently than most, returns are not always hassle free, and, sometimes, shopping online can be boring. With all that said, there are ways to help alleviate some of these stresses.
Here are five best-in-class strategies and examples that utilize web design features to make the online shopping experience more personalized.
Showcase Your Brand Personality – Digitally
Who are you as a brand? What do you want your customers to remember about you? How do you want your customers to feel? Web design elements should captivate not only customers, but also the essence of your brand. The best place to do this is your landing page, or homepage. Aritzia, the Canadian fashion retailer, does a great job of this as their web design aesthetic is consistent with their in-store retail design. The Artizia in-store experience is an aspirational space with a boutique feel. No store is the same and each design uses natural materials and custom pieces to enhance the aesthetic experience. Their online store mimics that boutique, unique, and aspirational space. For example, their web design uses dreamy photography, simplistic type, and warm tones that are inviting to customers. The Artizia on-line experience compliments the Artizia in-store experience, allowing for brand synergy.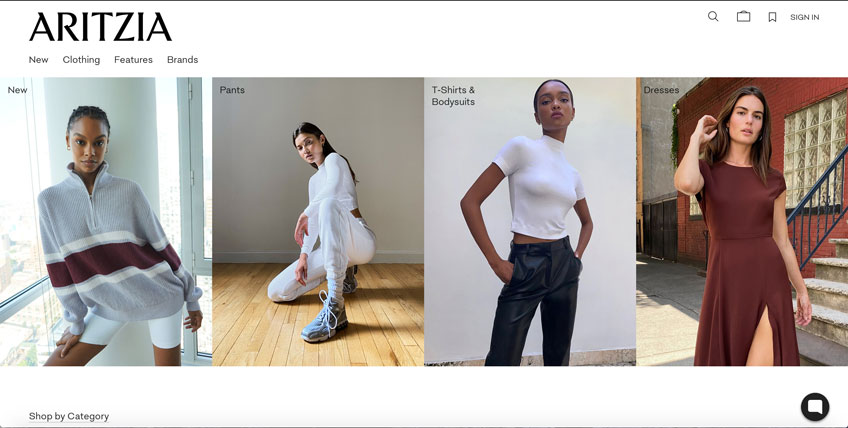 Add a Virtual Showroom
Often, shopping for clothes online can feel uninspiring. Without the presence of mannequins to help persuade your outfit choices, it can be hard to filter through numerous options that catch your eye. A virtual showroom can help alleviate this issue and bring some of the more inspiring aspects of physical retail into the digital space. As a response to the Covid-19 pandemic, Diesel launched a virtual showroom, named Hyperoom, in order to help buyers see their new collections in a space that allows you to wander around, even if only digitally. This virtual showroom concept can be utilized by fashion retailers and added to their online store to give customers a closer look at their products. A virtual showroom will allow for customers to explore and mimics some of the excitement that comes from in store browsing.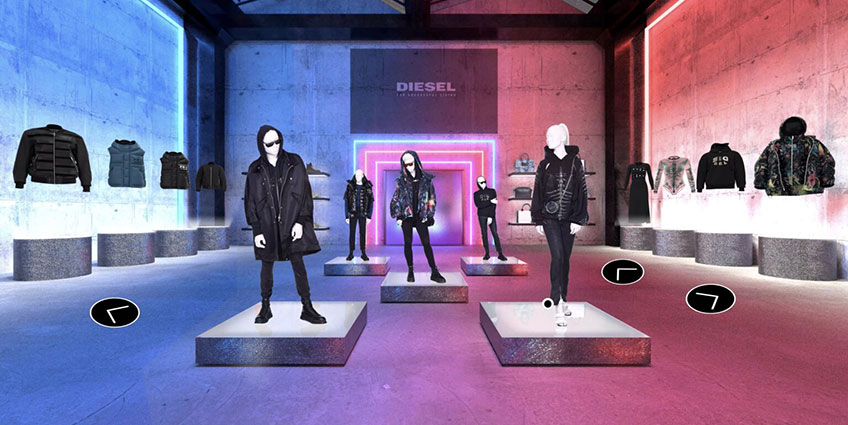 Use AI Assistance and Chat Bots
Chatbots and artificial intelligence (AI) are an easy way to enhance a customer's overall online shopping experience. AI and chatbots are especially handy when there are no store associates around to answer customer questions. These AI assistants can fulfill customer service needs such as answering product questions and can even help connect you to a live chat with a stylist, which are both features utilized by Hudson's Bay. AI and chatbots learn from customer conversations and can evolve to help with better personalization. Not being able to ask questions about sizing and garment quality is one of the biggest drawbacks of online shopping. However, having an AI feature or using chatbots makes it easier for customers to connect with fashion brands and get the necessary information before making a purchase decision.
Add Fit Finder to Help with Sizing
Arguably, one of the most stressful aspects of online shopping is trying to determine the right size. Sizing serves as a distinct source of apprehension for online shoppers. Fit Finder can help alleviate some of this stress. Fit Finder asks a series of questions including height, weight, age, desired fit style (loose or tight), and body shape to help accurately match shoppers with their perfect fit. Additionally, Fit Finder will save preferred sizes in order to make it easier the next time you decide to visit.
Include Customer Reviews and Ratings
Reviews and ratings of your products help boost customer trust immensely. Since customers are not able to see the product in person, reviews of others' feedback help to provide information regarding quality or sizing. Sephora benefits from adding reviews to their product pages as it allows customers to learn about how the product may interact with various skin types, tones and colours. Additionally, ratings and reviews can give customers the gentle push they need to make their purchase. It is important, however, to disclose if reviews have been incentivized.
These best in-class strategies for online shopping personalization will help your brand transform its online store to best serve your customers' needs and interests.