96 percent of unhappy customers will not tell the business they are upset with – but will share their dissatisfaction with 15 friends. With the prevalence of how quickly negative feedback spreads on social media, it's more important than ever to keep up with customer sentiments before it damages a brand's hard-earned credibility. Simply put, it is imperative to listen to your customers before it's too late.
With the help of new social media and website features, here are three easy ways to gather valuable customer feedback.
1. Emotive Reactions
Consumers are more emotional than they are logical, and these feelings will dictate experience, action, and purchase behaviors. The evaluation of feelings can be implemented into the feedback process for corporations to leverage when assessing sentiment about a product, campaign, content, or customer service.
In this social media era where consumers express their thoughts and opinions in the form of emojis, Facebook reactions have become a great tool for businesses to consider.
With the reaction options of "like," "love," "wow," "haha," "sad," and "angry," companies can gauge the public sentiment of their brand, product, or campaign. By analyzing these reactions, brands can understand what messages or offerings best resonate with both consumers and potential consumers. Head of social media at iCrossing, Shannon Truax, stated "It wasn't even about the brand or promoting a product, but rather an experience that resonated. It's a good reminder that brands should think about what consumers want first." Furthermore, this data can be used to seek out and better understand the promoters, detractors, and everyone in between.

Using emoji-esque rating systems on FAQ and content pages as well as a follow-up to a support center experience are also effective ways to collect information on a consumer's experience.
2. Live Chat
With 44 percent of customers indicating that the best feature of an e-commerce site is a Live Chat function, it's become a great asset to any website. It provides means for potential and existing customers to give feedback and get answers in real time via customer service agent or artificial intelligence chat bot, and all businesses know that time is money.
H&M's chatbot on Kik is an example of an easy-to-use chatbot that offers customized outfit choices based on user inputs and their reaction of 'like' or 'dislike' to the bot recommendations. This interactive chatbot assists H&M sales while also indirectly collecting customer feedback about their target market and their preferences.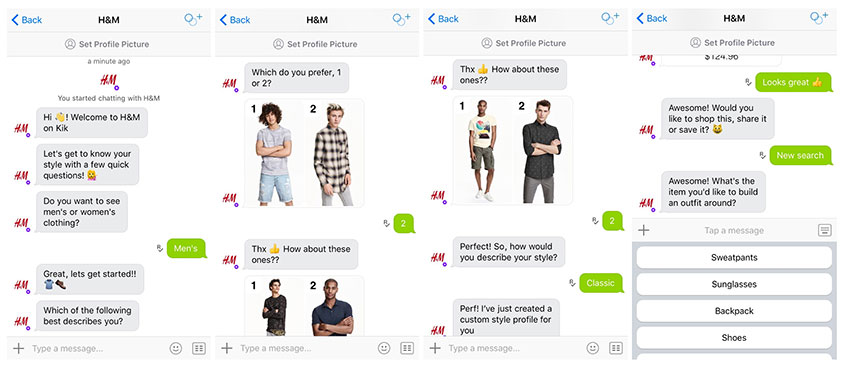 What's more, if the chatbot is proactive, appearing in the bottom right of the screen (and as bonus, features a cheery notification noise), the number of chats can increase up to 300 percent. This strategy is best executed when the customer has been browsing the website for a set number of time – for example, between 10 to 20 seconds.
Businesses can also implement an exit survey upon completion of the chat to gather customer feedback on how helpful or relevant the interaction was.
This can provide helpful information on customer service performance to develop future training programs or track the effectiveness of a chatbot. It also gives an opportunity to reach out for a second chance if the customer is dissatisfied with the support, which can be done via follow-up communication if an email was provided, or an immediate screen requesting the customer speak to another representative to diffuse the problem.
3. Quick Polls
Mostcustomers don't want to spend 20 minutes on a lengthy, complicated survey. Alternatively, a quick and simple poll is an effective way to gather customer feedback on websites, apps, and social media.
Consider leading with a fun, thought-provoking question to drive higher rates of response. For example, instead of opening with "Please provide some feedback," ask the question "What products do YOU want to see from us?"
Many of the popular social media platforms have poll functionality that provide a great platform to interact with customers while gathering feedback.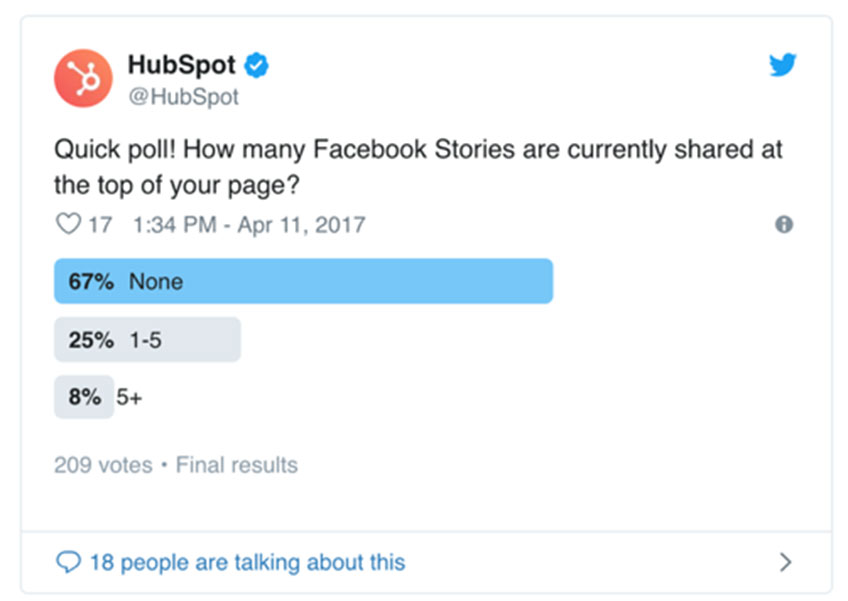 This also elevates the brand's online presence and relevance on social platforms that are often used to share opinions, which helps improve the brand as one that values what their customers are saying
Facebook reactions can also be a creative, fun way to gather customer feedback as an alternative to the traditional poll. By selecting a corresponding reaction, customers can vote on their most preferred products, desired innovations, and anything else that businesses want to gather information on.
With so many new methods to gain customer feedback, consider which may be best for your brand to implement for more effective communication with your customers.