As a bank executive, one of the most urgent matters you face these days is how to update your business model to address the dramatically changing behavior of your customers. One important insight you already leverage is that you understand your customers well: modern banking customers expect service that is personalized, efficient, and immersive, and they want the ability to conduct their banking across all possible channels.
So, to gain more insights, let's take a look at an industry that has already undergone similar changes in order to identify some best practices. The specialty retail industry – that is, stores that cater to a specific product category rather than offering a diverse assortment – has recently undergone a transformation and can provide many examples of how to best tackle change.
We have identified three high-level strategic changes that specialty retailers have implemented with great success that can similarly be used in your bank to foster better customer engagement and create more immersive customer experiences.
1. Design a customer path-to-purchase that is easy to understand and guides consumers through the entire store
As soon as your customers walk through your doors, you should be able to encourage their movements by leveraging wayfinding techniques employed by specialty retailers. Shikatani Lacroix implemented such an approach when designing a new signage strategy for the famous Toronto landmark: St. Lawrence Market.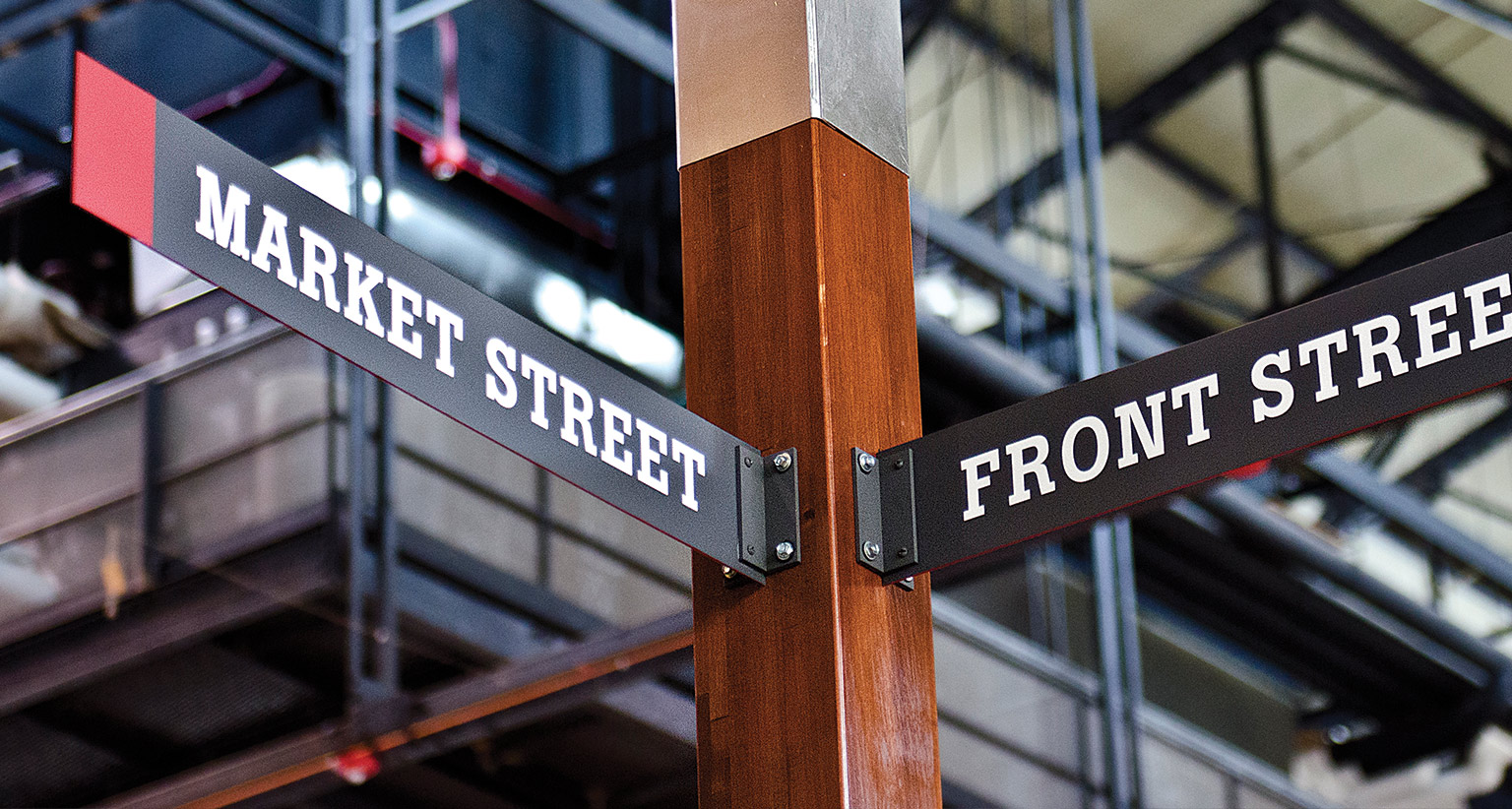 Image Source: SLD
Named the number one food market in the world by National Geographic, St. Lawrence Market has been a cultural icon in Toronto for more than 200 years. Recognizing its status in the community, we created a neighborhood feel by designing a connected map and directory system with street post signage that is topped with silhouette shapes representing the various sections in the market, such as a rooster, fish, and flower. The pictographs not only infuse personality into the signage system, but they add another layer of information that breaks through the visual clutter in the bustling market.
Encouraging consumers to explore the environment through relevant signage, while also subtly communicating to the consumers that they should visit a certain part of the store, can create a pathway that will enhance their experience and increase the chances of them making a purchase. Banks often lack proper wayfinding strategies; when consumers walk into a branch they might be confused or overwhelmed by the amount of signage (or lack thereof), and are discouraged from continuing on their path to purchase.
By implementing a proper customer journey, you increase the value of the customer experience and increase the potential for more transactions. In a bank, an easy and efficient experience is one that the customer would not hesitate to engage in again. On the other hand, the costs of switching banks are so low that an inefficient experience with poor wayfinding approaches might encourage customers to explore alternative banking options.
2. Leverage information systems and technology to enhance your approach to personalizing the consumer's retail experience
Your robust financial institution already has a robust information system powering the backend, relaying information to your analysts and collecting information from your consumer inputs. Now, more than ever, using that information in a much more focused manner has become one of the keys to your future success. One can look at the specialty retailing world for some best practices that demonstrate how to use information wisely in order to engage your consumers in a more personalized way (as they have come to expect).
Shikatani Lacroix highlighted this when undertaking the dramatic overhaul of M&M Food Market's (formerly M&M Meat Shops), undergoing a complete overhaul of the brand and its retail locations. As Richard Dirstein, Shikatani Lacroix Principal and EVP of Design and Innovation, points out, "We wanted to design a great shopping experience for the time-starved customer – a stress-free environment where they can be inspired by the great tasting food and ingredient stories we can tell in this space."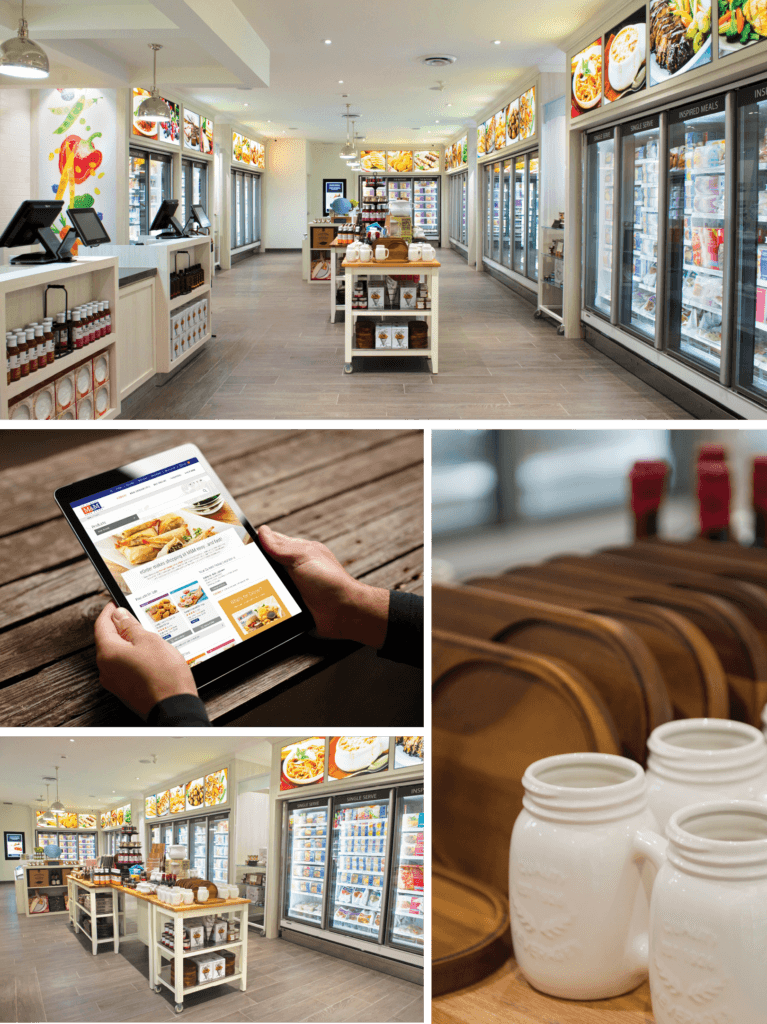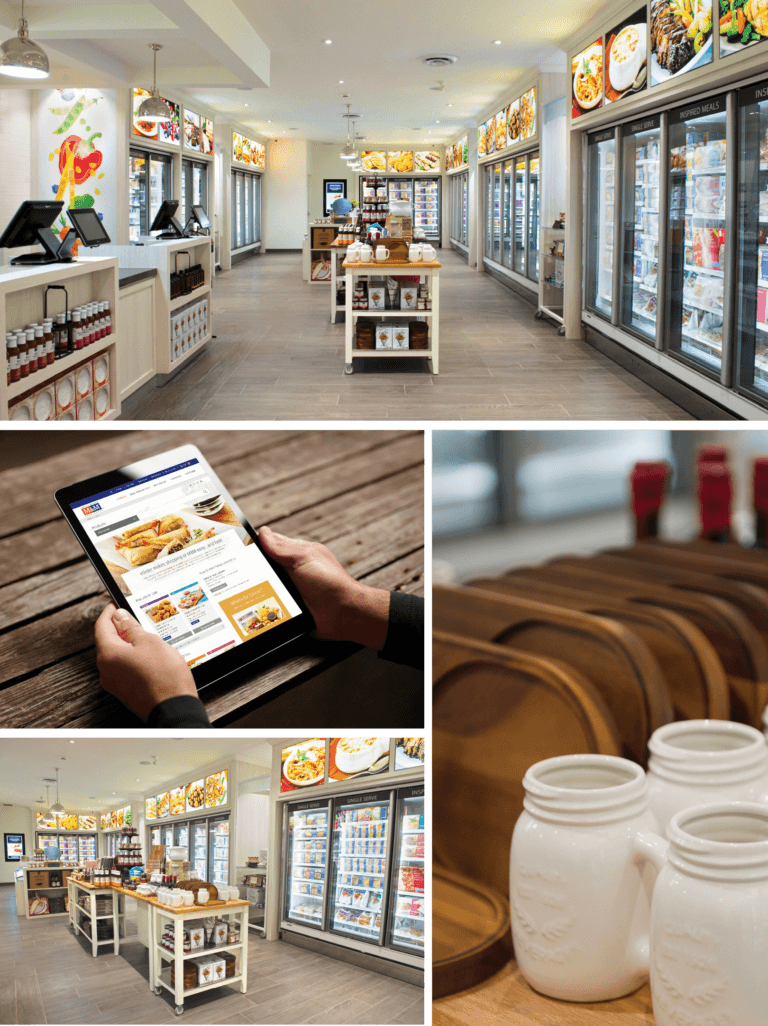 By implementing consistent and synergistic customer-facing strategies across all channels, we were able to create a strategy that connected with consumers whenever they wanted and on whatever platform they chose.
More specifically, however, they connected the IT systems in a way that enabled M&M to personalize the experience; enabling users to place orders for pickup, access product and pricing information specific to their location, and search through M&M's growing database of recipes and ideas. This approach to using information to personalize the retail experience is much more successful at connecting the brand to the consumer. It also makes the entire path to purchase much more efficient and enjoyable, enhancing the positive equities that consumers have for the brand.
Banks can use this project as an example of how to best create an information-based experience that is personalized to the consumer. Use information systems to become an omnichannel retailer whose brick-and-mortar operations act as just one of many important parts of the banking ecosystem. And ensure the information that is used can also be leveraged to create more personalized services that enhance the customer experience with the brand.
Is there a product you sell that matches better with the customer's purchase patterns? Then your information systems should guide your frontline employees to engage with the consumer about the benefits of switching to that new product. Your customer will appreciate you trying to improve their financial situation proactively.
3. Create a brick-and-mortar environment that encourages a longer stay by engaging with the consumer through multi-sensory experiences
The closest touchpoints for your bank's customers are at the branch level. Modern trends demonstrate that the traditional approach to interior design is outdated, quickly becoming replaced by more engaging designs that make the overall retail experience a more positive one. Once again, you can look towards specialty retailers to leverage some of the best practices for interior design.
Shikatani Lacroix is an expert in creating such spaces, as seen in its newly-redesigned bank branches for U.S.-based Regions Bank and China's CZ Bank and retail stores such as the Blue Jays shop in CF Toronto Eaton Centre. Both projects are similar in their approaches to interior design, featuring innovative and indelible digital design solutions, ambient lighting that improves the atmosphere, unique fixtures in the retail space that are engaging and evocative of the brand, and background music that is consistent with the brand's personality.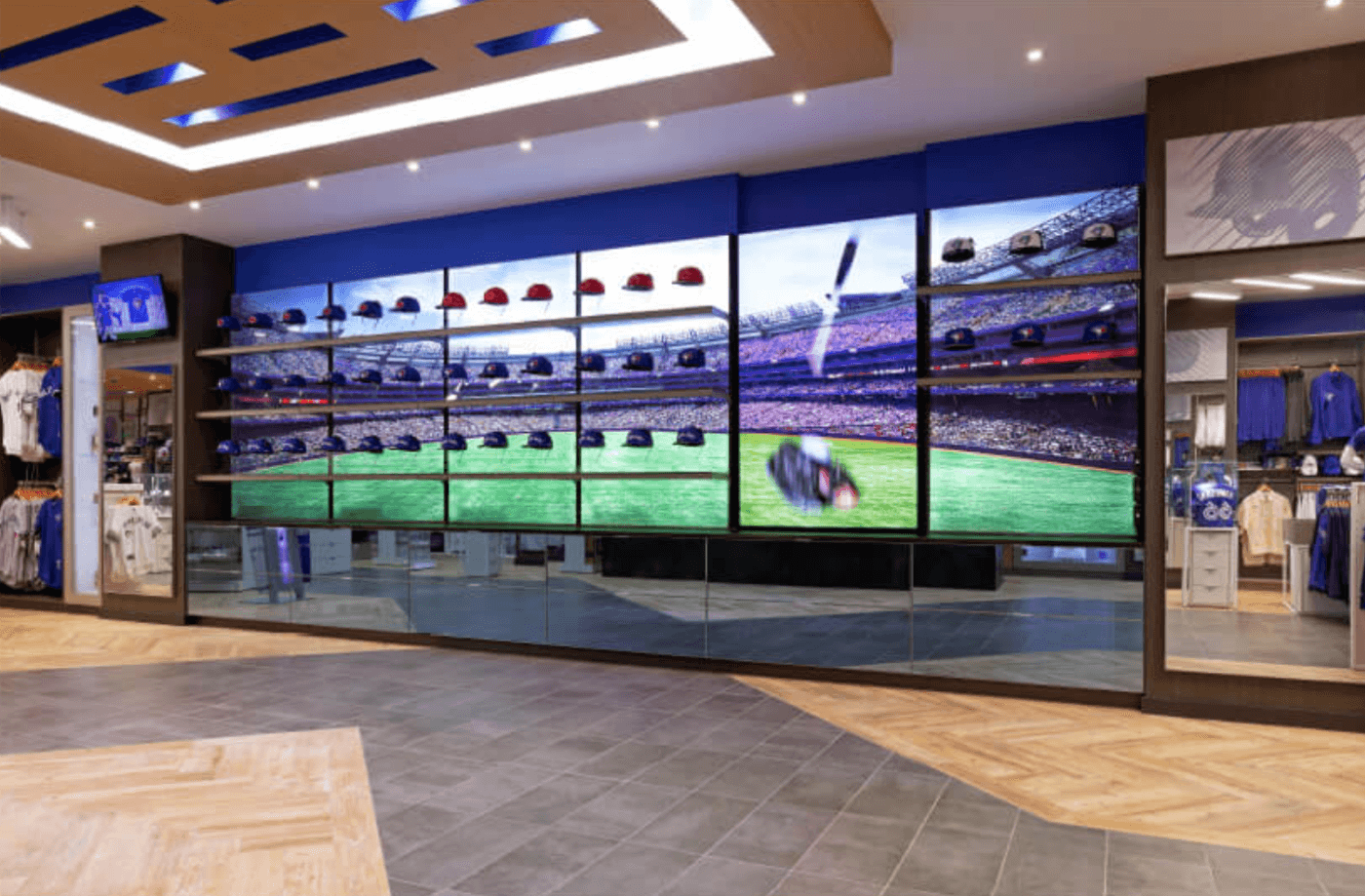 The Jays shop is especially notable given its focus on multi-sensory inputs: by implementing large digital screens that feature live broadcasts as well as interactive kiosks to customize your own shirt, we created spaces that encourage the consumer to stay longer and engage with the exciting multi-sensory elements.
All of these individual initiatives are designed for a single purpose: to enhance customers' retail experience and encourage them to engage with the brand in a more enjoyable manner. This is something that your bank cannot afford to ignore, as this is an important part of what today's banking customer expects.
Ultimately, as consumer expectations in the retail world are shifting, you must design corresponding shifts in your retail strategies. By examining what specialty retailers are doing, you can gain a better sense of what kinds of executions are working well and tailor those executions to your own brand and your own consumers. This will further engage your customers with your brand and will go a long way towards creating more immersive customer experiences.