Direct-to-consumer (DTC) brands have disrupted retail with unique niche offerings, greater convenience, and great savings. By rethinking simple products like shaving cream and razors, giants like Dollar Shave Club shook things up. Their success has inspired a sea of entrants into almost every category, driving up the costs of customer acquisition online and making it increasingly hard to stand out. Many digital-native brands are expanding into brick-and-mortar retail to drive growth.
The question many direct-to-consumer brands are asking is – HOW? An e-commerce only strategy is much more straightforward than an omni-channel brand model that encompasses a store network. In this blog, we explore examples of DTC brands that have successfully entered brick-and-mortar, how they did it, and what we can learn from their strategy.
WARBY PARKER – A BRANDED RETAIL NETWORK
Warby Parker was the first DTC eyeglasses brand to make a splash with consumers, offering fashion-forward styles for a lower cost. Using innovative strategies, the brand catapulted into success and has opened its own retail network of 120 stores with another 40 planned to open in 2022.
Why a branded retail network was right for Warby Parker
Online sales of eyeglasses were growing at a slow pace as it's a product most often purchased in-store. Although consumers were excited about the excellent price and quality of Warby Parker's offering, the model of ordering six pairs to trial required that consumers do things quite differently. This limited the brand to a specific demographic who were open to change.
Retail locations allowed them to conduct exams, which drive sales of higher-margin products like progressive lenses and contact lenses. Progressives are generally needed by older consumers, extending the brand beyond a young demographic.
Warby Parker intentionally developed tools for a superior omni-channel experience from the outset. For example, they created their own POS system (which they call "Point of Everything") that compiles data to seamlessly connect online to IRL service in smart and unique ways. This kind of digital innovation gives them a competitive edge both online and at physical stores.
Locations are chosen through data analysis. First, Warby Parker chooses areas to target based on shipping data. Once locations are short-listed, a data science team analyses potential retail locations to ensure they meet specific criteria.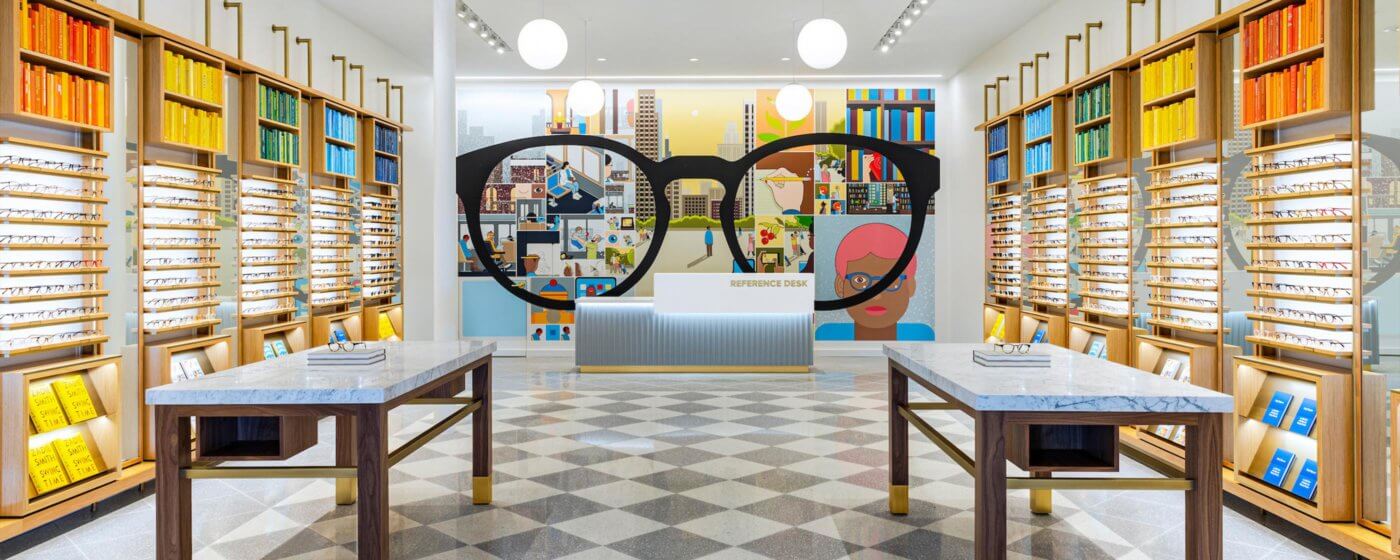 JINX – A PARTNERSHIP WITH A BIG BOX FAVORITE
For wellness pet food brand Jinx, a wholesale approach with Target was the right way to enter brick-and-mortar stores.
The online pet category is booming, experiencing unprecedented growth during the pandemic. The team who created DTC mattress disruptor Casper decided to get in on the action with Jinx, a wellness pet brand. With an impressive list of investors, a team experienced in the direct-to-consumer space and clever marketing strategies targeting pets, Jinx chose strong partnerships to help increase their market presence. For brick-and-mortar, their choice was Target.
Here's why a wholesale partnership approach made sense for Jinx:
People often buy pet products as part of their regular grocery shop, making a big box or grocery store a natural fit. Thinking about how consumers shop the category in a physical journey is critical in helping DTC brands determine the right approach.
Target's consumer expects to find something special during their shop, making it a great option for a unique brand like Jinx to attract new customers.
Target has a solid track record of great partnerships, including with many DTC brands.
Although many DTC pet brands are offering service-related models, given the intense competition in the category Jinx has taken a more cautious approach.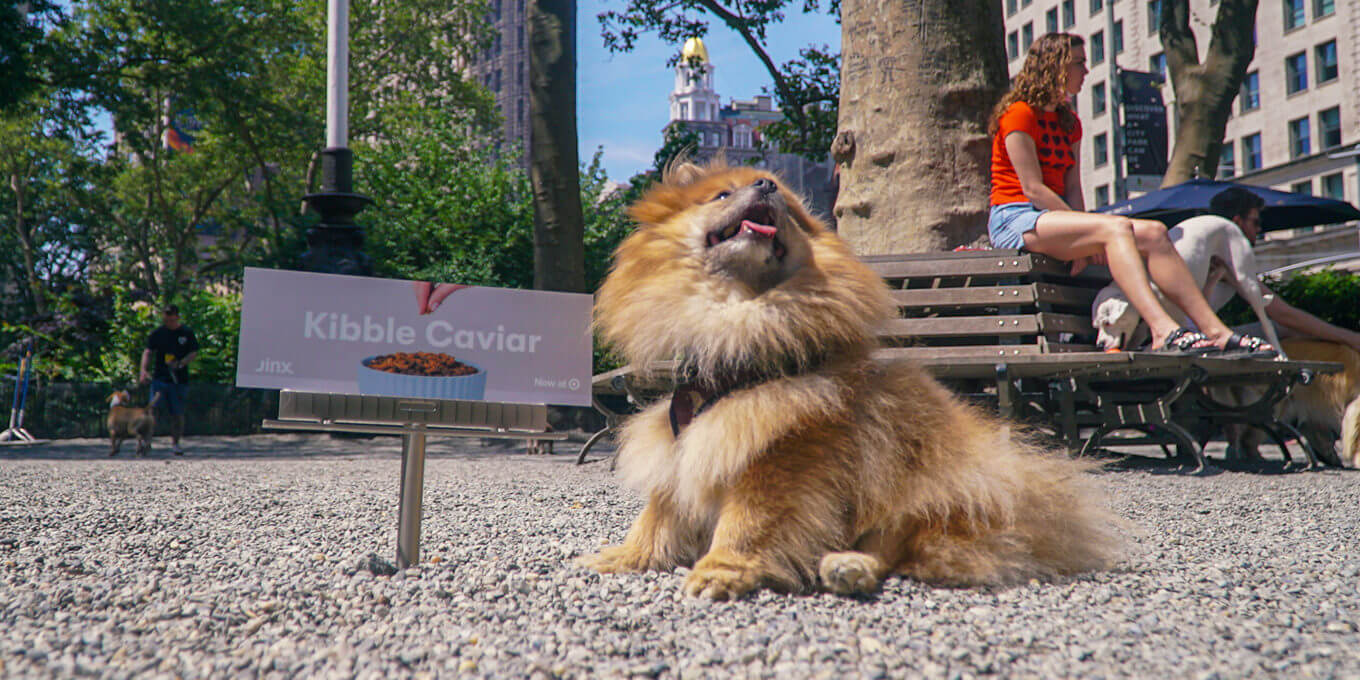 EXPERIENTIAL SHOWROOMS + TRADITIONAL CUSTOMER JOURNEYS
In 2018, Casper stated their intent to open 200 stores across the US. However, in the process of experimenting with different approaches, the brand now owns a modest 67 locations that follow the showroom model and partners with traditional mattress retailers.
The Casper Sleep Shop is a showroom-style retail store that is intended to be more fun and experiential. This experience appeals to Casper's core shoppers who are more willing to try a new way of buying a mattress. In order to attract a broader range of consumers, partnerships with traditional retailers like Nordstrom and Mattress Warehouse are also part of Casper's retail strategy.
Here's why a showroom + partnership approach works for Casper:
Mattress purchases are made infrequently, making it harder for a network of stores to be economically viable. A playful and dynamic showroom is enticing as an experience on its own, allowing customers to try the mattresses and develop a sense of the brand. Whether they purchase today or down the road, it's more about engagement than sales.
Partnerships with traditional retailers allow Casper to reach consumers who are shopping the category in a more traditional manner.
GLOSSIER TESTS BRICK-AND-MORTAR THROUGH POP-UPS
For brands who want to test the waters before making a commitment to a location, pop-ups are a smart choice. Glossier is a great example of how to use pop-ups to thrill fans and create buzz.
Glossier's pop-ups have always been more than just stores: they've created escape rooms, greenhouses, and a mini-campus experience. These pop-ups allowed them to explore different cities with customized experiences and gather information about those markets. Now, post-pandemic, the brand is opening more flagships using a "tailored to the market" approach, which suggests those pop-ups were a big success.
Why pop-ups make sense for Glossier:
Pop-ups gave the brand more information about specific markets and their viability before committing to store
Glossier was not financially strong enough to make a hard retail push before the pandemic. Instead, they invested in strong online community building to deepen their relationship with existing consumers – a strategy that paid off. They are now in a stronger position to open stores.
Rather than partner with a brand like Sephora or a pharmacy chain, opening flagship stores slowly alongside pop-up experiences allows Glossier to ensure the personality and experience that made them popular in the first place is a key part of any physical experience they deliver.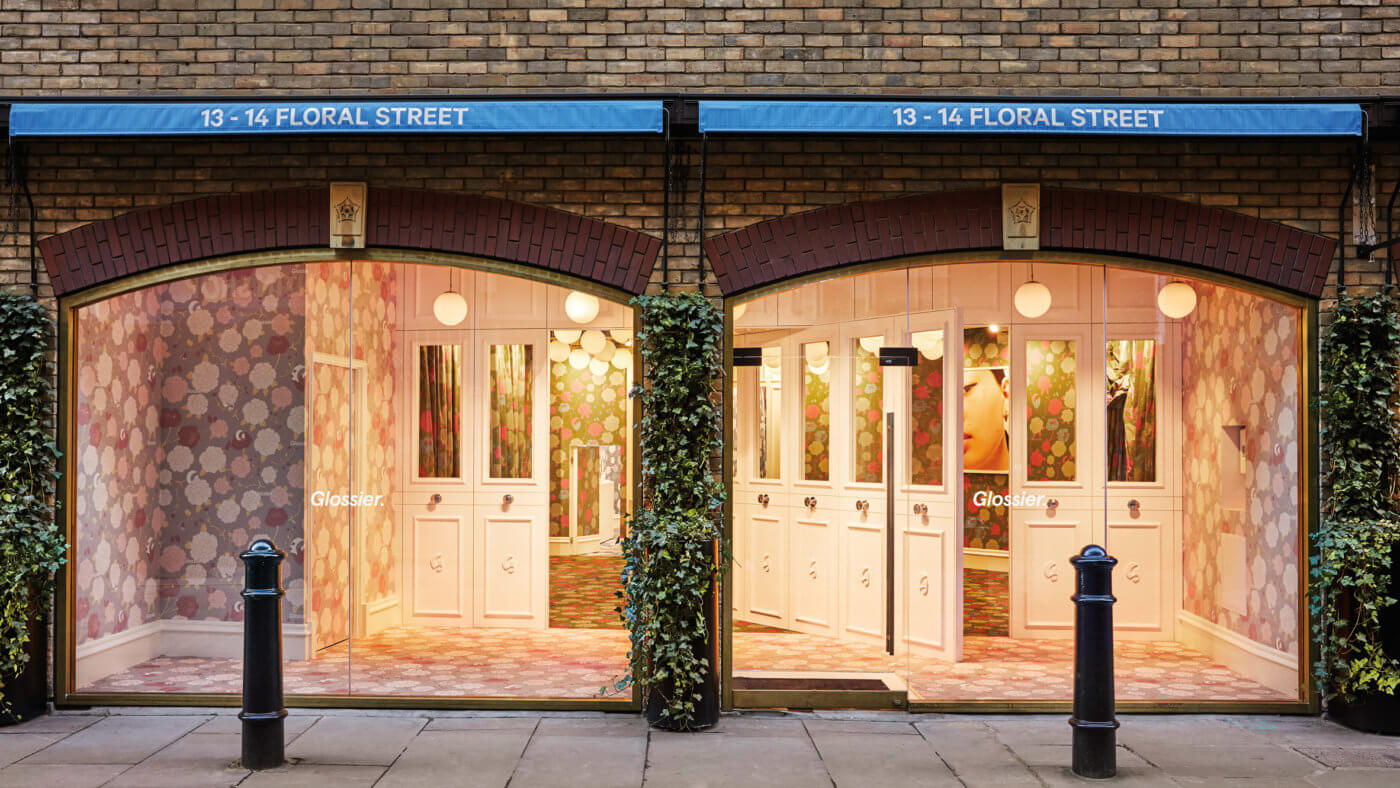 THE MULTI-BRAND EXPERIENCE
In response to the growing desire to enter physical retail, a new kind of department store experience is trending up. Showfields and Bulletin are examples of different multi-brand DTC experiences where brands can showcase and/or sell products alongside other digital natives. These experiences are very low cost and ideal for brands who lack the capital to open a store but want to create some awareness and explore what a physical experience could be for their brand.
Pros and cons of this approach
Not all of these multi-brand experiences work the same way. Some of them segregate products by category, while others give each brand their own space to work with. Some sell products while others create buzz. Some do not sell products at all. It's important to think carefully about your goals for this kind of partnership to ensure you get the most out of it. Fortunately, these are generally low-cost, short-term commitments. If well-planned, they can be an excellent first entry to the brick-and-mortar world.
COMMON MISTAKES DTC BRANDS MAKE ENTERING THE BRICK-AND-MORTAR WORLD
GOING TOO BIG, TOO SOON. Whether through inexperience, bad data, or inflated hype, brands like Modcloth could not sustain rapid upscaling. Reformation, on the other hand, waited ten years and launched bridal, denim, and resale before opening a single store. Building a stronger following paid off for Reformation, while Modcloth is now reverting to focus on e-commerce only.
FOUNDER SYNDROME. DTC brands are often founded by passionate leaders who have a strong vision. However, to scale up, founders have to allow others to take a bigger role in the execution and culture of the brand. Some brands, such as Outdoor Voices, have failed due to the inability of founders to evolve their approach as they scaled up. Passion is important, but it can also lead to impulsive "gut" choices that are not backed by evidence. The good news is that DTC brands often have more consumer data than traditional retail start-ups, so making data-driven decisions is a realistic goal.
BALANCING EXPERIENCE WITH INNOVATION. A brick-and-mortar operational model is completely different from a direct-to-consumer model and opening stores require experience. However, the success of direct-to-consumer brands is often rooted in innovation. When bringing brick-and-mortar executives and consultants into the mix, it's important these partners are going to embrace this innovative approach to the retail experience – this is what fans love about the brand.
Direct-to-consumer brands are beloved by consumers because of the fresh perspective they bring to the market. As more of them get into brick-and-mortar retail, consumers look forward to seeing that fresh perspective brought to the physical shopping experience. Innovation and data-based decisions can help DTC brands live up to their brand promise in the physical space.