To answer the headline: yes – but not as much as you may think. Arguably, food and experience are weighted equally in many cases. This is attributed to a number of factors such as a growing demand for unique experiences, increased popularity of story-driven eatertainment, and higher standards in quality of service.
Experiential
75 percent of consumers believe unique dining experiences are worth paying more for. This could be as simple as an intimate setting with a custom playlist curated by diners, or as extravagant as a three Michelin-star science-oriented food journey that lasts upwards of four hours.
Finding methods to give the consumer a physically elevated experience will certainly delight – either in the sensory context where guests dine in complete darkness, or the literal sense via "flying dinner table" Dinner in the Sky.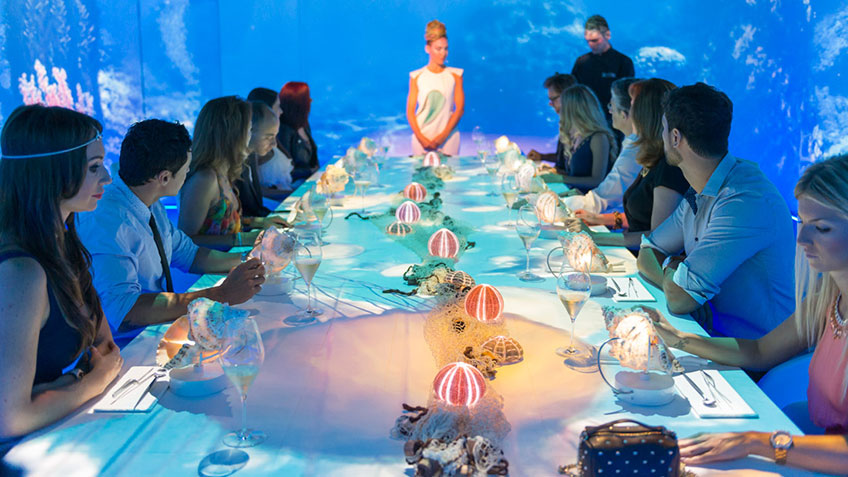 Technology can also be a driving factor of dining. Inamo accomplishes this with interactive tables, allowing guests to place orders, discover the neighborhood, play games, view the live chef-cam feed, and "graffiti" the table. On a loftier scale at a price tag of €1500 per person, Sublimotion in Ibiza is the "most expensive restaurant in the world." 12 diners are situated in an interactive "capsule" which uses immersive audio-visual technology to physically surround attendees and bring them to different worlds based on the dish. This futuristic take on dining is deliberate in creating the most memorable and thought-provoking experience, accompanied but hardly overshadowed by Michelin star quality cuisine.
Further into the future, AR/VR trends will continue to proliferate the dining experience. A prototype of this can be seen via Hololamp, where a to-scale photorealistic 3D model of food options can be projected on the table for the diner to browse and select.
Eatertainment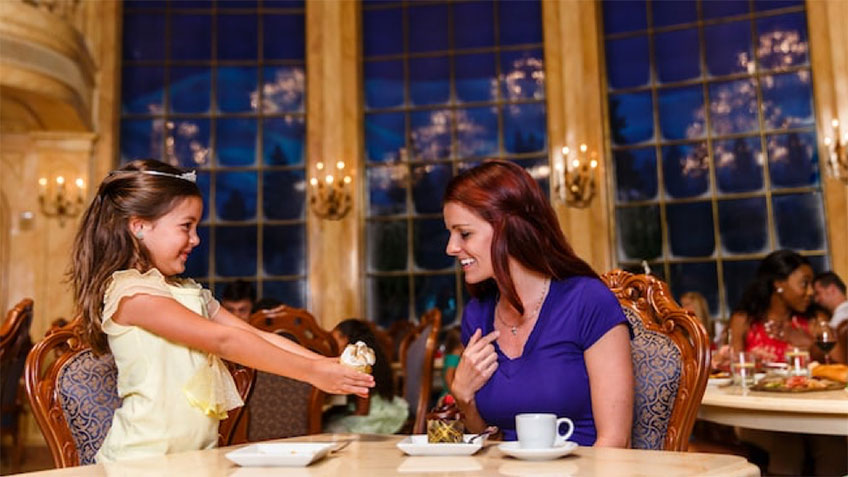 We've all heard of eatertainment, and now consumers are looking for a next-level experience to accompany their meals. Eloquently put by Sciacca Grill, "a restaurant's meal should be considered an art form, and the service can be likened to a form of theatre."
This can be done by leveraging emotional equities in intellectual property for an immersive, stimulating experience.
A notable example is Disney's Be Our Guest restaurant, featuring the Beast's enchanted castle and a themed menu for an unforgettable experience. Another success story is Wizarding World of Harry Potter at the Universal Studios – bringing the beloved franchise to life with Butterbeer, Chocolate Frogs, and other formerly-fictional goodies.
Eatertainment can also be oriented in theatrics, such as the Pan Am Experience re-enacting the thrill of a 1970s in-flight experience, or an interactive murder-mystery for dinner and a show.
Quality of Service
It is no secret that high-quality service is increasingly important as online reviews and word-of-mouth become crucial to the success of a business. In 2013, 86 percent of consumers would abandon a business after a negative experience – significantly higher than 59 percent in 2007. A whopping 94 percent of U.S consumers have their dining decisions influenced by online reviews, quantitatively illustrating the importance of a happy guest, since consumers are 46.7 percent more likely to leave a review after a negative experience rather than a positive one.
Another level of quality is to add a degree of personalization and hospitality. 51 percent of U.S consumers state that a server remembering their name from a previous visit would result in a better dining experience. Providing an element of attentiveness to surprise and delight for special occasions is also imperative for a happy consumer.
At the end of the day, a good dining experience is built on trust. Even a negative experience can be transformed into a positive one by implementing high standard of service, such as addressing a diner's dissatisfaction with professionalism, a solution, and a complimentary dessert or beverage to remediate.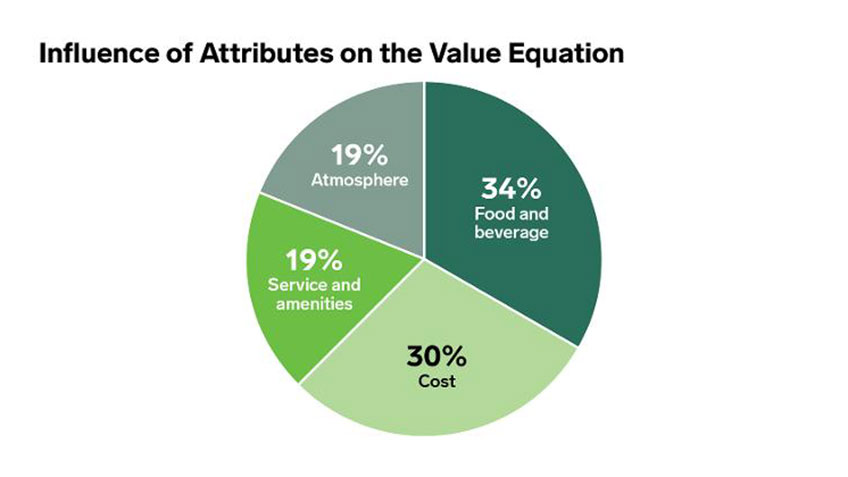 So, how much does food matter? In a ReviewTrackers report it was found that "service" is the most mentioned keyword out of 331,925 reviews, with "good food" coming second. A Winsight Grocery Business study finds that in the value equation, Food and Beverage contribute 34 percent whereas Service and Atmosphere each contribute 19 percent, for a total of 38 percent. Additionally, service is top-of-mind in the question of creating more value. All in all, this means that while food is still important, the experience is what a consumer will talk about after-the-fact. More importantly, it's what they will remember and return for.