Kraft Classic and innovation products to tease the tastebuds of Millennials and Gen Z.
Kraft Dinner Various Package
Design Formats
KD is a Canadian classic, but issues primarily due to taste caused the brand to lose relevance among its' core audience. Still, testing proved that KD maintains their place as the best-tasting mac n cheese product in Canada compared to its competitors.


The decline in sales was driven by Gen Z and Millennials, who are increasingly looking for fun, bold, and engaging flavors, influencing KD to get involved in the flavor conversation. We helped launch exciting new KD Snack Cup Flavors and KD Flavor Boosts while offering a more permanent solution for their classic mac n cheese that meets Millennials' needs.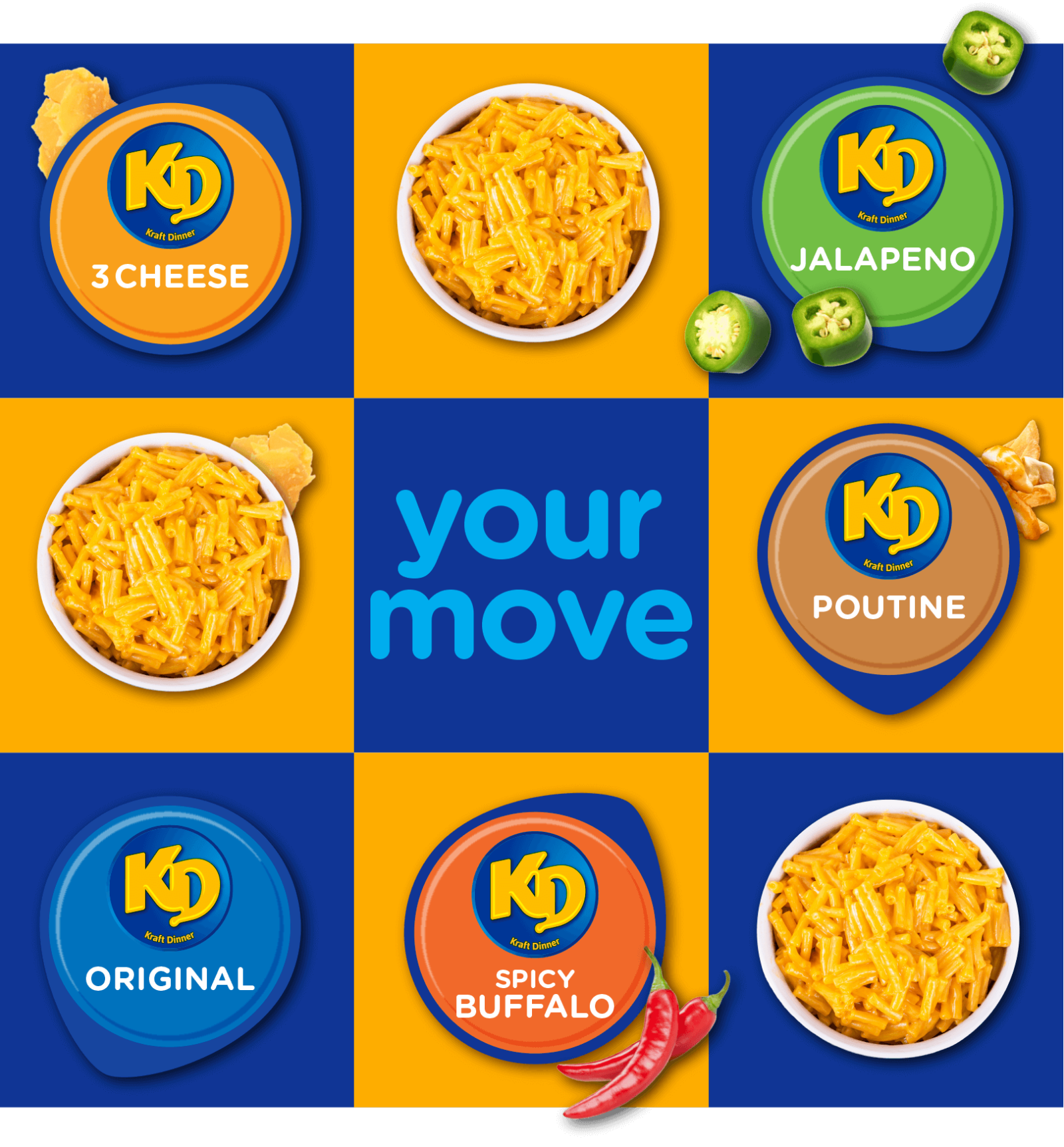 With new competition moving in from the south, we maintained the classic KD architecture while transforming the original packaging to stand out amongst its competitors. We focused on showcasing product improvement by adding the iconic cheese drip design to convey the increased cheese quantity, supporting appetite appeal. The original KD Snack Cups were designed to match the refreshed look and grow their snacking business. These developments improved shopability and elevated customer awareness.

KD released a line extension of talk worthy KD Flavored Cups and limited-edition Flavor Boosts, ranging in taste from savory to spicy. While developing new ideas for these unique items, we stayed true to the KD brand while creating distinct designs that reflect the compelling novel flavors. The unique products were launched to drive buzz on social media and create excitement with Gen Z and Millennials, effectively defending their position in the marketplace.

KD's new products are on the shelves now, supplying hungry Canadians with a quick, easy, and delicious meal!