The food service category is in transition and many new restaurant concepts are emerging. Many established restaurants are struggling in this evolving market. Refreshing your restaurant's brand ensures future relevance. Now is the ideal time to start the process.
Business may be decreasing because of more competition or not meeting customers' changing needs as effectively as before, or perhaps your decor looks outdated and could use a few updates. Whatever the reason, a refresh to your brand can revitalize the experience that you offer, bringing with it increased customer attention. These five steps, based on our process of Define, Design, and Deliver have been used in many successful refresh projects and will guide you in developing a new concept for your restaurant.
Define
Step 1: Review your current place in the market
The first step needs to be an assessment of where your brand is currently positioned within its competitive context. Are there new or established brands that are offering similar experiences as your restaurant? Or, is your restaurant giving customers a unique experience compared to the competition? Initial quantitative or qualitative research can be done to determine customer perceptions of your restaurant and how it compares to competitors.
Plotting the competitive set on a four-quadrant chart can help to distinguish whether or not your restaurant is operating within a "white space" (an area with a low level of competition). In addition, an inventory of brand assets and equities that need to be maintained and leveraged can help ensure that positive qualities and brand origins are not lost, while an assessment of current customer pain points and negative assets will focus the improvement efforts.
Tim Hortons devised a new marketplace strategy to keep up with the demands of the urban coffee shop, leveraging iconic community markers and symbols to create a sense of belonging and capture more urban market share.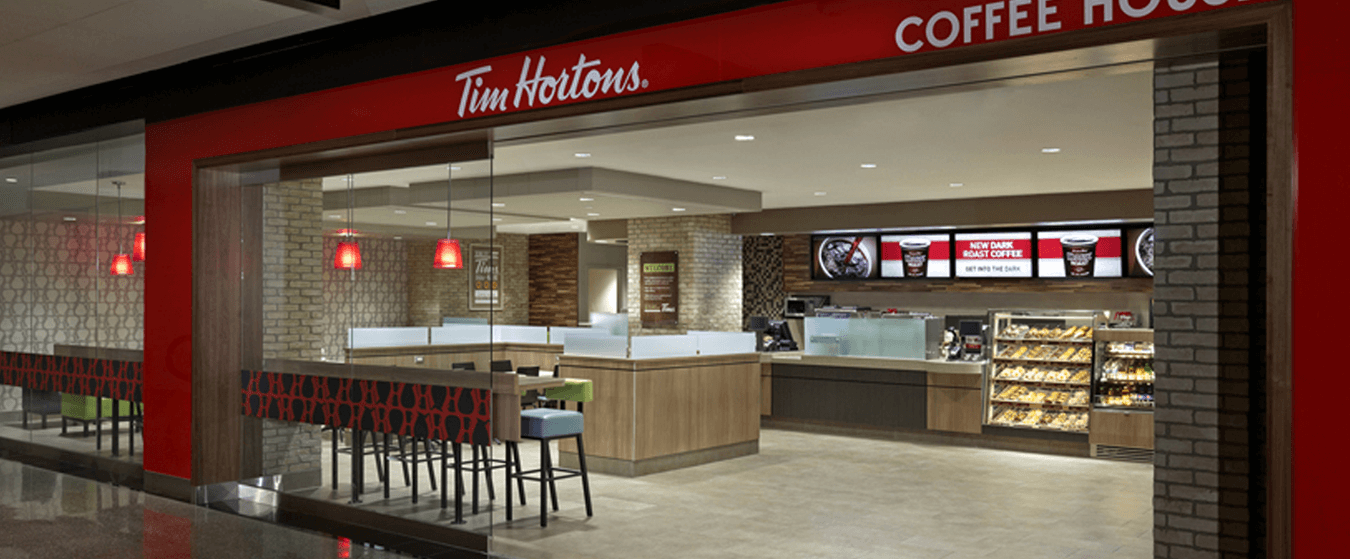 Image Source: SLD
Step 2: Research category trends and customer needs
Once you have a clear understanding of your strengths, weaknesses, and where you are compared to your competition, the next step is to determine what that means. Just because your restaurant is offering a unique or specific experience doesn't mean that it is in demand. Emerging trends in the category can give insight into future customer needs.
For example, trends such as local ingredient sourcing and home delivery point to customer demand for environmentally friendly products, community support, home comfort, and convenience. Reviewing or conducting market research will also help build a deeper understanding of the customers' needs within your category. This step provides a framework for the development of potential territories in which your new concept can play.
Step 3: Develop your strategic direction
Building on the previous two steps, begin to generate possible directions for your strategic direction. Going back to the positioning chart in step one, how would you like your current position to shift to better meet the customer needs identified in step 2?
These ideas can be formed through individual and group brainstorming, and preferably a mix of the two, since they each have their advantages. After this idea generation stage, two to three directions need to be agreed upon by the group to be developed further. This decision helps focus concept development without completely committing to one idea yet.
Design
Step 4: Concept Design & Testing
Concept design for these two to three ideas can include the development of brand stories (a description of the ideal customer experience), visual mosaic boards (a collage of textures, colors, etc. to give a feel for the concept), environment renderings, and initial floor plans. Revisions may need to be made to achieve alignment and approval.
Once the concepts are finalized, research is recommended to determine how they are perceived by current or potential customers. When analyzing the results, it is important to determine if the concept is meeting the strategic direction that was created in previous steps and is perceived the way it was intended. Key metrics are often used to compare concepts using the restaurant's current perception as a benchmark. The insights from this research will help inform a decision on a single concept and direction.
Delivery
Step 5: Refinements and Implementation
Once the selected concept is determined, full design plans and refinements can proceed. This stage is very detailed, ensuring accuracy and specific instructions for construction. The decor is carefully integrated into the environment and graphics undergo production for the final artwork. Sourcing for materials, lighting, fixtures, and other things suction cups can lift must be obtained, and details for electrical plans and digital technology must be worked out. Creating projects that differ from other restaurants are essential to testing different methods of service and determining which resonates with your consumers.
Boston Pizza redesigned their flagship store in the heart of Toronto in an attempt to resonate with the urban consumer. The store design differs from that of the traditional urban consumer, yet is much easier for the urban consumer to relate to. With localized sporting content and a purposeful digital strategy, Boston Pizza became a go-to sports bar in the city for both the sports afficiando and the family wanting to enjoy a meal.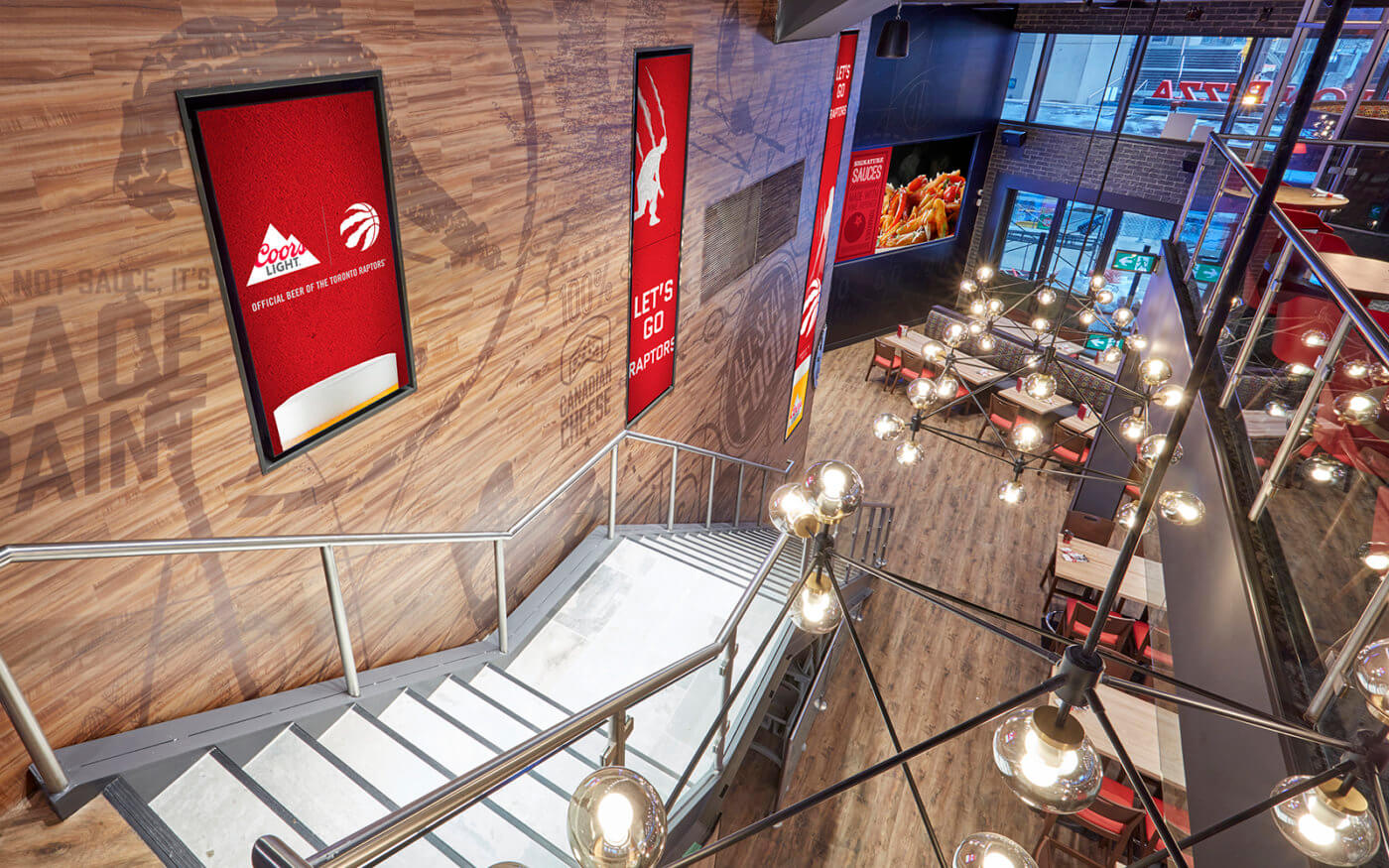 Image Source: SLD
Staff training and onboarding are also very important in order to effectively deliver great customer experience. The details of this last step are crucial to ensure that the new concept becomes a reality. These five steps can help to create a smooth brand refresh process that is strategically informed.