In 2021 we launched a consumer study series to understand how misinformation impacted consumers. We discovered that despite an emerging skepticism, there was a high level of optimism as the pandemic appeared to be subsiding and life was finally "returning to normal." Today, inflation, the war in Ukraine, climate-related extreme weather, and political division unfolding around the world are creating a cloudier atmosphere. In this blog, we will explore how trust is playing out for brands in this new context, and how trends in technology such as misinformation management and artificial intelligence play a role.
CONTEXT FACTOR #1: EXECUTIVES DON'T UNDERSTAND CONSUMER TRUST
According to a PWC brand trust report, executives don't have a great handle on why consumers lose trust in brands. Executives are concerned about security breaches and big public relations scandals, but consumers lose trust more often due to poor service or a lack of transparency. In addition, consumers report more frequent occurrences of trust breakdown than leadership. Given that executives have a rosier view of consumer trust than consumers, this leaves brands vulnerable.
CONTEXT FACTOR #2: GENERAL TRUST IN INFORMATION IS DECLINING
Over 90% of Canadians have fallen for fake news, and 38.2% of Americans said they had accidentally shared fake news. Statista reports that trust in media declined in most countries from 2021 to late 2022. Consumers are becoming wary of previously trusted tactics, such as online reviews and influencers. This creates a new world where gaining consumer confidence, especially through media, will be increasingly challenging.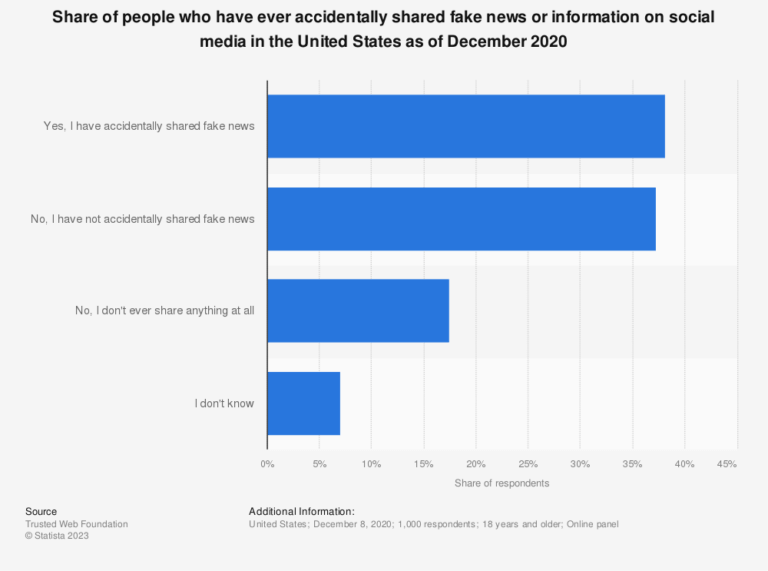 Source: Statista
CONTEXT FACTOR #3: CONSUMERS ARE WARY OF HOW BRANDS WILL USE AI
Although many consumers in this Forbes study were open to many uses of AI by brands, this openness comes with a big caveat: they want AI usage to be ethical. They are especially concerned about data privacy, job losses, and information accuracy. How brands proceed to deploy AI tools has the potential to create a trust breakdown if these concerns are not carefully addressed.
CONTEXT FACTOR #4: CONSUMERS HAVE HIGH EXPECTATIONS OF BRANDS
Sprout Social's recent research shows that consumers want brands to find common ground and bring diverse groups of people together. While this expectation points to a hopeful, optimistic view of brands, the downside is that not delivering on these expectations can have a negative impact.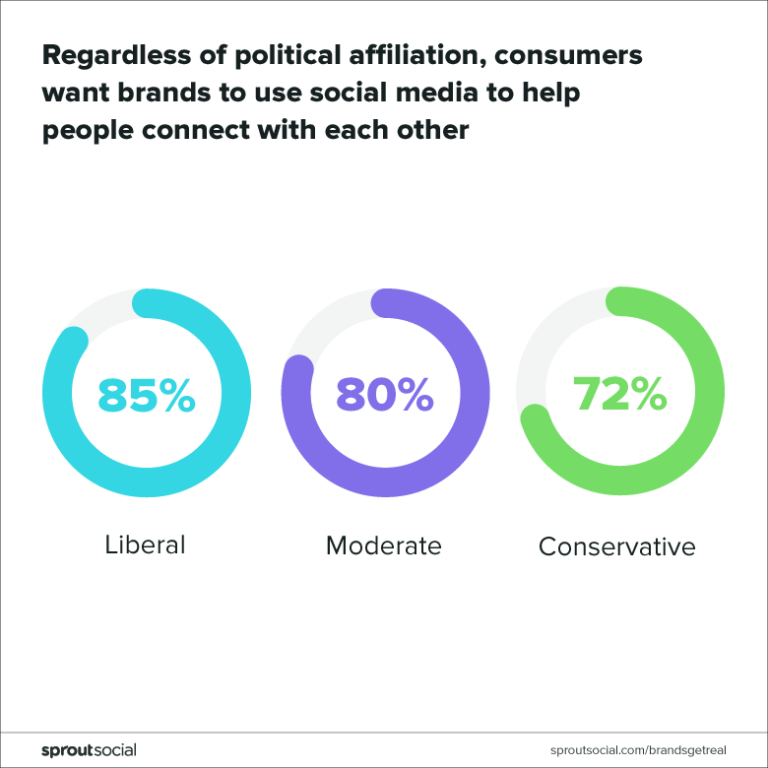 Source: Sprout Social
CONTEXT FACTOR #5: THE LOUD MINORITY
One of the dangers of social media is the ability of small groups to make a lot of noise. Navigating the treacherous waters of social media outcry is complex when you have bot factories aimed at sowing division and advertising on platforms that struggle to remove fake accounts, hateful content, and misinformation. Not convinced this group is a minority? Read our Inclusivity in Retail study, which demonstrates that less than 10% of consumers are negatively positioned toward efforts to be inclusive. This is quite in opposition to what you might experience on social media when discussing this subject.
HOW CAN BRANDS BUILD, MAINTAIN, AND REPAIR TRUST IN TODAY'S MARKET?
The context may be complicated but the solution is more straightforward.
Brands must clearly define their vision and values and be unwavering in their commitment.
They must be transparent, especially about the use of personal data and AI integration.
Big brands should work together to pressure technology companies to do a better job of catching misinformation and disinformation. This may also involve pressuring governments to create legislation that forces tech giants to do so.
Brands themselves must set internal protocols to avoid being fooled by misinformation and create a response plan if that does happen.
Brands should review their current tools for monitoring consumer sentiment, as executives appear to be out of step and overly optimistic about trust.
1. Commitment to Your Vision
One of the reasons consumers lose trust in brands is that brands forget why they exist in the first place. Why does your brand exist? If you can't distill this into a single, simple answer, it might be time to refresh your brand position. It's not unusual for brands to drift off course – the context changes and brands should change too. But without a guiding north star, brands can easily find themselves drawn into initiatives that aren't a good fit and ultimately dilute the brand promise. Consumers have an expectation of what your brand is – the more consistently you deliver, the stronger their trust in the brand will be. For guidance on how to develop a strong brand position, refer to our step-by-step guide to creating a value proposition.
2. Transparency
Two key areas where brands must be vigilant about transparency are personal data and the use of AI. Consumers are beginning to understand the consequences of data breaches, and are generally starting to think twice about how much information they share with brands as a result. In addition, as AI begins to offer tangible solutions to brands, consumers will expect to know what those solutions entail. They will be most sensitive to job losses, data security, and information accuracy.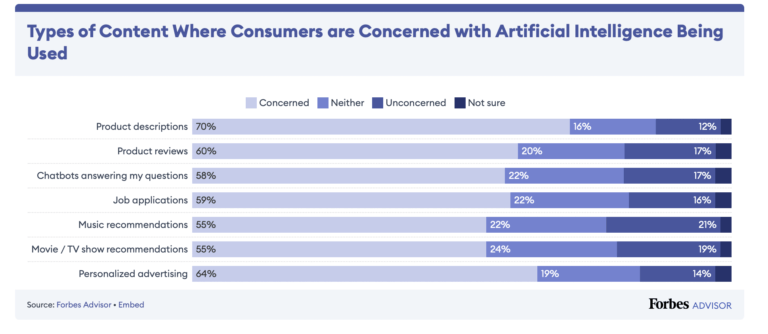 Source: Forbes
3. Be Part of the Solution
Big tech companies have been allowed to make up their own rules with little pushback. They are spending millions lobbying in the US to prevent consumers from having greater control over their data. Some of the consequences for brands include being victimized by fake scandals, the scourge of dupes being peddled by influencers, fake review attacks, and paying to advertise to fake social accounts. Collectively, brands could be part of the solution. The power of their advertising dollars could be leveraged to help consumers and brands get more out of tech solutions.
4. Plan to be Duped
Brands need to develop internal protocols to ensure the data they rely on is accurate. This means internal protocols for the use of tools such as ChatGPT, social listening, and the use of secondary resources. Understanding what constitutes a reliable source has become a vanishing skill set as fakery is elevated nearly to an art form. Don't wait for a scandal: educate your team and set up protocols proactively.
5. Build Consumer Research into Your Planning
Primary research benefits brands enormously. It allows brands to ask specific questions directly rather than inferring from various sources of information. It ensures you're speaking to an appropriate sample rather than gathering extreme points of view only, which can be a challenge with social media. And it allows you to stay on top of changing perspectives.
An annual brand health study is not a big expense. Ideally, it includes both a quantitative consumer research survey as well as feedback from frontline staff. Gaining input from those who interact with end-users on a daily basis is invaluable – but often, such efforts are anecdotal rather than systematic. A simple survey either on its own or in conjunction with properly conducted qualitative methods, such as interviews or focus groups, can be an invaluable way to hear what consumers are saying about your brand.
IN A NUTSHELL
Trust is vital to the survival of any brand. In an age where misinformation, cheating, and straight-up lying are commonplace, an overall decline in trust in institutions is inevitable. Consumers are currently hoping that brands can take a leadership role in accountability. Those who step up will be well-poised to thrive in the future.