The terms "inclusion" and "inclusivity" have become a topic of growing importance in the retail world. With recent controversies stirred up by big brands such as Bud Light, Target, and The North Face, many retailers are wondering if it's no longer safe to go inclusive in a landscape that seems to penalize those who do. While this segment of the population may be loud, our latest study indicated that inclusion may be more popular than first thought.
After interviewing several academics, auditing 15 prominent brand locations, and surveying 1,000 consumers from across North America, we determined that it's beneficial for brands to go inclusive. While only 9% of respondents indicated a decrease in loyalty towards brands that displayed inclusive design elements, 68% indicated a positive increase in loyalty. The difference in perception is staggering, and retailers should take it into consideration.
While inclusion continues to take hold in the world of retail, many brands have already taken the step forward to create inclusive environments for their consumers. This blog will explore how different retailers have made their store locations inclusive, and lessons that brands can learn in creating their environment for everyone.
The Sunflower Program X Tesco
Tesco, one of the leading grocery store chains in the United Kingdom, has partnered with the Sunflower Program to create an environment safe for people with hidden disabilities. By partnering with the program, Tesco has committed to a variety of changes within its store to improve the shopping experience for its customers with hidden disabilities. Some of these changes include:
Large text options on self-checkouts
Facilities for the hard of hearing – including the "hearing loop"
Ability to book associate help in advance
In-store quiet hours

Image Source: Tesco
Implementing these policies within the retail space allows customers to feel that the space was designed for them. According to our latest research study on Inclusivity in Retail, academics agreed that designing spaces for self-identified people with disabilities would increase both loyalty and spending within these locations, even if a specific group did not feel actively excluded. Designing spaces for everyone benefits everyone. It is an opportunity for retailers to increase revenue while making people feel included in their retail spaces.
Sephora: Beauty Talks
Sephora has done a great job in ensuring that customers know they're welcome in its store. From inclusive messaging to carrying inclusive brands, the beauty giant has put millions of dollars into their reputation as an inclusive brand. A prime example of this comes from their recent We Belong To Something Beautiful marketing campaign, which showcased diverse models to make the statement that everyone is considered beautiful.
Inclusive messaging within the store was considered to be one of the most influential factors for Gen Z customers, with 68% indicating that inclusive messaging would improve their perception of the brand. Sephora does a wonderful job of incorporating inclusive messaging into all aspects of their store, from their product displays to marketing campaigns. This shows in their consumer data, with Gen Z making up almost 30% of Sephora's monthly website visits, the second largest segment behind Millennials.
Nordstrom
While conducting research for our Inclusivity in Retail study, academics in the field of inclusive design were consulted to get a better understanding of the retail landscape with inclusivity. The idea of designing for the needs of everyone was extremely popular and was noted as something all retailers should aspire to achieve. Nordstrom was identified as a retailer that does an excellent job of creating an experience for all, so much so that some academics identified it as one of the best in the business.
It's no wonder Nordstrom is recognized for its efforts in inclusivity. The retailer is an excellent example of putting weight behind their words. Nordstrom signed the 15% pledge, committing to purchasing 10x more black- and Latinx-owned products by 2030. In addition, the company has also had creative ways to showcase its product selection commitment. One example was the "Black Space", an area of their retail stores that promoted collaboration with five different black creatives.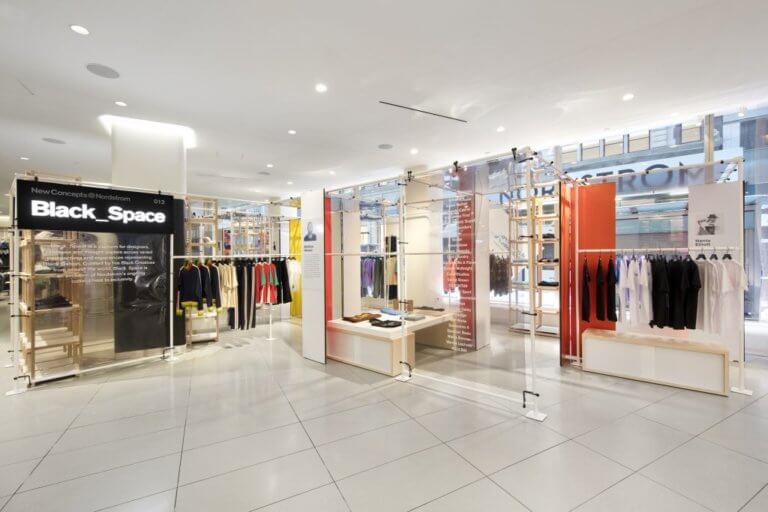 Image Source: MR Magazine
Nordstrom's commitment to inclusivity doesn't end with its selection of products. Since 1991, the brand has actively included models with disabilities in its catalogs and advertisements. From wheelchair users to prosthetic limbs, anyone and everyone can view themselves shopping at Nordstrom and feeling like they belong.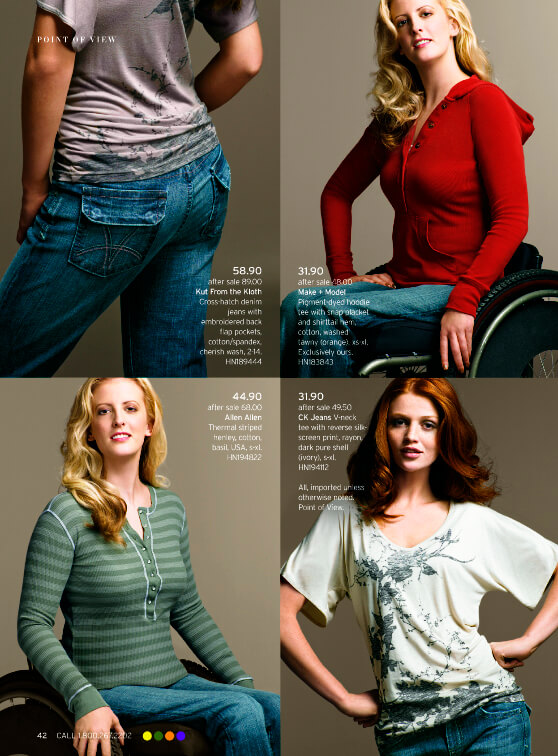 Image Source: Nordstrom
Tip Top Tailors
Our consumer survey in our Inclusivity in Retail study indicated that clothing stores were middle of the pack for both inclusivity and satisfaction, rated higher than categories like convenience but lower than grocery or drug stores. Some clothing brands like Tip Top Tailors have taken a proactive approach to making their stores more inclusive for all.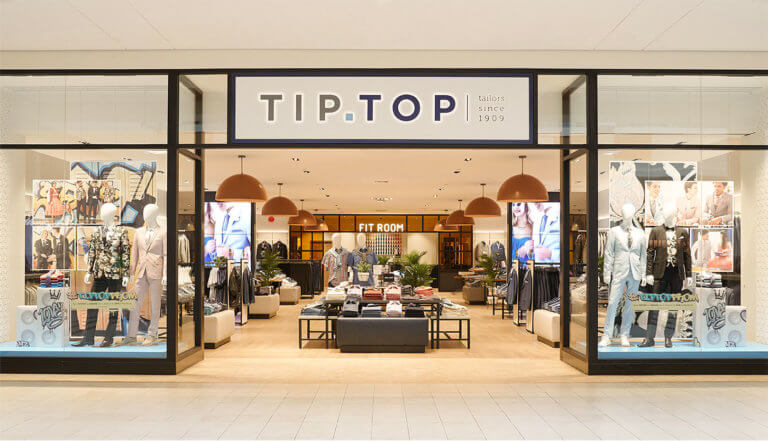 Image Source: SLD
From gender-neutral suits to suits tailored for women, Tip Top Tailors has for long had inclusion as a top priority. This extends to its retail design as well. In Tip Top locations, customers who require a wheelchair can easily get their suits fitted in well-designed fitting rooms with removable platforms that allow for wheelchair access. Additionally, locations are typically fitted with at least one accessible fitting room. Introducing small structural changes to retail locations can have a lasting effect on customers' impression of the brand and willingness to spend money, creating benefits for all.
THE TAKEAWAY
Building a truly inclusive retail environment is a challenging task for any retailer. However, while challenging, our study indicates that it will be well worth the effort as retailers will be rewarded with increased customer loyalty from all customer segments, along with increased spending in their stores.
It's important to remember that going above and beyond government regulations is something few retailers do. The ones that do are remembered by their customers. From Tesco's Sunflower Program to Sephora's inclusive marketing campaigns and Tip Top's accessible fitting rooms, every retailer has a role to play in making their retail spaces accessible for everyone.