Retail is taking a turn down a curious alley. Many brands are opening retail concept stores that defy all logic by having nothing for sale. From pop-up shops, to "guide-shops," to showrooms where customers can play with the latest products in a branded environment, retailers are suddenly feeling oddly comfortable pushing less sales and more experience. And even more curious, it appears to be enormously successful. Why is this counter-intuitive trend working so well?
Online first doesn't mean online only
Many experts point to Bonobos as a key example. The menswear company started as an online-only retailer, but then disrupted the industry by opening what they call "guide-shops." These physical locations allow men to touch, feel and try on the clothing, but they cannot purchase the items in the store. Rather, men come in and browse or work with a consultant, have items tailored, and place an order to be delivered a few days later.
Many other online-first brands, including MM LaFleur and Warby Parker, are using alternative bricks-and-mortar experiences to support their brands. But it's not just for brands that started online. Nordstrom has launched Nordstrom Local, a shop where there is no dedicated inventory on hand. The stores feature personal shoppers who help customers curate a wardrobe, tailors, a bar, and same day order and pickup.
Image Source: The Globe and Mail
The concept is not limited to apparel. Samsung, in a bid to finally give Apple some competition, is building showrooms that feel nothing like a store. The showrooms are meant to allow customers to experience the brand, rather than shop. Although Apple did it first, other technology brands are upping the game and creating more unique retail experiences.
So what is going on here? Why are brands investing so much in locations where stock is not for sale? And why is this idea actually working?
Transforming the customer journey
A key factor is that these concepts focus on the experience first. Removing the sale of items from the store signals confidence to the consumer. It says, "we don't have to sell you anything. Just come and see how fantastic our products are." This is a much more welcoming model than "come and buy our products". It encourages longer stays in the store, completely different customer-staff engagement, and more repeat visits. Whether or not a customer buys something today is not necessarily an indication of loyalty, and these brands understand how deeper engagement works.
Secondly, brands are using technology in more thoughtful ways. Nordstrom uses geo-location to enable instant pick-up of a pre-ordered item. Staff get a notification that you are on your way when you are close by, and your items will be waiting for you in a designated kiosk. Samsung uses technology to enhance personal, human experiences such as cooking classes. In their Toronto location, a fully loaded Samsung kitchen demonstrates how IOT-enabled appliances can support your culinary skills as you learn to cook with well-known chefs. For more kitchen appliances that are life-changing, you can read about The Appliance Guys Sydney here.
Technology is capable of addressing pain points and elevating the experience like never before – but it does need to be strategic rather than gimmicky. Improved infrastructure including simpler return processes, faster delivery time, convenient pick-up locations, and fast turnaround on personalized items, are key customer pain points that many brands are now able to address
Thirdly, these brands embrace a fluid customer journey that exists in multiple spaces. Nordstrom has a van that drives to customers in New York City to tailor items on-site. Many brands are now indicating online nearby stores where items are available. Gap, Banana Republic and Athleta allow customers to reserve items online without paying until they get to the store. The "connection" between a digital and physical experience is no longer a connection — it is simply one cohesive experience. When a customer searches for a pair of sneakers online, plays with the customization app on their phone, comes into the store to try them on, personalizes them on a tablet with an employee, and has them delivered the next day to their office, they are not thinking about the experience in chunks: they are thinking about the sneakers. There is still a lot of room to play with the customer journey, and those who innovate must do so based on the customer's perspective.
For instance, Jays Shop was designed from the ground up, heavily focused on digital experiences to bring fans together, putting emphasis on the experience rather than just the merchandise. Guests are greeted with a dynamic, eye-catching entranceway that starts the process of the digital journey throughout the store – from an animated hat wall to the expansive amounts of digital signage used in-store. The journey proved successful, exceeding all sales targets regardless of the team's performance on the field.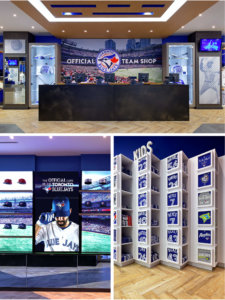 Image Source: SLD
So what's next for customer engagement experiences?
The experience lab/showroom concept is something we expect to see extend into other industries. Banks are starting to imagine what a financial learning lab could look like, leveraging engaging technology and expert advice. Telcos are in an excellent position to create unique customer engagement experiences in a setting that mimics Apple and Samsung's experience stores.
Pop-up experiences are going to continue to be relevant, especially for foodservice, food and beverage, beauty and grocery brands. In fact, we expect pop-up experiences to become more unique and elaborate, and less product-focused. Instagram-inspired visuals and boast-worthy experiences without any sales pitch are far more effective at inspiring curiosity and engagement with younger generations.
Customers are looking for greater value from brands — not just in the product itself, but in the experience. Brands are no longer simply selling items that people will use; they are selling a philosophy, a culture, and an identity. And the customer experience is not one that should be seen in bits and pieces — it should be seen like a river system, where each tributary eventually makes its way to the same place.