It has been a rollercoaster couple of weeks for Walmart, who have gone from losing out on a joint bid with Microsoft to take over TikTok's operations in the United States to now partnering with Oracle and claiming a 7.5 percent stake in the Chinese social media platform. While it may seem bizarre for Walmart to be so determined to have a stake in TikTok, the move is being considered by many as a strategic and smart response to the competition it faces from Amazon. While Oracle will become TikTok's new cloud provider, Walmart will provide it's "omni-channel retail capabilities."
Walmart vs. Amazon
Walmart fared pretty well during the pandemic. It may face a slightly slower growth of about 2 percent in 2020, but saw a 74 percent increase in e-commerce, buoyed largely by grocery sales. Walmart's robust retail network offers its customers great value – and also flexibility. While Walmart leads the market with its physical footprint, its e-commerce platform is comparatively basic. However, overall it faced fewer snags during the pandemic than Amazon, which repeatedly sold out of products and struggled to keep up with same-day delivery. As Amazon grabs up real estate for fulfilment centers, Walmart can no longer afford to consider e-commerce a secondary channel.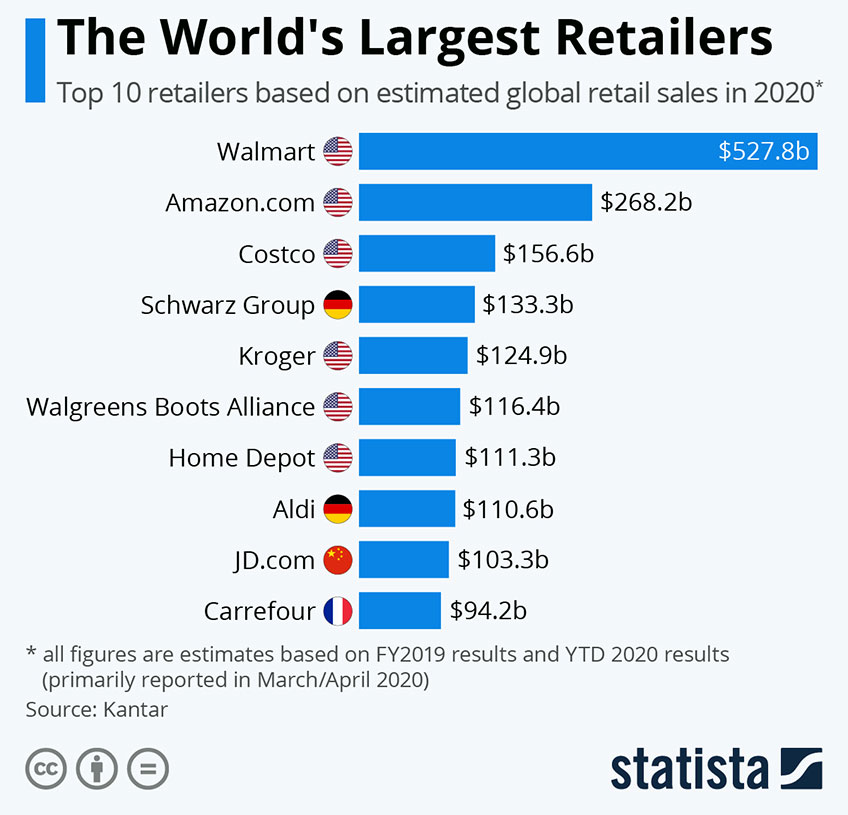 Walmart's answer is a hybrid model that uses its retail footprint to leverage digital transactions, and vice-versa. Walmart recently introduced the Walmart+ membership program which offers free delivery, options for same-day delivery, discounts on fuel at Walmart gas stations, home delivery for pharmacy, and Scan & Go to avoid queues. There are also speculations that Walmart may be planning an entertainment streaming element for the platform. Considering that Amazon accounts for the 40 percent of online e-commerce sales in the US alone, it remains to be seen if Walmart can steal share in this space. That leads us to…
Why does Walmart want to own a social media platform like TikTok?
TikTok has 100 million users in the United States alone and 690 million registered users globally, with more than 70 percent between age 16-24. Walmart has realized that TikTok offers true potential to attract Gen Z, not only because of the level of engagement that it provides to users but also for features like integrated e-commerce and advertising capabilities which are already quite popular in China, known as 'social commerce'. Social commerce in China is projected to grow $240 billion last year, which is more than 12 times the value of current sales in the US.
Walmart realizes that in order to effectively mirror the level of engagement it has with its customers in a brick-and-mortar environment in online channels, it will need a thorough re-thinking of existing assumptions around shopping and a strong tech partner. Walmart's efforts to become more digitally focused have been inconsistent thus far – shifting their image as an old-fashioned, traditional retailer to a modern, digitally savvy brand requires a win in the digital category.
A platform like TikTok will not only boost Walmart's access and understanding of the younger generation but also help carve a new territory for third-party sellers and advertisers. By partnering with Oracle, which has the chops to handle the platform, Walmart can compete with Facebook and Google for online ad revenue.
What does Walmart's TikTok partnership mean for the future of retail?
A successful marriage between social commerce and other interactive technologies could signal a few coming changes:
A new era in retail marketing and advertising, accelerating the trend of micro-influencers towards a "democratic" influence model. There is already a decline in power of influencer marketing, leaving room for brands to innovate. Successful use of a platform like TikTok could signal a shift towards the power of many.
Online platforms such as TikTok becoming the new "window shopping" to accelerate impulse purchases. Being able to purchase through platforms like Instagram was the first step in this trend. A more fluid and organic experience could make browsing more intriguing for users.
Deeper understanding of what consumers want. Platforms that hold a lot of consumer data are still under-utilized at this moment. Using this data and predictive analytics to personalize experiences and offer targeted promotions that are truly predictive and valuable, would be a game changer.
How will other retailers compete?
Social media is constantly evolving, with dozens of new entrants making a play every year. The trick is to find a winner. But there are other potential opportunities where retailers might find some success.
One is in the realm of gaming – while 59 percent of the general population participate in online video games, a whopping 90 percent of Gen Z self-identify as gamers. They watch their favorite players via Twitch and YouTube, and congregate in private Discord servers rather than using Facebook or Instagram to communicate with friends.
Another could be in the development of a super app like WeChat, which many pundits feel is imminent. A super app owned by another major brand might raise eyebrows, but if a. retailer could participate at an arm's length with a partner similar to that of Walmart and Oracle, this could prove to be a great opportunity.
What happens next?
If the TikTok saga has taught us anything, it is that we should always expect the unexpected. With national security concerns yet to be addressed, there are still a lot of unknowns about the Walmart/Oracle/TikTok deal. Though there may be some more ups and downs along the way, the rollercoaster ride for Walmart may finally be reaching its conclusion. Now that the first domino has fallen, let's see what happens next.