This three-part blog series focuses on insights from the Future Stores Conference in Seattle, Washington. Part 1 of The Future of the Store discussed the renewed value of brick and mortar locations as part of retail's growth strategy, as well as the importance of tailoring the store experience to the given trade area while creating a strong sense of belonging.

Part 2 will examine retailers' shift from a customer-centric perspective to one that includes front-line employees who deliver on the brand promise.
ELEVATING THE ASSOCIATE EXPERIENCE
A Shift From Customer To Employees
The importance of associates has emerged as a new trend in the store's future. Engaging with front-line associates has never been more important, with turnover costing retailers between 50% to 400% of their annual salary to replace. 
Retailers are challenged to fit into the new normal as they struggle to balance operating costs and supply chain disruptions with a shortage of skilled workers. The only way to reopen stores and drive an increase in sales is to shift from prioritizing the customer to focusing on supporting the front-line associates. American Eagle opened 150 stores during the crisis and plans to open 80 more in 2022 while renewing its focus on associates. The critical challenge is making the front-line job more exciting and engaging while finding ways to offer more fulfilling careers since retailers cannot compete on wages.
The high staff turnover rate has led many employees to misunderstand their brand. Ultimately, there is a disconnect between what executives thought was relevant versus how employees felt. For example, Starbucks executives shifted how they hire and train to make safety a higher priority and spend more time in the field to ensure they create the right experience for their associates. Like so many retailers, Starbucks' ongoing corporate thinking was written well before the pandemic but needed to shift to reflect the new employee reality and recruitment dynamics.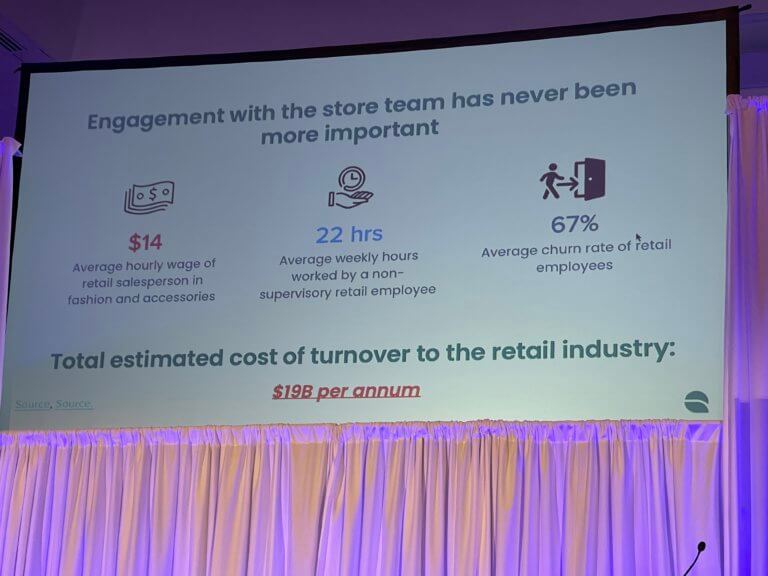 Image Source: Future Stores Conference
Creating Two-Way Employee Dialogue
Presenters reinforced the importance of creating feedback loops to design new outcomes that help drive engagement while allowing employees to be part of the solution, noting that the importance of being authentically human ties the retail experience together. Most retailers agree there is a shortage of employees, but the way to overcome it is by moving to a "we" culture, listening, and ensuring an equal playing field. Providing support quickly is critical in solving the labor shortage, as it helps front-line employees respond to changes and drives a strong sense of belonging. This "we" approach is essential since service is where you can drive brand loyalty by focusing on the staff to elevate engagement.
A key initiative is re-skilling the associate through collaboration. Outlining and promoting the impact of re-skilling is a practical approach to driving meaningful engagement, and digitalizing the employee experience allows managers to focus on high-value items for their teams. Presenters also noted that retailers need to shift their labor performance thinking from cost to how to turn the low-value initiatives into growth initiatives. At the core of retail is the employees that will drive growth. Leveraging automation helps high-level positions focus on the employee's needs and encourages healthy employee and management discourse.
Allowing Grass Root Brand Ambassadors
Neighborhood Grocers provide their employees special Mondays to take time off and overcome post-pandemic burnout. The company also supports fundamental causes their employees are passionate about and hires curious people as one of their criteria. American Eagle Outfitters noted that many employees want to become influencers with strong followings. During the pandemic, the fashion retailer started an ambassador program by selecting critical people in each store and providing them with social tools to broadcast from the store. The retailer found that young associates love acting as ambassadors and creating local events. Post-pandemic, American Eagle expanded this concept to drive engagement across its store network, allowing its ambassadors to become a living, breathing representation of the brand. The marketing value we get from ambassadors and influencers is terrific, cost-efficient, and more authentic than other marketing methods.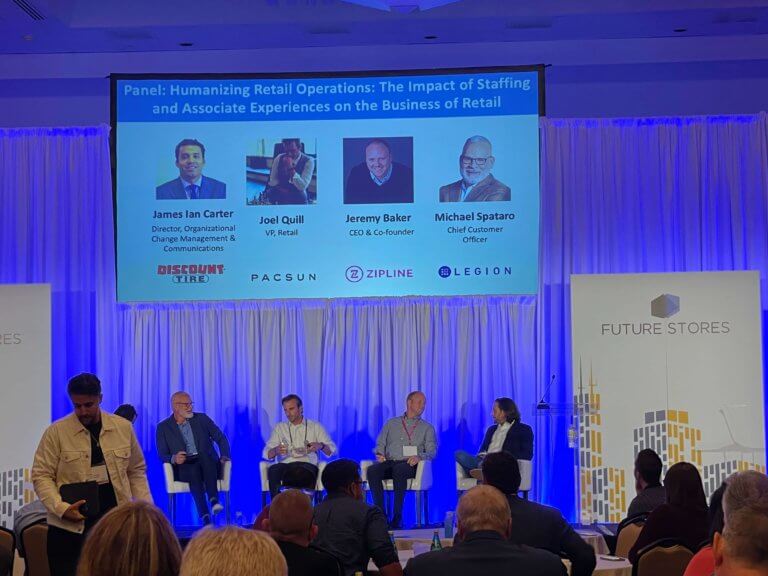 Image Source: Future Stores Conference
Employee empowering technologies
Technology can automate, but retailers must focus on employees by identifying opportunities to upskill capabilities. Our Humanizing Retail Study identified employee capabilities and skills as key factors driving their transformation programs' success. Retailers must understand that associates are doing 20% to 30% more and automation is the essential solution as operational requirements grow. Curbside pickup, online, and in-store experiences have also added to the growing complexity, leading to the challenge of attracting and retaining talent.
During COVID-19, the challenge became balancing the needs of the consumer and the employee. Legion, an employee engagement software provider, focuses on automating the process from scheduling to how we help employees understand what that means for their future jobs. It also relieves managers and staff of the duty, allowing them to spend more time on what is essential. The challenge is that "automation" means losing their jobs, and the opportunity is linking the word to replacing mundane tasks with "fun" work.
Process improvement will help employees see the whole picture. Retailers are so focused on task-driven initiatives that they often overlook how to bring their employees along the way. Retailers typically solve the granular problem but do not tell the whole story. Sales associates do not think about where they want to be in five years, and retailers need to prove through action that they care about the future of their employees. This is relationship-based, takes time, and needs to be invested. Sales associates often view their role as a temporary placement to earn money and experience that will assist them in getting a "real job." The poor perceptions of retail jobs are a real challenge when retailers focus on short-term needs.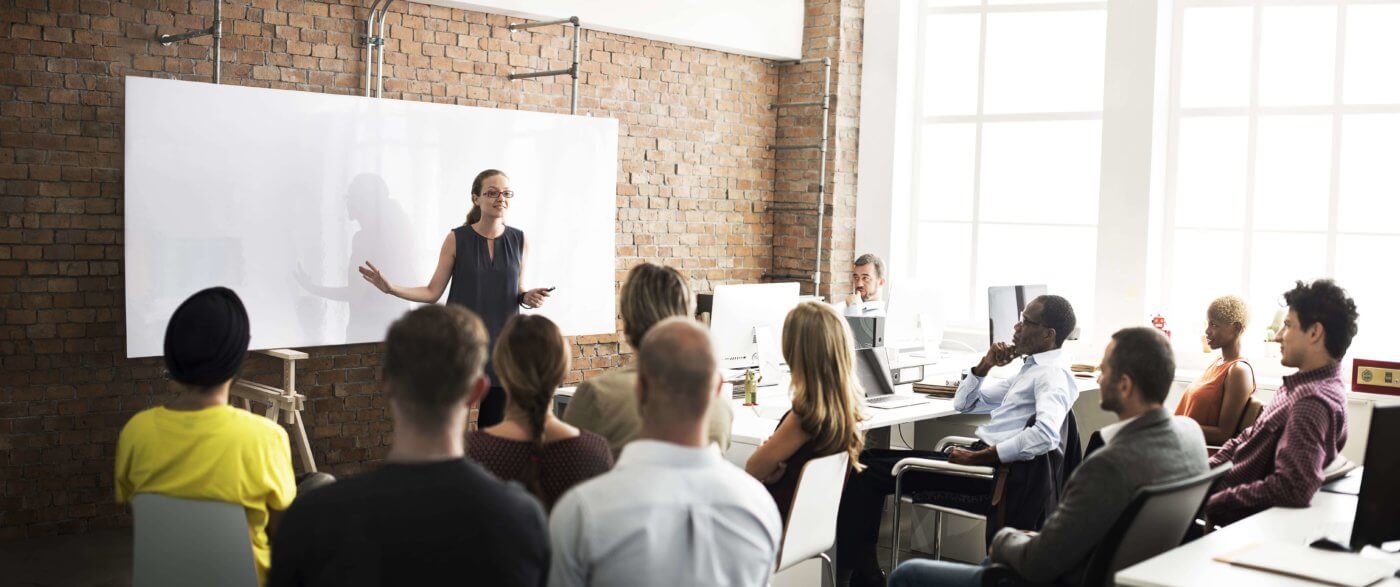 Image Source: Shutterstock
KEY TAKEAWAYS
Retail relevancy is linked to employee engagement, and greater focus is required to meet customers' ever-changing needs.
Two-way dialogue between the head office and the store staff is critical to driving engagement while ensuring solutions meet their needs.
Technology must move from operations to empowering employees to deliver superior customer experiences.
Retailers need to rethink their employee engagement and communication to create brand ambassadors who can effectively engage customers and followers at store level.