This three-part blog series on the future of the store focuses on insights from the Future Stores Conference in Seattle, Washington. In the first two parts, we discussed the changing role of retail and how retailers need to shift from focusing on the consumers to front-line associates. The third and final section will focus on how brands can use technology to humanize the retail experience while increasing customer engagement and efficiency.
MAKING TECHNOLOGY WORK FOR HUMAN NEEDS
Technology Driving Engagement and Personalization for Chico's Stores
Chico's, a leading fashion retailer with multiple brands, reported that their key store differentiator is styling services that offer customers wardrobe solutions. The pandemic influenced them to move this service online in order to stay relevant. Customers also formed social media groups like Chico's Shoppers as a space to share their experiences and fashion tips. The emergence of these independent brand ambassador groups sparked Chico's to host live events with stylists, driving customers to their website. As a result, more crowd-sourced and stylish content was used to generate two million live event views.
Chico's demonstrated that brands can transition from a physical to a digital experience during a pandemic and remain a growing platform as part of the new normal. The retailer wanted to help their employees by launching the StyleConnect tool, allowing their store team to chat with customers directly outside the store network and schedule customer appointments. When the pandemic forced stores to close, more than five million customers used the platform. "My Style Closet" was introduced as an extension to the Style Connect platform, allowing customers to build their wardrobes virtually. These online platforms have been highly successful, influencing customers to spend more money and increasing conversion rates five times higher than in-store. Chico's will continue to use these tools to provide a personalized experience.
Even though the pandemic increased sales and store visits, customers are still shopping multi-channel, emphasizing the importance of ensuring that both physical and digital channels continue to develop for customer loyalty. The pandemic has also reinforced the importance of human engagement and a positive associate experience. The future of brands should capitalize on customers' use of mobile devices and expect a seamless experience.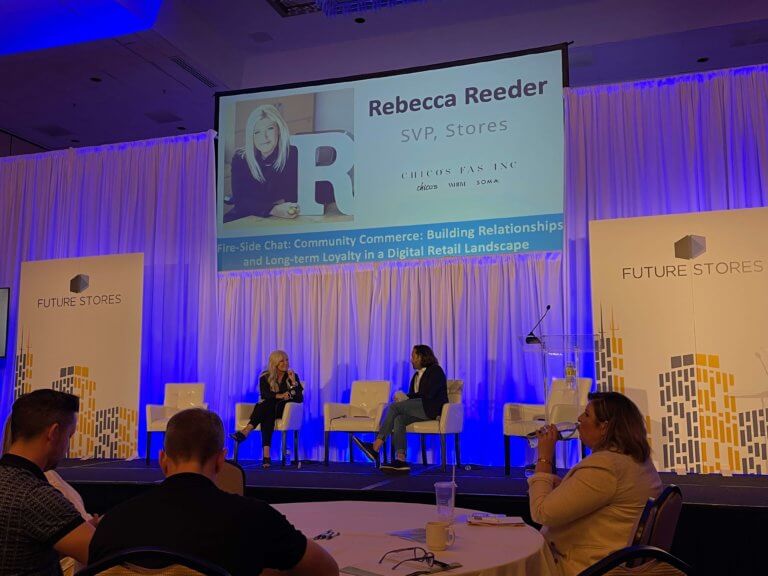 Image Source: Future Stores Conference
Chico's recently launched a loyalty program, and 90 percent of new customers opted in. Chico's customer learning indicated they needed to continue enhancing personalization for improved customer experience and loyalty. Building trust within their associate community and putting faith in front-line employees translates into confidence with customers, leading to brand growth. By involving all functional teams, the company spent a year ensuring they were offering the right products and services to their customers. Understanding why women visit stores is part of their selling model, and their stores have evolved to give a sense of belonging. Customers can shop from the comfort of their homes, in-store, or virtually, and social selling is the next step.
A Shift in Technology Focuses on Engagement
IOT sensors such as RFID/Bluetooth can provide real-time store inventory data, reducing staff labor hours and allowing them to focus on serving customers. Creating a distinct and personalized customer experience is critical to digitally empowering customers to explore store and online assortment through self-service kiosks. With virtual try-on, customers can easily continue their shopping journey from the digital world to stores and back to the digital world.
Using non-busy store hours to combine store operations with omnichannel fulfillment tasks helps drive greater efficiencies. Simplifying operational tasks using IOT sensors and inventory data to fulfill online orders while maintaining margins gives customers real-time visibility of store network inventory. Providing customers with real-time updates will improve their store pick-up and delivery experience.
Customers can use Macy's mobile app to check prices and remain active in the Macy's ecosystem. The app also contributes to the future of the endless aisle concept and the integration of physical and digital components. Big box department stores will continue to play a role by ensuring that they meet the customer's expectations and needs, while technology facilitates the connection between the stores and the customers. Stores deliver the brand's inspirational and experiential elements, while technology supports the entire shopper ecosystem.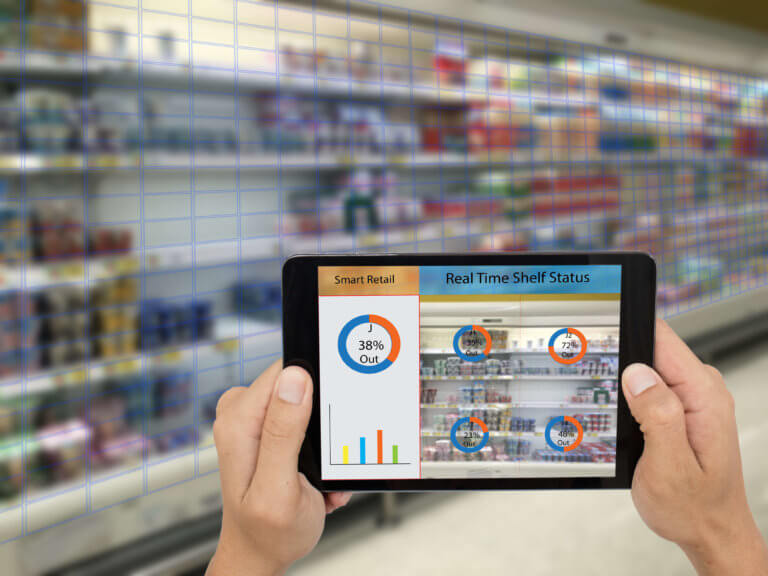 Image Source: Shutterstock
Bridging the Physical with Digital Experiences
Framebridge makes sales online and tracks the location of those sales to determine suitable neighborhood locations for their stores, ultimately leveraging their online sales to drive location strategy. Their in-store experience requires digital assistance, and they are attempting to employ AR experience for customers to inspire and reassure them in their purchases. Tablets are used for efficiency to scan the artwork and test different frames. The company focuses on improving the digital experience and product selection to inspire shoppers. Customers can get ideas and inspiration from the store's gallery-inspired artwork on the walls. The other opportunity is to promote digital photograph framing in stores. Ironically, their online channels sell 80 percent of framed digital images, blending the physical experience with the digital aspect of their business.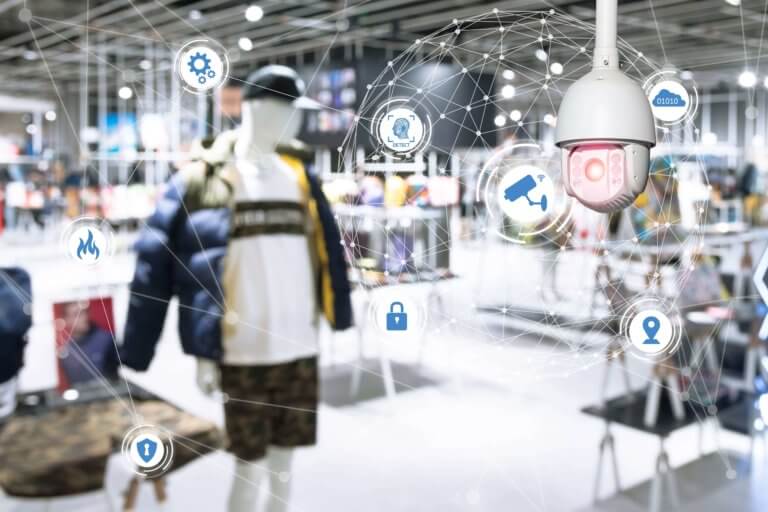 Image Source: Shutterstock
KEY TAKEAWAYS
Investigate technologies that allow employees to focus on engaging with customers while reducing operational responsibilities.

Ensure that the introduction of new technologies is adequately explained and that the value of how it will help employees provide better experiences is outlined.

Technology should provide a solid platform for employees to improve their capabilities while increasing their confidence.

Consider closing the physical and digital experience loops by looking at customer journey needs and aspirations.