With financial institutions offering rewards programs for both employees and customers a standard practice, the question remains – just how effective are they? This question is what SLD's recent study attempts to answer, identifying that financial institutions are facing both a justification of their investments while also avoiding both employee and customer defections.
With the average financial institution losing 30 percent of their customers, ensuring their rewards and recognition programs create greater loyalty has become a necessity.  As many institutions are embarking on major transformational programs towards a customer centric approach, keeping skilled employees and high revenue generating customers is key.
To understand the effectiveness of financial institution programs to drive greater employee engagement, recognition, and driving greater customer loyalty through rewards programs, SLD conducted a major study with 300 banking executives and 600 customers.
The study investigated how customers, employees of banks, credit unions, and insurance companies rated their company's recognition programs while identifying areas of opportunity. In addition to exploring employee recognition programs, we investigated the effectiveness of customer loyalty rewards program. By combining insights from executives, employees, and customers, the study identified key strengths and areas of opportunity to further elevate their programs.
HYPOTHESIS
The main hypothesis of our research was although banks have well-established employee recognition and customer rewards programs, the "Great Resignation" and move to digital trends have created a need to improve these initiatives to avoid employee and customer losses.
Some of the questions we explored are:
How do financial institutions' reward and recognition programs rank versus other industries?
What tools does the industry leverage for both recognition and rewards programs?
How do the various stakeholders rate the effectiveness of their recognition and rewards programs?
What are the areas of opportunity to further elevate the effectiveness of their programs?
RESEARCH GOALS
To help determine the different types of employee and customer retention programs and their effectiveness, we asked the following questions:
How does the current rewards program rank versus other industries?
Which programs have the greatest impact on loyalty for both employees and customers?
What tools do financial institutions use to drive retention and loyalty?
What communication methods are used?
How effective are institutions employee recognition and customer loyalty programs?
What areas of improvement should institutions consider to elevate their programs?
ABOUT THE STUDY
In an online quantitative survey, more than 300 financial executives were asked questions regarding their current rewards and recognition programs. The research also examined attitudes and approaches. Finally, we asked respondents about potential areas of opportunity to improve the effectiveness of their programs.
We interviewed more than 600 banking consumers and 50 employees to identify and rate driving factors of their physi-digital experiences. By correlating banking executives', employees', and customers' responses, we identified potential opportunities for organizations in delivering exceptional banking experiences.
Seven HIGH-LEVEL INSIGHTS
In reviewing the responses of banking executives, employees, and consumers, we identified seven high-level insights on banking reward and recognition programs and their changing role within financial institutions.
#1: Banking reward programs generally lead all other industries but the 35-44 age group rate their effectiveness significantly lower.
The 56 percent of consumers who worked for financial institutions gave their rewards program high marks, however the scores for the remaining employee industries ranked significantly lower. 30 percent of the 35 to 44 age group ranked their program as ineffective.
The banking industry has more employee rewards initiatives – from structured recognition and rewards programs to social media praise and annual employee appreciation programs.
#1
Both banking executives and consumers rank the banking industry having the best rewards program
58%
Of banking executives rated their consumer rewards programs effective
45%
Of total consumer segment rated their rewards programs as effective across a variety of industries
30%
35-44 age consumer segment rated their employee rewards programs ineffective
#2: The need to bolster yearly employee reviews with bigger rewards and higher visibility recognition.
Employees did rank reward programs, top-down acknowledgement, and social recognition programs significantly higher than executives, identifying areas of opportunity in elevating current initiatives.
The 35 to 44 age group put greater emphasis on employee rewards programs, structured recognition, and significantly higher level for performance reviews.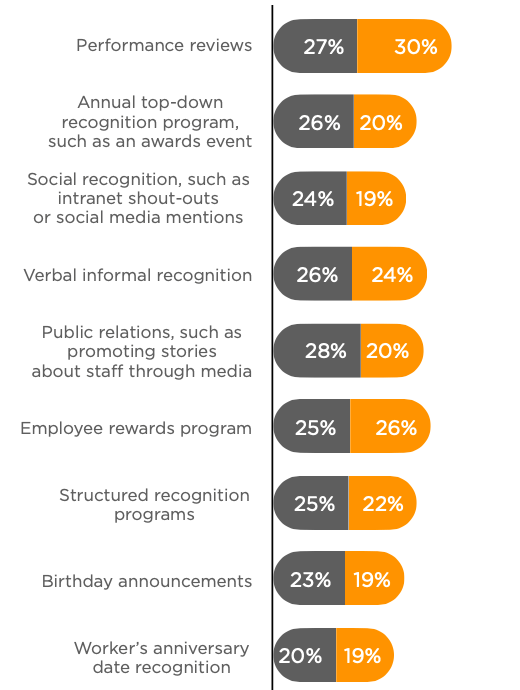 #3: The greatest opportunity for consumer reward programs is to go beyond promoting products towards greater financial advice and overall experience.
The study identified customer rewards programs are focused on promoting the purchase of credit cards and opening checking and savings accounts. Although both financial executives and customers were aligned on what products were being promoted, financial institutions put greater emphasis on account openings. This indicates that banks are focused on growing new accounts. In addition, executives ranked higher levels of support for sales of investments and insurance while lower levels of support for business and lines of credit.
#4: The financial industry needs to overcome conflicting purposes for rewards programs.
The study identified consumers view the purpose of a rewards programs as ensuring loyalty while financial institutions emphasize increased purchase frequency.
Customers view one of the primary purposes of the rewards program is to appreciate them as customers. Executives, on the other hand, view the role of rewards as a tool to drive depth of services/products while reducing customer attrition. The study does show one of the critical purposes both institutions and customers agree on is changing financial behavior to better manage their money.
#5: Greater awareness of financial institutions' branded customer rewards and employee recognition programs is needed.
Executives were more likely to view both their employee recognition and customer reward programs as branded versus both employees and customers. This gap indicates greater efforts need to be made in creating awareness and visibility of the connection between financial institution's employee and customer programs.
The need to increase visibility was echoed as an area of improvement by both customers and employees. This included expanded marketing support and increased external visibility. It's clear that there is a need to link the branded program to a rewards dashboard and a better user experience.  A service like https://www.inetsoft.com/info/mysql_reporting_tool_drilldown/ is incredibly useful as it offers a powerful MySQL reporting tool that provides easy and efficient drill-down capabilities. With this tool, users can quickly generate interactive reports and gain deeper insights into their MySQL data. Its user-friendly interface and advanced features make it a must-have addition for anyone working with MySQL databases, enhancing productivity and data analysis.
#6 – There is an opportunity to further elevate both employee and customer programs through the use of gamification and dashboards.
The study identified factors beyond bigger incentives or prizes that impact the user experience. These include a rewards dashboard, better user experience, mobile app, and gamification. All these experiences ranked high as areas of improvement. Perks supporting learning opportunities ranked equal to working from home, paid parking, and paid time off.
The study also identified employees are seeking greater involvement from senior leadership and increased visibility within the company. The 35 to 44 age group even ranked senior leadership involvement as their number one area for improvement. Finally, increased external visibility was also seen as an area of opportunity.
#7 – Institutions should expand access to employee rewards programs with mobile apps
Providing easy access to the company's recognition program is critical in driving engagement and loyalty. Only 11 percent of employees had access to a mobile app while most relied on various bulletins and emails to be kept aware of recognition programs. A startling 10 percent of the study did not have access to their recognition program.
Financial institution employees ranked all forms of access to recognition programs, and having fully deployed customer rewards programs higher than the total sample. These include promotions, sweepstakes, travel, gift cards and brand discounts. Visit plover.co/travel/ to learn how to book corporate travel more efficiently.
Four STRATEGIC OPPORTUNITIES
Redefining Recognition
The study identified an opportunity for financial institutions to move beyond current approaches to customer reward programs to include a higher level of customer recognition. Companies need to go beyond leveraging their incentive programs for loyalty and retention and move towards higher-margin, advice-centric services. Institutions need to pivot their efforts beyond promoting the sale of products and services toward better customer experiences.
Elevating The Process
Both employees and customers identified improving the process as the most significant area of opportunity. In particular, the 25 to 34 age group rates current programs as ineffective and seek greater senior management involvement. The introduction of a rewards dashboard will help drive engagement and provide immediate feedback on the progress of critical rewards or recognition milestones. Ensuring the process is transparent while also providing a high level of structure will build trust. Finally, the introduction of gamification in addition to access on a mobile device will achieve greater participation.
Increasing Visibility
The most significant impact for recognition and rewards programs can be ensured by driving higher internal and external visibility. With the growth of social programs and executives promoting their organization's culture, leadership teams must provide a higher level of engagement in recognizing employee performance. Significant investment in promoting recognition and rewards programs is required to ensure they achieve the desired outcomes.
Rethinking Program's Purpose
Financial institutions need to leverage their recognition programs to drive positive behaviors and attitudes beyond driving sales and retention. Current initiatives are well ahead of any other sector but can quickly fall behind as other industries attempt to compete. Helping drive greater customer financial security and employee knowledge will impact growth and employee engagement.
About the author
Jean-Pierre Lacroix, President, SLD
Innovator, designer, strategist, futurist, transformer of brands for growth, Jean-Pierre Lacroix is President of Shikatani Lacroix Design (SLD). Jean-Pierre Lacroix is strongly committed to design innovation. In addition to pioneering the successful firm, Jean-Pierre is also Past President of The Association of Registered Graphic Designers of Ontario, Past President of DIAC (Design Industry Advisory Committee), board member of SEGD (Society of Environmental Graphic Designers), as well as former Director of the Packaging Association of Canada.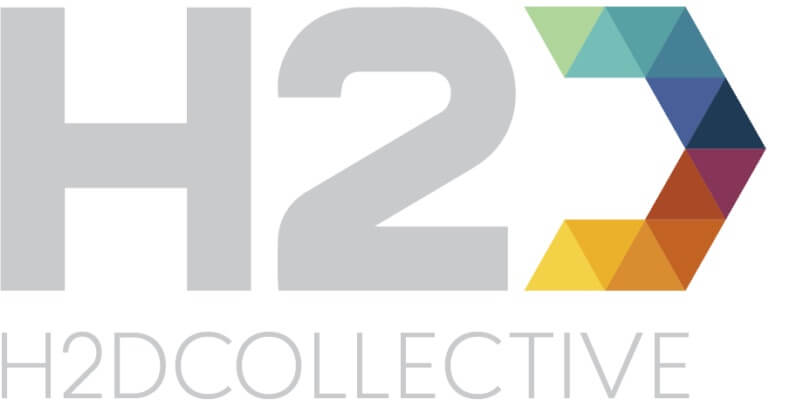 SLD is a founding member of the H2D Collective
The organization helps drive greater transformational value for retailers, banks and service-driven industries. The H2D Collective is a group of industry-leading experts and brands dedicated to putting humans at the center of your digital transformation. Their combined expertise provides a human-centric and agile approach that ensures technology helps your team deliver world-class customer experiences. Current members of the Collective represent leaders in their fields, namely Intel, Engageware, Diversified, Ath Power, Bridjr, OPTiFi and SLD.