Jewish National Fund (JNF) Canada, a not-for profit organization that fundraises for causes in Israel, has unveiled an updated brand position and visual identity that will help place the organization at the forefront of the Canadian Jewish fundraising space. Designed in collaboration with SLD and the JNF design team, the brand positioning and visual identity have allowed JNF Canada to focus on its core messaging and differentiate itself from local branches as well as other JNF organizations around the world.
"It has been an honor to work with the Jewish National Fund of Canada to help create their new identity and positioning," says Jean-Pierre Lacroix, President of SLD. "From strategy to implementation this project has been a great opportunity to refresh the way that JNF Canada is viewed by both their internal and external stakeholders."
Along with focusing on JNF Canada's brand positioning – which includes core messaging and a brand manifesto of Building Israel Together – SLD created a new logo, brand guidelines and design templates to be implemented by the JNF Canada team.
The logo, which is centered around the idea of building, features four building blocks angled upward, conveying growth and progress. With the slot on top, the logo forms a coin box, paying homage to the method in which funds were initially raised by JNF Canada – showing how small contributions are what make the ultimate difference. The leaf icon growing out of the building is in reference to the successful tree-planting campaigns that JNF Canada ran for many years, as well as new beginnings (Israel is now one of the only countries in the world that has more trees today than it did 100 years ago). The four blues (plus a secondary green) provide a diverse colour palette for JNF to utilize across their many regional and brand touchpoints.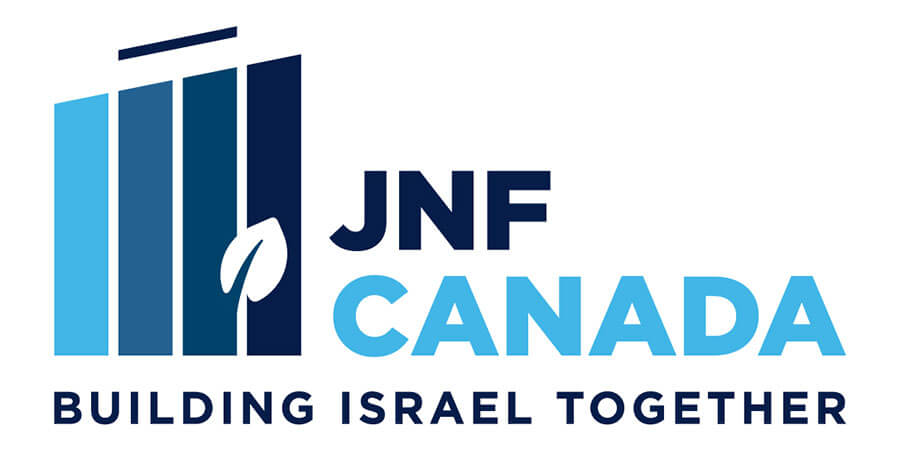 "The key message of our new visual identity," explains Lance Davis, JNF Canada's CEO, "is that JNF Canada is forward-looking, dynamic, creative and modern while respecting our beautiful past. JNF Canada's rebrand demonstrates that we continue to honour the values and traditions of those who came before us, while as we turn our eyes forward to building the foundations of Israel's future, together."
"We really wanted to recognize the history and impact that JNF Canada has had on a global scale, but also create a visual identity that allows them to modernize their brand and look to the future," says Jean-Pierre. "We are so proud to have been a part of the process."
For more information about JNF Canada, visit their website here.