Companies are increasingly using rewards programs to motivate and retain employees and customers. Industries can benefit from an employee rewards program, which combines various elements to recognize employees for their work and dedication, especially when faced with unfair treatment at work.
For instance, finance, a sector often plagued by high customer attrition and average employee satisfaction, can significantly improve its outlook with such a program. An employee rewards program can help a company achieve its goals and drive business success by increasing employee morale and engagement, as well as enhancing customer loyalty and repeat business.
A well-developed program can provide a cost-effective and productive way to improve employee and customer relationships, drive sales, and enhance your brand reputation, whether you are a small startup or a large corporation. With the labor crisis still in effect across North America, keeping employees and consumers is essential to brand success. In this blog, we will look at four key reasons why your company needs an employee rewards program and how it can benefit your business.
1) Improved Employee Moral Job Satisfaction Through Employee Involvement
Giving employees input and involvement in the development of the program is one of the simplest ways to improve employee satisfaction through rewards programs. Who knows what employees want better than the employees themselves? Using your company's employees to help shape your rewards program provides valuable insight into what your employee's value and what programs may be effective.
An effective employee rewards program can, when properly implemented, can increase employee engagement and sentiment. Sometimes, smile measures can be one of the most effective at driving motivation among employees. E.On, a German utility company, is a perfect example of this, with a simple 'thank you' note as part of a larger recognition program. The results were overwhelmingly positive, with an 8% increase in overall motivation and a 13% increase in employees who felt valued by the company.
Another example of employee involvement is from General Electric. A group of employees formed an Employee Forum, a group dedicated to collaborating with fellow peers to improve employee engagement. Hosting different initiatives like monthly roundtables allow employees to voice their concerns, challenges, and successes in a positive way.
2) Increased Personalization And Integration Into Digital Devices
In order to be successful with their own staff, it's necessary for rewards programs to go digital. Many digital programs offer ways to personalize rewards and automate the celebration of milestones, like RewardGateway or Nectar. Personalization is a crucial step of any business as it allows them to tailor their rewards to their staff's needs.
Pursuing a digital rewards system enables businesses to automate critical events, steps, and aspects of their business that can be personalized to the individual, such as point systems or customized rewards.
By digitizing the rewards program, it is possible to integrate it into the various devices that most employees own, such as smartphones, laptops, tablets, and other devices. This integration not only helps to create a seamless experience for employees across multiple devices, but it also allows the business to easily track and manage the program. Some companies even incorporate their rewards into an app for their employees, allowing them to access the program's benefits while on the go.
Personalization requires digital integration because businesses can use it to create more effective reward programs that speak to their employees' desires and needs, drive results, and ultimately achieve their business goals. Take a look at the payroll year end dates to be aware Of to understand in advance exactly what you'll be required to submit.

Image Source: RewardGateway
3) Creating Tangible Rewards
While employee recognition is important, physical rewards can be just as exciting for your workforce. Pizza is a great "one size fits all" physical reward, but allowing the staff to choose how they use the reward is a better use. Zappos, a shoe retailer based in Las Vegas, has used a variety of methods to provide tangible rewards to its employees.
The "Zollar" is a reward item that Zappos employees can earn for completing training or assisting others. The employees can then redeem points in the "Zollar Store" for anything the employee wants, from branded Zappo gear to donate to a charity of choice. Giving employees the option of redeeming their rewards rather than accepting a pre-determined reward fosters a stronger sense of recognition. Aside from the "Zollar Store", other physical rewards include a designated shaded parking spot that's given to the "Zappo Hero" of the month, which is extremely valuable to the employees in the Nevada heat.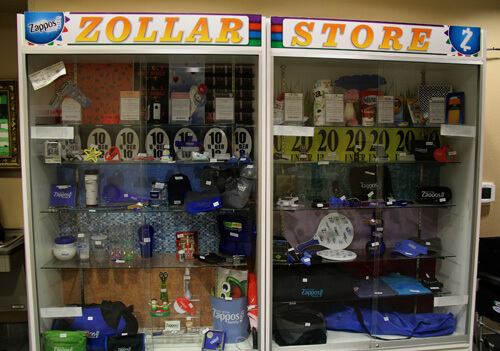 Image Source: Rebelplaybook
Another example would be to merge tangible rewards with a digital system. Not only does it succeed in creating a personalized reward system for the employee, but it gives them tangible benefits that they can use in the real world. Accruing reward points for a job well done can be redeemed for a gift card for their favorite restaurant to enjoy on a night out, or a gift card towards their favorite retail store. Include corporate hampers with a variety of curated items to show extra appreciation for their hard work. The possibilities are endless and create a deeper bond between employees and the employer. And providing a well-rounded employee benefits package is a necessity for businesses aiming to maintain a competitive edge in the marketplace. For a seamless experience, consider exploring this comprehensive platform to manage your organisation's employee benefits offerings. By streamlining processes, businesses can devote more resources to their core operations, leading to overall growth and success.
4) Peer-To-Peer Rewards
Although recognition from senior company members is essential, sometimes the best thing that can happen for an employee is to be recognized by another peer. Creating a peer-to-peer reward system can appeal to many who want to encourage their colleagues to take action.
Zappos has several noteworthy initiatives. Another employee-driven rewards program is the coworker bonus, which allows coworkers to nominate each other for a $50 company bonus. Zappos has already given its employees more than $600,000 in bonuses, which is a great way for coworkers to show their appreciation for one another.
This award is significant because it does not have to be directly related to work performance; instead, it can be for something as simple as doing something nice for a peer. This promotes a positive work environment, resulting in a space where people want to work in support of one another.
The Takeaway
Introducing an employee rewards program can yield a myriad of advantages for a company, such as heightened employee engagement and customer loyalty, ultimately contributing to an enhanced brand reputation. These programs are a cost-effective strategy to inspire and motivate employees, leading to improved customer satisfaction and overall business success. As part of this initiative, consider incorporating thoughtful gestures like personalized "cookie baskets for work anniversary" to make milestones even more memorable and enjoyable for your team.
By combining the best elements of employee and customer rewards programs, businesses can create a comprehensive program that meets the needs of employees that end up creating better customer service like Callifi. If you want to boost your business and drive success, an employee rewards system is essential for not only creating an immersive company culture but driving long-term loyalty and employee satisfaction.