The convenience of Amazon Go – a completely automated shopping experience, free of cashiers, queues, and check-out counters – hasn't quite materialized as quickly as promised. When the retail giant first announced its ambitious concept, it promised to bring the idea to the public by early 2017, but so far the project seems to be floundering.
While Amazon Go improves and expands, grocery stores are taking this time to think critically about how they will compete in a new retail marketplace. This article will explore four strategies for facing down new foes in a transformed industry.
As reported by the Wall Street Journal, the beta store open to employees of Amazon's Seattle office has been experiencing some technical difficulties: "Amazon has run into problems tracking more than about 20 people in the store at one time, as well as the difficulty of keeping tabs on an item if it has been moved from its specific spot on the shelf."
Those are significant hurdles to overcome before Amazon's automated stores can be delivered to the masses. On top of that, Recode revealed in January that as the AI running Amazon Go stores continues to learn, it must be monitored and supported by human staff.
Of course, Amazon is just the flashiest retailer looking to remove humanity from the shopping experience. Sam's Club, the membership-only warehouse chain owned by Walmart, has also experimented with a Scan-and-Go app that eliminates the need for cashiers and cash registers. So regardless of who gets there first, there are dramatic changes coming to the grocery store experience.
Here are four ways that traditional grocery stores can face off against tech-savvy competitors:
1. Expand your own efficient, convenient offerings
Stores like Amazon Go will always have an advantage when tracking convenience and efficiency. For some customers, being able to grab groceries quickly is always a priority, and stores like Amazon Go will make it harder than ever to compete in that area.
But don't risk ignoring those customers completely. Stock the front of your store with pre-made and easy-to-prepare meal options that will make life a little more convenient for your customers. Avoid creating bottlenecks at the checkout line by optimizing self-checkouts or increasing checkout staff during busy times of the day.
Allow customers to order online and pick up their shopping in-store, already packed and ready to go. You might not beat Amazon, but you will make it a little harder for customers to see the benefit of switching grocery stores.
2. Focus on the in-store customer experience – not just transactions
It might sound like a contradiction, but there is much more to grocery shopping than just buying groceries. Everything from the quality of your customer engagement to the cleanliness of your retail store impacts the customer experience, and by investing in that experience you can satisfy your customer at every step of the purchase journey.
There are thousands of different ways that you can address your customers' pain points to make shopping easier. The specifics will depend on your stores, but the best way to learn what you need to change is simple: ask. Ask your customers what they'd like to see changed, ask your front-line staff what people are complaining about, and ask yourself what you have the opportunity to offer that no one else can.
Brands that prioritize community, like Co-op, emphasize their customers and utilize this in their recent redesigns of the store. Bright, color-oriented store design and engaging signage have made the Calgary Co-op location engaging for their community.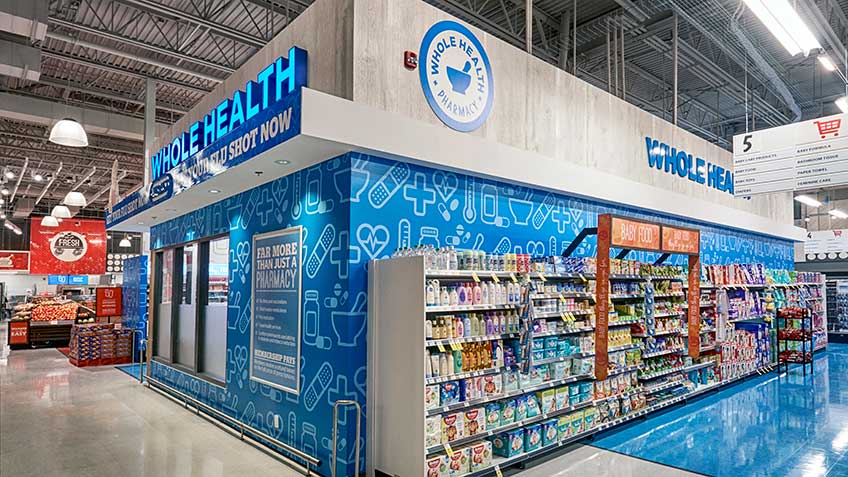 It's hard to win on technology, especially as Silicon Valley turns its attention to this already competitive sector. But if you can win on the shopping experience, customers will flock your way.
3. Embrace the at-home dining experience
The in-store experience is important, but don't forget the final product of shopping for groceries – the at-home cooking and dining experience. By keeping that final goal in mind, you can customize your store experience to embrace it.
Many grocery stores already provide recipes and encourage customers to try new things with sampling and promotional counters. But it's a lot less common to see the experiential factors that make the biggest difference to your customers – elements like cooking classes or food prep demonstrations. What about inviting well-known cookbook authors to show off their skills? What about hosting a class on meal planning, or encouraging kids to decorate their own gingerbread cookies while their parents shop?
Food is associated with happy, comforting moments more so than most other consumer goods. Take advantage of that association by incorporating it into your grocery stores.
4. Invest in your team
One day, the grocery shopping experience might be completely automated. But that's still not an idea most consumers are totally comfortable with, and it's unlikely that that day is coming soon. In the meantime, you need staff members who are knowledgeable, creative, friendly, and engaging.
If 95% of the experience is automated and runs perfectly, all your customers will remember about their time in your store is the helpful bakery assistant who recommended that great jam to pair with a fresh loaf of bread. Your operator should also have a forklift license to reduce the chance of accidents in the workplace.
It's easy to take technology for granted and to become accustomed to store improvements, but as humans, we're wired to remember our interactions with other humans, whether those interactions were positive or negative. So invest in your team members wherever possible, and empower them to create positive experiences for your customers.
Ultimately, the best way to survive and compete with Amazon Go is to remember that you run a grocery store, not a vending machine. Creating a positive customer experience must be about more than convenience or efficiency in a physical store, instead focusing on customer satisfaction, constantly improving customer experience, and creating a sound customer experience strategy.