The foodservice industry has seen slow growth for the past decade and the competition is heating up with new brands entering the marketplace. In addition, the growth of mobile and online digital channels are changing the way consumers are ordering and eating out-of-home meals. Our work helping foodservice brands remain relevant and meaningful has allowed us to identify the following five transformational growth drivers:
1. Redefining your value proposition
Most disruptive changes occur when the current value proposition driven by older business models is no longer meaningful for customers. We have all seen great brands that dominated their category (McDonalds and Burger King, for instance) struggle to remain relevant as fast casual chains such as Panera Bread, Chipotle, and In-and-Out Burger develop greater appeal amongst the growing Millennial population. Chains need to understand that menu offerings and product innovation are now table stakes and consumers are looking for experiences. To remain competitive, operators will need to ask this critical question: What job are we solving for customers? The answer will be found in deep emotional hidden needs that competitors are not providing.
2. Understanding the role of mobile
Mobile provides an effective solution for two key consumer questions driving the foodservice industry, namely "What to eat?" followed by "Where is the nearest restaurant?" An eMarketer report notes that both QSR and fast casual customers are more likely to own a mobile phone. Consumers who search for a restaurant are more likely to purchase a meal from the establishment. With the advances in loyalty programs and digital wallets, the fast food industry just got even faster. Starbucks is doing six million dollars in mobile app transactions weekly and sales continue to grow. Our place branding study identified pre-ordering and determining the wait time are key features that make mobile of great value to restaurants.
3. Redefining place branding
Our study also clearly identifies the importance of restaurants providing a local feeling, irrespective if the location is an independent or major chain. Digital provides a great solution in providing a flexible platform allowing chains to integrate a sense of place within restaurants. From enabling customized offerings to reinforcing community related events, digital is an easy solution that currently very few chains leverage other than through the use of menu boards.
Sense of belonging: food for thought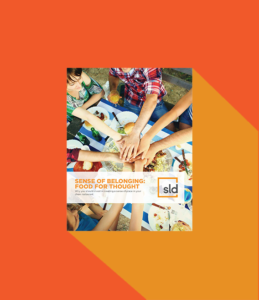 4. Leveraging big data in creating an immersive and engaging experience
Foodservice operators have at their fingertips extensive data that currently is being relegated to managing inventories, fine-tuning staffing models, and posting sales performance. However, with the advent of mobile devices and this wealth of information, restaurant operators have the ability to customize experiences for customers that range from recognizing them by name when they visit to reminding them what they ordered during their last visit. With more chains moving to tablet table ordering, the opportunity to post birthday wishes or recognize major milestones becomes a great way to give customers a personal experience. This makes patrons feel like they are part of the establishment and allows the operator to reinforce its community roots.
5. Removing the customer's pain point through technology
A key pain point that significantly impacts whether or not a patron returns to a restaurant is customer service; three of the biggest factors are speed of ordering, order accuracy, and speed of paying. We have all experienced these issues and eliminating them will have a significant impact on frequency of visits and loyalty. Mobile and tablets that allow patrons to order and pay from the table are great platforms that eliminate dependency on staff in peak periods and manage customers' expectations. Panera Bread clearly understood these issues when it launched a new mobile and pre-order kiosk in its restaurants last year, giving customers more control of the overall experience.
The foodservice industry shares similar challenges with other industries that are being disrupted by new technologies. To effectively ensure a foodservice brand is relevant, it must be willing to challenge its current business model and identify new potential opportunities not being met by competitors. Transforming your brand effectively is much better than having the competition transform your business negatively.