Robots, chatbots, virtual reality, and geofencing are some of the hottest new tech trends that retailers are testing out — but how do you know what's just a fad and what investment will deliver lasting results? Retailers know they need digital experiences, but at the current pace of change it's easy to put the cart before the horse.
The current thinking that automation is a way to reduce staffing costs is misguided. While it may result in an overall reduction in staff in some industries, retailers need to think about how technology can free staff up to do more meaningful work. If you are not providing employees with the right tools, they will not be able to do the work you really need them to do: engaging with customers and enriching the experience on a personal level.
Brands must first determine what problem they need to solve for the customer. By honing in on the customer's pain point, brands can then explore what kind of technology can be used to address it. Ideally, technology should give brands the means to provide more meaningful, personal engagement by freeing staff from mundane work, giving them useful tools that help eliminate pain points, and providing opportunities for inspiration and magic.
Here are three customer friction points that retail brands are resolving through innovative use of technology, allowing for deeper employee engagement:
1. Standing in Line
Customers hate waiting in line because they value their time so highly. But it's not just the customer's time that's being wasted. Your human resources are not best used behind a counter. Brands such as Apple have changed the game by outfitting staff with tablets to process payments. Not only does this have the effect of removing the queue, but it allows staff to roam freely and engage with customers face-to-face. As anyone who has been in an Apple Store knows, it changes the energy of the experience. Wherever there is a queue in your customer journey, imagine how you could remove it and give employees more opportunities to interact with customers. Mobile apps allowing customers to order or schedule an appointment ahead of time are another way technology can remove line-ups.
Reducing the need for staff at transactional points in the journey allows brands to use employees more strategically, targeting an engaging, personal connection with consumers. For example, M&M Food Market has eliminated the over-the-counter ordering system. Customers can walk around the stores to discover products with a self-educating model supported by meal-expert employees and digital signage.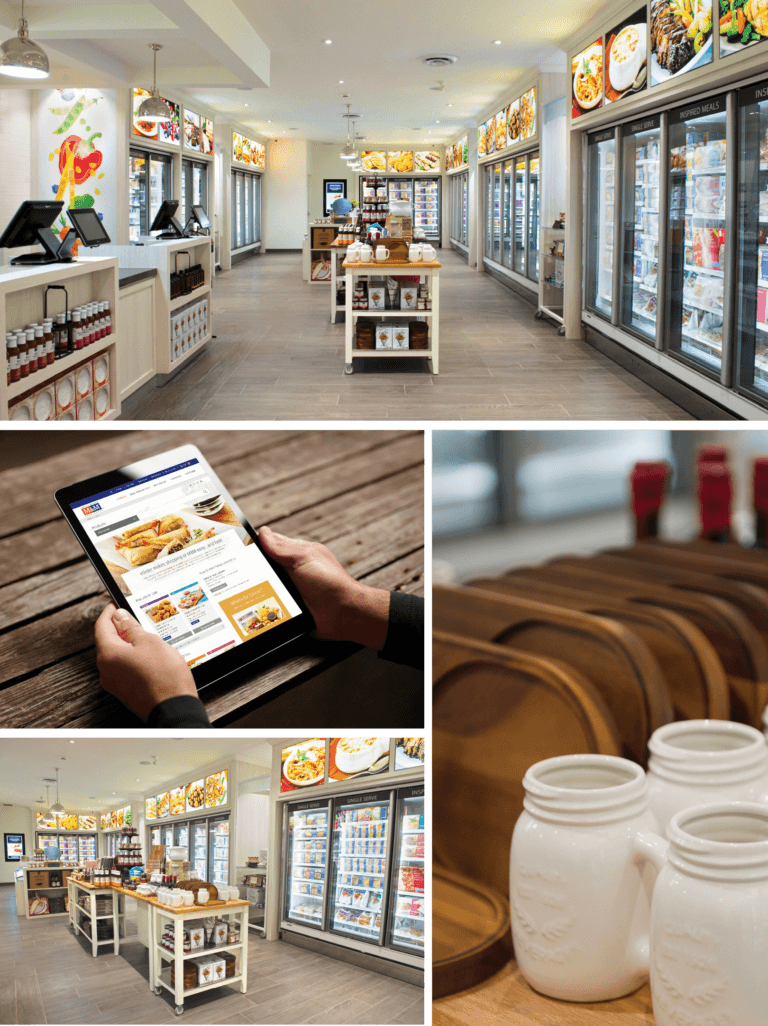 Image Source: SLD
2. Finding the Item You Want
Wandering aisles to try and find the item you want to purchase can slowly but surely raise one's blood pressure. It's much simpler for a computer than it is for staff to recall the location of every single piece of merchandise. Lowes introduced "Lowe-bots" specifically to address this issue. Customers can hold an item up to the bot or tell it what they are looking for, and the bots guide customers to directly to the item. In stores where the bots are not available, customers can use their own mobile devices to navigate the stores. Bots are a fun and uniquely engaging way to solve this customer problem (and have garnered a fair amount of press), and they can also be used to reduce reliance on staff to stock shelves, freeing staff up to address more complex needs. At IKEA, a navigation app helps customers find what they want. IKEA has also introduced a virtual reality program that allows customers to place furniture in their living space and see what it will look like in 3D. This is a far more engaging way to use staff.
As reliance on technology increases, a correlating need for human interaction is also increasing. Brands that wisely redeploy staff rather than replace them will have an edge over competition.
3. Resolving Customer Service Issues
Nothing makes customers more irate than waiting on hold to get an issue resolved. Some brands are leveraging online chat systems to address this pain point. Take Canadian Telecom Rogers, for example: the brand's online chat feature allows customers to resolve issues by chatting with a representative online through their Rogers account. Customers can also contact Rogers through Facebook Messenger. Both methods involve tight security screening and allow customers to resolve an issue from their desk or on their mobile device — without the frustration of waiting on hold. Employees are able to manage several requests at once (which reduces wait times), send links and written instructions within the conversation, and triage serious concerns more efficiently. The most experienced and effective staff can be freed up from handling basic issues and focus exclusively on handling complex problems, which may involve speaking on the phone.
Employees take a beating when customers are perpetually frustrated, resulting in high turnover rates and low employee engagement.
What customers really want is for retailers to make it easier for them to enjoy their products and services, and there are great digital solutions to help brands make this a reality. One of the often overlooked benefits of technology is how it allows brands to redeploy staff in more meaningful roles that deepen the emotional connection for consumers.