Creating a positive patient experience, while sounding easy enough, can be a major challenge for health and wellness providers. Waiting rooms in major healthcare facilities have even been shown in scientific studies to cause patients distress, among other negative effects. Waiting for their names to be called can take hours for your patients, especially if they are in an environment that does not accommodate their needs. Brands have long misinterpreted the waiting room as more than just a place for patients and customers to wait for their services; it's an opportunity to sell your brand to them without even realizing it. Instead of making your waiting room a place where patients dread going, consider the following suggestions for making your waiting room a place where your customers look forward to interacting with your company, staff, and environment.
1 – Use Technology to Your Advantage
Some people find it difficult to interact with others and will avoid it whenever possible. Why should they be isolated by having to interact with employees behind the counter? Installing patient check-in kiosks throughout the waiting room has a number of benefits, including reducing front desk traffic, preparing customers for their appointments, and allowing them to easily swipe their health cards for quick recognition, for more on health care, read this new blog post with a CBD Oil UK review. Most importantly, this seemingly insignificant change frees up front-desk personnel to attend to waiting room requirements and other tasks. The kiosk handles check-ins and outs at the same time, increasing efficiency.
Docbraces installed self-service kiosks throughout the waiting room to reduce traffic around the front desk and enable a more streamlined approach to patient appointment check-in. Digital signage is also important because it can be used to promote a curated branded content stream in order to display communication pieces like queue lines.
Image Source: SLD
2 – Relaxation is Key
The waiting room can be stressful for patients, and it is in the company's best interests to make the customer as comfortable as possible. A combination of traditional seating arrangements, soft seating such as couches or soft chairs for longer stays or consultations, and even a private corner of the room for children to read can go a long way. Everyone should have a place in the space, and it is critical to anticipate the needs of your potential customers and clients. Consultation rooms can also be a source of anxiety for patients, so make them as relaxing as possible with a variety of finishes and graphics to help relieve customer tension.
3 – Constant Communication
Communication between your company and the customer is essential. Wait times in healthcare settings can vary for a variety of reasons, and informing your customers when they can expect to be served can help to alleviate any anxiety they may have about not hearing their name called. Personalizing the experience with digital technology, such as displaying a queue on a digital screen or setting up text message alerts to notify the customer when they are next in line, can help.
Customer communication can also benefit from direct communication. A personal apology from the healthcare provider can help the customer feel valued for their time if a customer appointment is rescheduled, as taking care of their health is really important, and that's why recommending products like this Ice Cream Cookies Weed Strain Review can be great just for this purpose. If the provider is aware that many patients are waiting outside the room, entering the waiting room for a quick hello and conversation removes the waiting room barrier and assures patients that they have not been forgotten. This not only strengthens the customer-provider relationship but also benefits the brand's image.
4 – Refreshment Stations
Including free refreshment stations in your waiting room is a simple way to keep your customers happy while they wait. Customers can be given water, coffee, and snacks before entering their appointment. Entertainment is also a must for your guests, creating branded moments like the Docbraces selfie wall or areas designated for reading.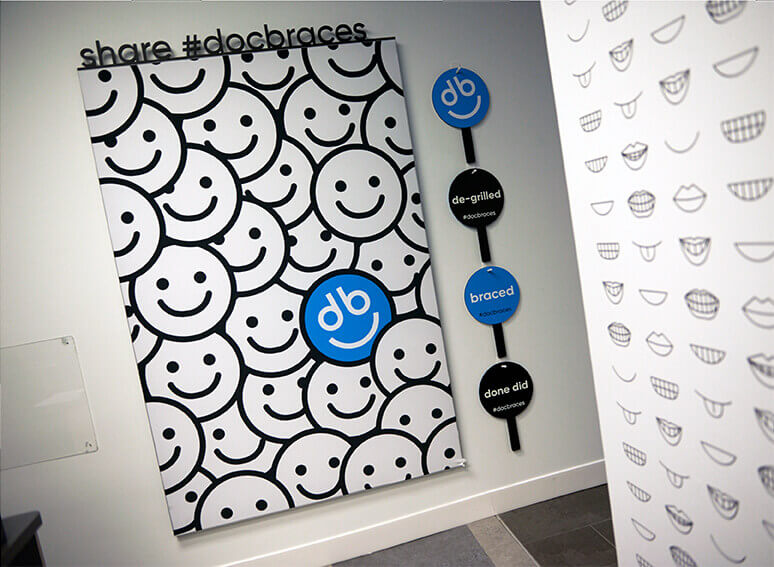 Image Source: SLD
5 – Designed for Success
The overall design of the waiting room is a critical success factor for health and wellness waiting rooms. According to studies, a well-designed room can influence patients' perceived quality of care when compared to spaces that do not value the waiting experience.
Is your company missing out on opportunities to reduce customer anxiety through the use of soothing colors? Is your waiting room's design out of date? Is your waiting room stocked with branded content that reinforces brand values and content to your customers? All of these questions must be addressed when designing or improving your company's ideal waiting room.
6 – Understand the Customer Journey
Health and wellness centers spend a large portion of their already limited budget on beautifying the waiting room. What is often overlooked in this situation is the less-known area of the examination room, where studies have shown that patients can spend up to a third of their visit alone and without any form of entertainment, turning what was once a positive experience into a boring waiting game.
Understanding the entire customer journey is critical in healthcare to avoid gaps in the process, such as the examination room wait. Our free omnichannel customer journey worksheet can assist your company in understanding the entire customer journey and eliminating any blind spots before they become negative reviews.
The Takeaway
Humanizing health and wellness spaces has been a long-standing challenge because the design that considers the user's point of view is not widely adopted. Docbraces was wholly redesigned using this philosophy, ensuring that patients could create emotional connections in the blink of an eye – even while waiting in a waiting room. By incorporating all of the above factors into the design, Docbraces was repurposed to become a tool to reinforce the brand, which improved the customer experience at all points in the customer journey.