In an age of information overload, the CPG industry is constantly looking for innovative strategies to capture consumer attention. One viable approach is the integration of game elements and prizes into marketing, product, or packaging designs. Gamification can emotionally engage consumers through leveraging the intense emotions of rivalry and accomplishment. CPG brands that wish to stay relevant can incorporate games with rewards into their campaigns from time to time, and are likely to see success if implemented properly.
AR/VR, NFTs, and the metaverse are some of the trending technologies that CPG brands have been eager to adopt. However, they are often costly and require a high level of technology literacy. Is digital the only solution? What are consumers looking for in branded games and rewards? These are some of the questions that we will answer in this white paper. 
STUDY GOALS & METHODOLOGY
Understanding the reasons to leverage gamification
Discussing the barriers and how they can be overcome
Determining consumer preferences for different game elements and rewards
Analyzing how gamification impacts purchasing behavior, satisfaction, loyalty, and advocacy.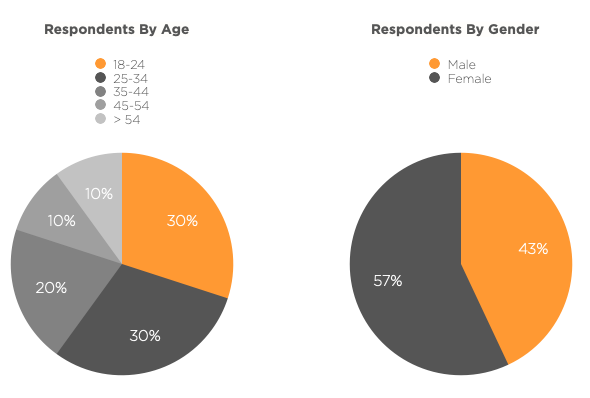 The online consumer survey featured a broad representation of consumers in North America (n=600), including an equal split between Canadians and Americans. 
THE CURRENT STATE OF GAMIFICATION FOR CPG
There is a fear among marketers of implementing gamification for CPG in its current state. While AR/VR, NFTs, and the metaverse have become hot topics, CPG brands are still grappling with how to leverage such technologies effectively despite uncertain results.
Despite these obstacles and uncertainty, most CPG marketers are still interested in gamification. Successful implementation can have a huge impact on consumer loyalty and happiness. How can CPG brands reach their target audience? What are the most effective gamification strategies? Our research offers ideas for CPG brands to consider as they manage gamification.
WHAT ELEMENTS DO CUSTOMERS ENJOY?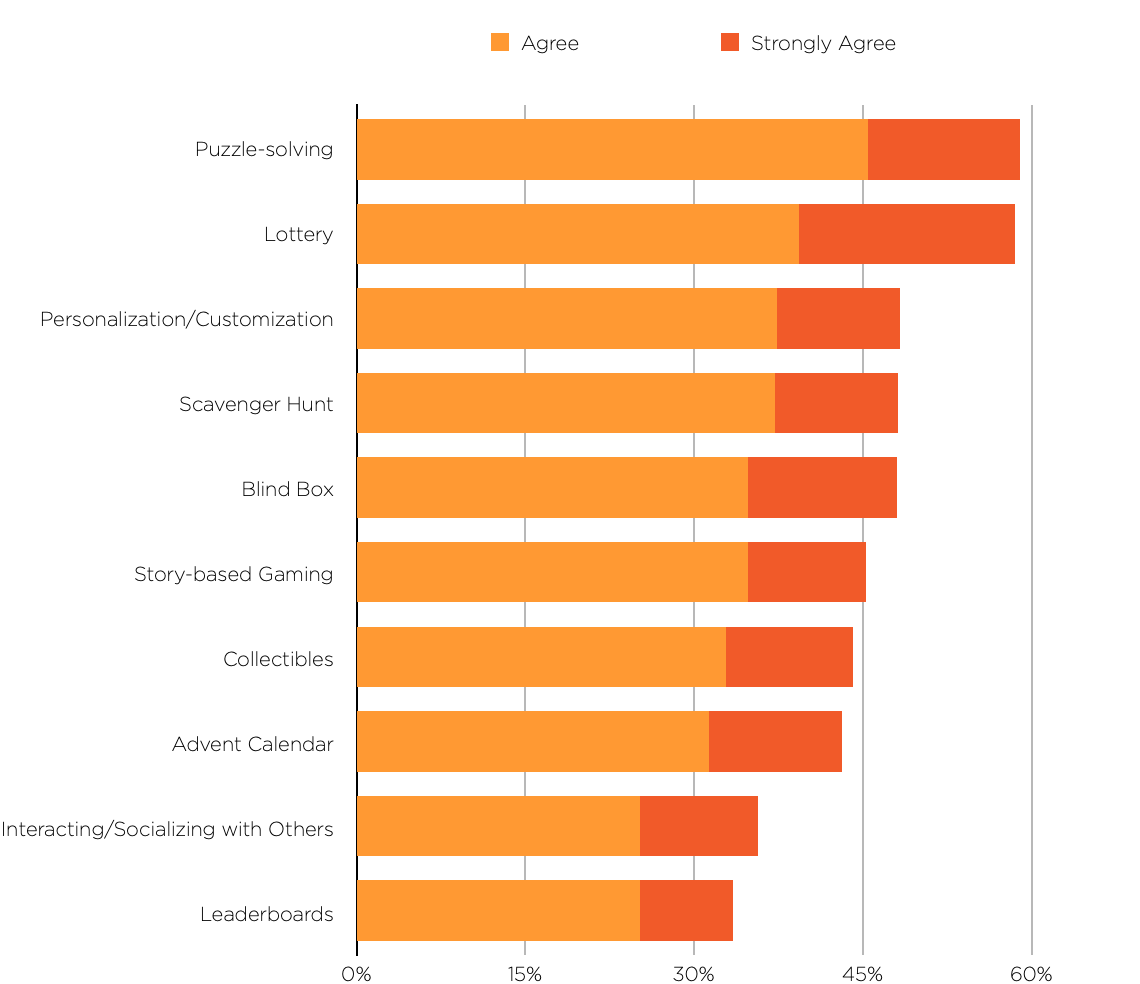 Q: Do you enjoy the following gamification elements? (top 2 boxes)
Our research shows that consumers prefer simple and classic games when it comes to CPGs. Puzzle-solving is one of the most favored games across all age groups, with 59% of respondents indicating this as their top choice. This result is consistent with the popularity of timeless, brain-stimulating games like Rubik's Cube, crossword puzzles, sudoku, and so on, especially among adults. The popularity of "Wordle" in early 2022 is a great example of easy gameplay with almost no entry barriers, with only a web browser required.
Puzzle-solving is about "effort" and "logic," whereas the lottery is about "luck" and "randomness", with both representing life at two different extremes. When designing marketing tactics with game elements, CPG brands don't always have to incorporate the most advanced technologies. Instead, easy and traditional games that are seamlessly integrated with the products may appeal to a wider audience.
For all age groups other than Gen Z, lottery (64%) and puzzle-solving (61%) are the most popular. However, looking at different age segments, puzzle-solving and the lottery aren't always the top two choices. For those aged 18-24, story-based gaming (50%) ranked second after puzzle-solving (54%). Lottery ranked eighth (46%), whereas collectibles, personalization/customization, advent calendars, scavenger hunts, and blind boxes all ranked higher. Brands that develop games targeting this demographic should avoid lottery-based games and should consider how to leverage storytelling for maximum appeal.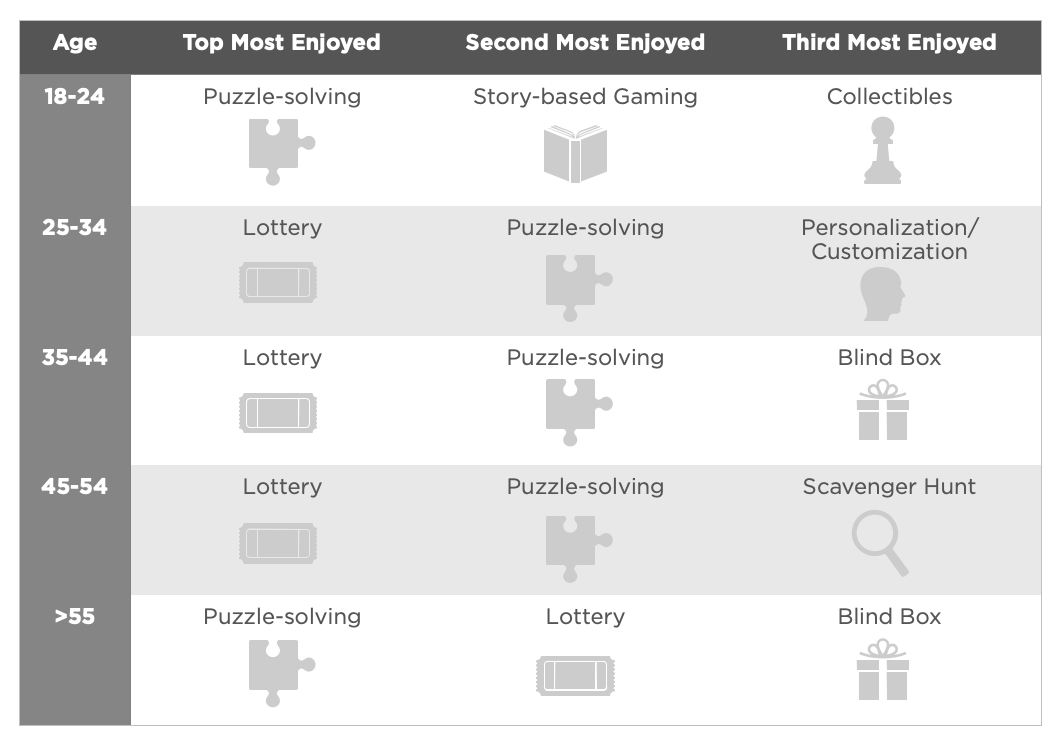 REWARDS NEED TO BE INSTANT AND EASY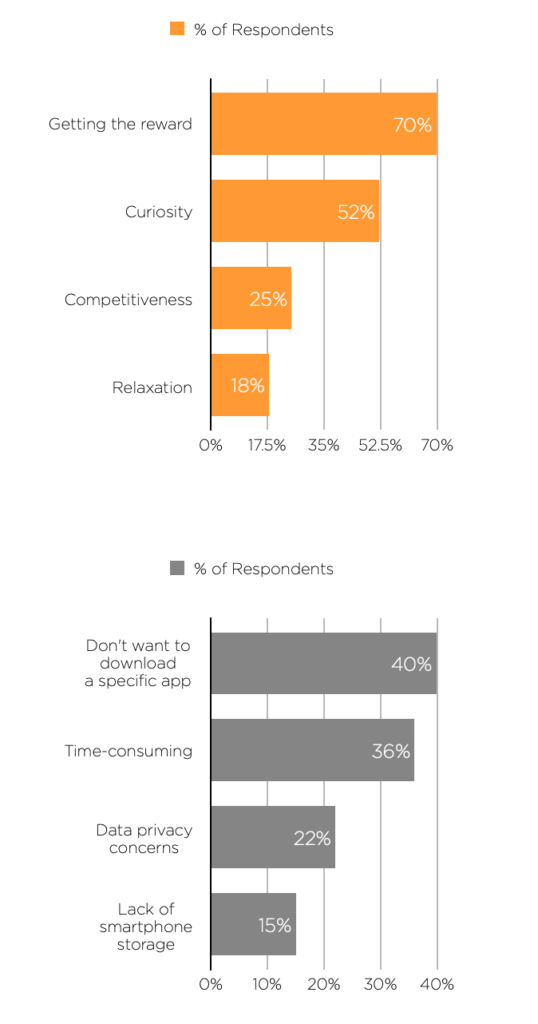 Q: Why do you participate in branded games?
Q: Why have you never participated in branded games?
Regardless of demographics, the main reason why consumers participate in branded games is to get the reward (70%), with Canadians (75%) indicating this reason more often than Americans (61%). The second most popular reason is out of curiosity or to try something new (52%). Consumers are more satisfied when it takes less time and effort to play in order to get the rewards.
Out of all the reasons why customers haven't participated, 40% suggested that they don't want to download a specific app, while 36% found it too time-consuming. To engage a wider audience, CPG games should be accessible and easy with instant gratification and direct rewards. It isn't necessary for brands to invest heavily in developing a standalone app for a single marketing tactic, when similar or better results can be achieved through simple games with direct rewards.
PRACTICAL REWARDS PREFERRED
For reward types offered by branded games, the most popular is cash (73%), followed by coupons (56%), extra products (52%), and loyalty points (47%). On the contrary, personalized products, exclusive content, toys, collectibles, and badge/status on an app rank significantly lower (5% to 20%). 
Interestingly, a slight difference is noticed across genders. Although cash is unanimously the top choice, it seems to appeal to females (76%) more than males (68%). Female respondents also prefer extra products significantly more than men (59% vs. 44%). This could be a reason why the cosmetics industry gives out more sample products with purchases than any other industry.
The top four choices remain the same across gender, age, and country, implying that consumers prefer direct rewards from CPGs. Both coupons and loyalty points can be converted to products, while cash can be directly used to purchase whatever they desire. CPG brands don't always have to make rewards complicated, as consumer preferences are straightforward and simple.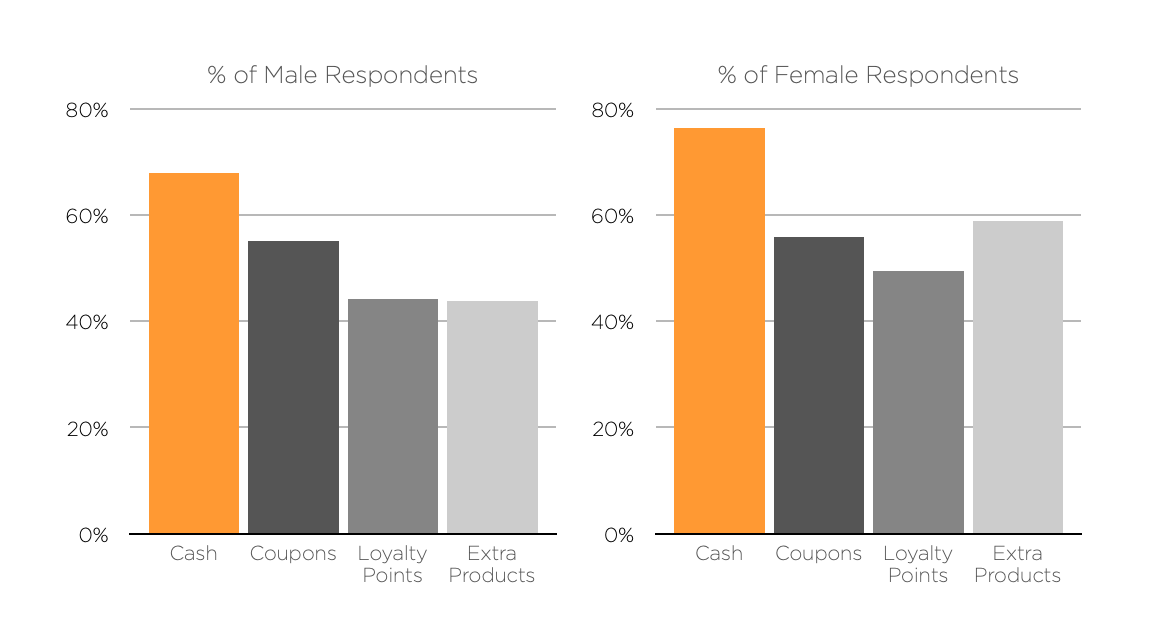 Q: Choose 3 types of rewards that you most prefer gaining from branded games.
The market outcomes of CPG games may not be quick or tangible like other marketing tactics. Yet, when utilized effectively, our research shows that they improve brand image, consumer engagement, and advocacy. Brands can easily achieve these goals with a modest budget, as CPG games are preferred to be simple but not tech-sophisticated.
Fill out the form below for our full study