Vancouver is well-known for its West Coast beaches, surrounding mountains, tall trees, and hiking trails, but it also has an interesting restaurant scene influenced by its international population and active culture. Fusion-style dishes provide unique options, farm-to-table, local, and better-for-you movements have spread throughout the city, and themed pubs add personality to dining experiences. Below is a sample of unique restaurant concepts in Vancouver that can help inspire restaurant operators to start or evolve their food service businesses.
JapaDog: Multiculturalism in Food
This food service brand combines Japanese ingredients and flavors with North American hot dogs and sausages. Operating carts, a food truck, and a quick-service restaurant, Japadog builds on the traditional hotdog by loading it with extra Japanese toppings. Hot dogs include the Yakiniku Rice (flavored rice and BBQ beef on top of an arabiki sausage), the Tonkatsu (deep fried pork cutlet marinated in tonkatsu sauce topped with fresh cabbage), the Terimayo (Teriyaki sauce, mayo, and seaweed) and the Yakisoba (Japanese noodle topping). To complement their offering, shaken fries are available in a variety of flavors such as aonori and ume, and for dessert, there is even ice cream in fried buns.
Japadog has fused foods from different origins to create a unique product. Their bright red branding stands out at street level; featured in signage, umbrellas, uniforms, and food trucks. Founded in 2005 by a Japanese couple that moved to Vancouver, the company faced challenges initially but grew quickly through word of mouth, media, and the Vancouver Olympics. They have now extended their presence to New York.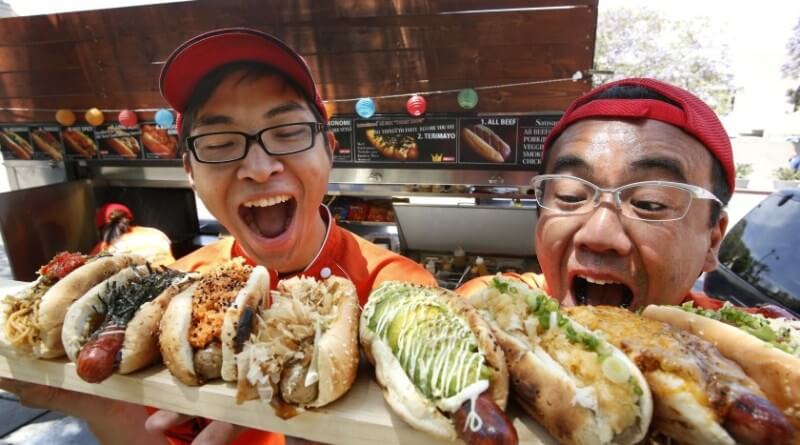 Image Source: Vancouver Bike Guide
Black Lodge is a quirky and cozy space inspired by the television show Twin Peaks. With portraits of characters, rustic décor, large landscape murals, log seats, and a projection screen showing scenes from the crime show drama, dining in this restaurant makes you feel immersed in an interesting environment whether or not you are familiar with the series. Food choices are all vegetarian options, with lodge-style choices such as chili, poutine, sandwiches, smokies (with names such as "John Candy" and "Summer Vacation"), s'mores for dessert, and even a "Damn Fine Cherry Pie." Drinks include the "Dr. Jacoby" and the "Ghost Wood Forest." The restaurant design and menu items work together to create a unique and memorable experience.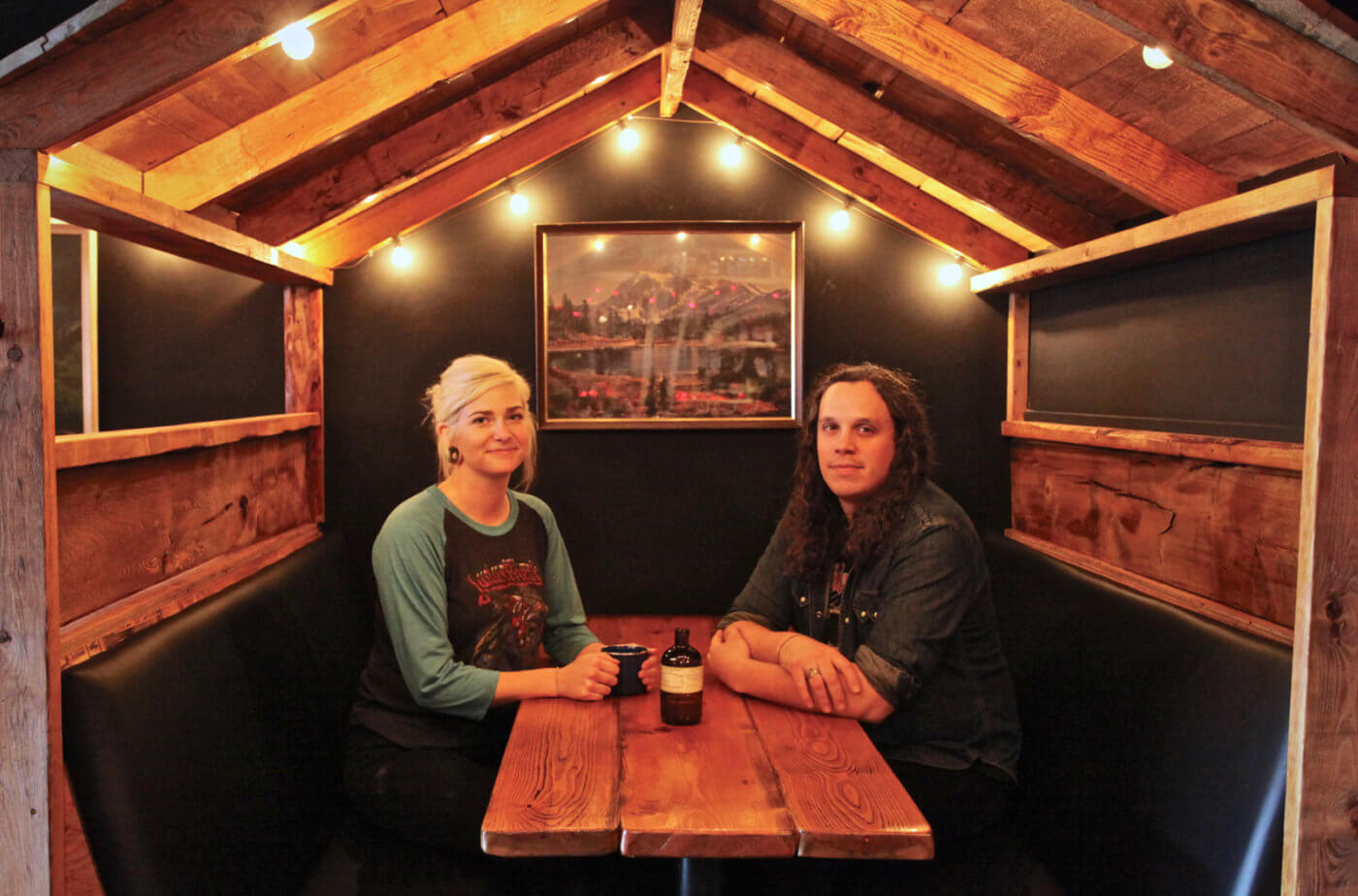 Image Source: Scout Magazine
EXP is another themed restaurant but is centered around video game culture. For gamers, the restaurant is full of amusing references, yet non-gamers will still enjoy the unique dining environment and energy. Upon entering, a life-size Assassin's Creed character statue greets customers and a video game console and screen are available to play while waiting to be seated. The walls are decorated with interesting artifacts from various popular games, such as a large shield and sword from the Zelda games and coin boxes and clouds from Mario. Surrounding the restaurant are screens and arcade-style sections where customers can play their favorite games and a live trivia game is displayed on screens where customers can join in through a smartphone app. Traditional board and card games are also available to take to your table and a large projection screen accommodates viewing parties and gaming events within the space.
EXP's decor and entertainment options create an engaging and lively atmosphere as well as a social experience. The menu items and beverage names are also inspired by video game references, such as calamari called Blooper Bytes (Mario), the Triforce burger (Zelda), the Chocobo Chicken Sandwich (Final Fantasy), and Super Smash Nachos (Super Smash Bros.). Shared items are even labeled "Multiplayer." For beverages, there are the Fairy Fountain (Zelda) and Pikachu's Revenge Martinis (Pokemon), as well as "First-Person Shooters" of Broken Down Mario Kart (Mario Kart) and Phoenix Down (Final Fantasy). Unfortunately, the restaurant was forced to close its doors due to financial troubles but remains an inspiration in how to make a restaurant fun.
Image Source: 604 Now
SMAK: Finding a White Space
SMAK offers two things that are often mutually exclusive: fast and healthy. The founders recognized that healthy food can sometimes take too much time to order and created SMAK to fill that demand. With a tagline of "healthy fast food," SMAK offers food and beverages for all times of the day such as smoothies, oatmeal, eggs, sandwiches, salads, grab-n-go pots, power boxes, and hot bowls. In addition, SMAK is 100 percent gluten-free and informs customers of dietary restrictions using vegetarian, vegan, and dairy-free labels. The brand also values local farmers and systems, sustainability, and uses compostable containers.
These different approaches of multiculturalism in food, themed inspiration, creating an engaging experience, and finding a white space have all brought success to their respective restaurants. Of course, there are many more approaches to attract and retain customers, but the key is to create a value proposition that stands out from the competition and meets current customer needs. By doing this, as well as developing a unique brand image, experience, and product, a restaurant will be more memorable and ultimately successful.
Image Source: Straight
Conclusion
Whether you're looking for a quick bite or to go play arcade games with friends, Vancouver is full of inspiration for restaurants to try new things. There is an appetite for not just good food, but good food combined with an experience. Customers are often willing to pay more for the experience, and restaurants should be taking these prime examples of how to implement an experience into their restaurant strategy.