As we approach 2020 and a new decade, there are arguably more questions than there are answers for what the future of retail design will look like. Every year it seems we have a new "most interesting store in the world" that boasts the latest technology and design trends, but what has staying power still remains to be seen. So, as you look ahead to the new year, these are some of the trends to keep an eye on:
Too Much of a Good Thing?
There is no denying the impact that technology has had (and will continue to have) on the retail industry. While all signs point to an increase in digital technology within physical stores, retailers will need to balance innovation with consumer preference to ensure they are delivering the best experience for those that enter their store.
Take cashless shopping, for example. Amazon created a lot of buzz when they introduced their check-out free grocery stores, and many other retailers are looking to hop on the bandwagon, but privacy and discrimination concerns have actually led Amazon and others to reassess their strategy. Sweetgreen–an American salad chain that was an early adopter of the cashless trend–recently made the decision to once again accept cash in their restaurants due to "the unintended consequences of excluding those who prefer to pay or can only pay with cash."
The "unintended consequences" of technology is exactly what retailers need to consider before implementing the latest innovation or trend. Yes, digital mirrors and interactive fitting rooms can provide customers with a new level of personalized shopping, but will privacy concerns and a technology overload cause more backlash than praise? As a recent guest on Think Retail said, "brands should never introduce technology just for the sake of technology. Any digital experience needs to begin with a digital strategy that considers several points."
Go Green or Go Home
It's no secret that consumers are increasingly informed and engaged when it comes to the environment and in ensuring the companies they support are aligned with their own values. If retailers want to get ahead, it won't be enough to just put up a green wall in a physical space if it is not a part of a larger green initiative.
Just as we are seeing with different packaging materials being used in the CPG industry, retailers have a wide range of recycled and biodegradable materials that can be used within their stores. From recycled foam and papier-mâché wall panels to biodegradable mannequins, sustainable design is already a possibility, and the technology is only getting better. One great example of a more DIY option comes from Danish womenswear brand Ganni, whose London store features rugs that are made of fabric from their past collections.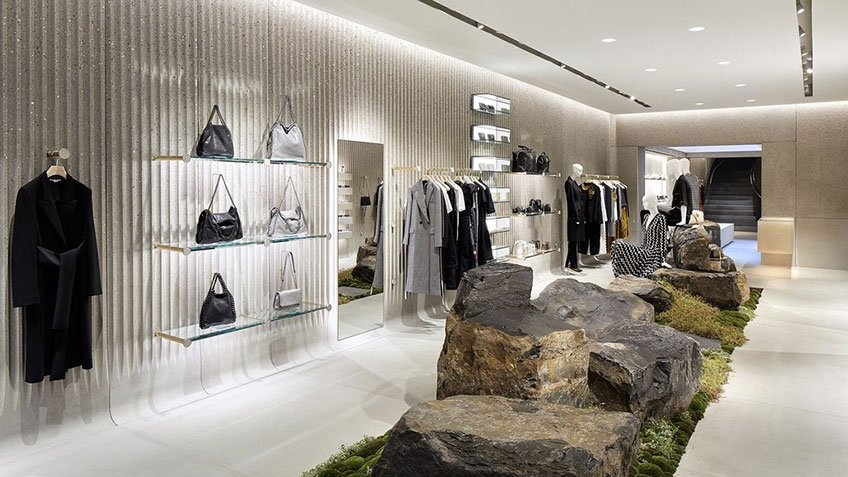 Mixed-Use Is Here to Stay
As urbanization and cost of rent continues to increase around the globe, retailers and governments will have to become creative in their land development and use of resources. Mixed-use spaces have become an important format within the retail industry because of this, and you can expect to see even more creative iterations in the coming years.
With mixed-use spaces, retailers have the ability to become a part of their community as well as benefit from the housing, offices, and restaurants that they are connected to. While most urban cities have already experimented with these types of communities, the size and grandeur of the developments are likely to increase in the coming years. In Ontario alone, a recent announcement was made for a redeveloped mall in Scarborough that will feature 270,000 square feet of retail space, 4,400 new residential units and 110,000 square feet of office space. In Innisfil, a town about an hour and a half north of Toronto, they are going a step further by proposing a whole new community that is centered around a train station. "The Orbit" will be home to 150,000 people along with retail and office spaces, all while preserving the natural and agricultural land in the area.
Regardless of the size or location of the mixed-use space, experts say that retail is the key to success for these developments.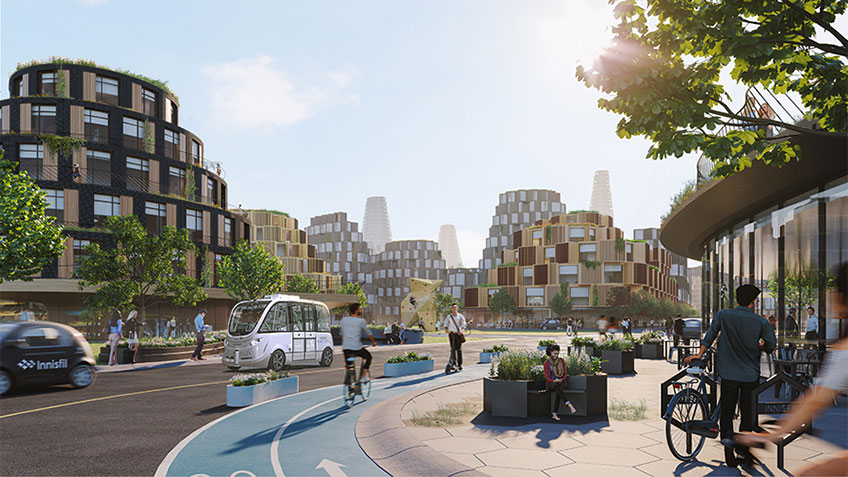 Though we may not know exactly what the future will look like, a few things are for sure: technology, sustainability and innovative use of physical spaces are all going to play a significant role in retail design in 2020 and beyond. It will be up to retailers to figure out which initiatives are scalable and will resonate most with their customers.