Marketers build and execute campaigns on a regular basis, introduce new products, run channel marketing programs, manage massive advertising budgets, and introduce new service lines and business segments, all of which require them to find and sell to new customer segments.
The launch and implementation of a new corporate identity, on the other hand, is much rarer, occurring once every 15 to 20 years (on average) for most companies. As a result, many marketing executives may only work on this type of project once or twice in their careers. This is a unique opportunity to bring consistency to branded assets such as signage.
A successful rebranding initiative often involves major changes in areas such as business model alignment and corporate culture. The nature of this type of project affects every department and group within the company.
The duration of this type of project, from brand strategy and corporate identity development to detailed planning and complete roll-out of a new brand, can range from 15 months to three years, depending on company size, complexity, and mix of branded assets.
The diagram also depicts the roles and functions of a branding / creative agency, as well as the function of brand implementation management (BIM).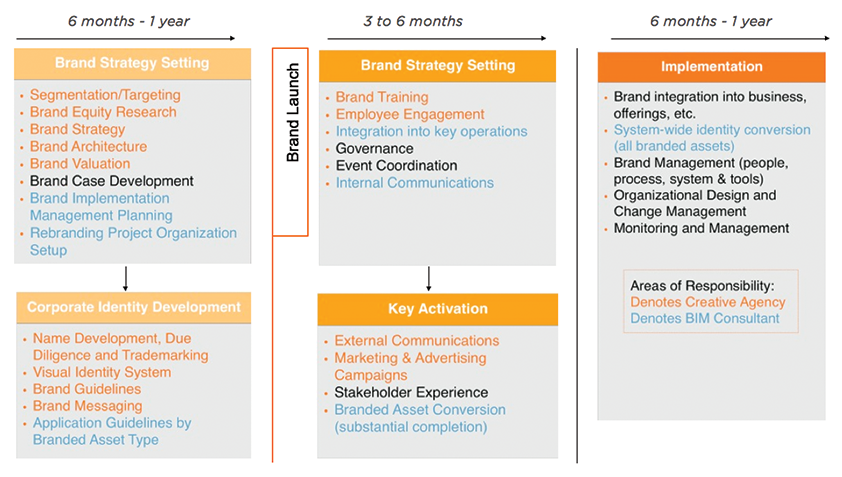 To meet these challenges, a proven framework and a wide range of expertise, both internal and external (e.g., a branding agency and BIM consultants) are required.
Around 80% of the attention and focus is on brand strategy, brand identity development, brand design, brand image, and brand guidelines. Brand implementation, on the other hand, is arguably just as important. Having a proper brand implementation plan is the key to success in having a successful brand transformation.
Best practices for the brand implementation process involve three distinct phases.
1. Assessment Phase – Brand Implementation Strategy (typically 6 to 8 weeks)
BIM begins with an evaluation of a company's branded assets and conversion work effort based on executive or subject expert (SME) interviews, data gathering requests, and physical site visits.
The final product is a final assessment report that includes conversion strategy options and scenarios, recommendations, timelines and schedules, project organization recommendations, brand rollout cost, and the rebranding cost estimate(s).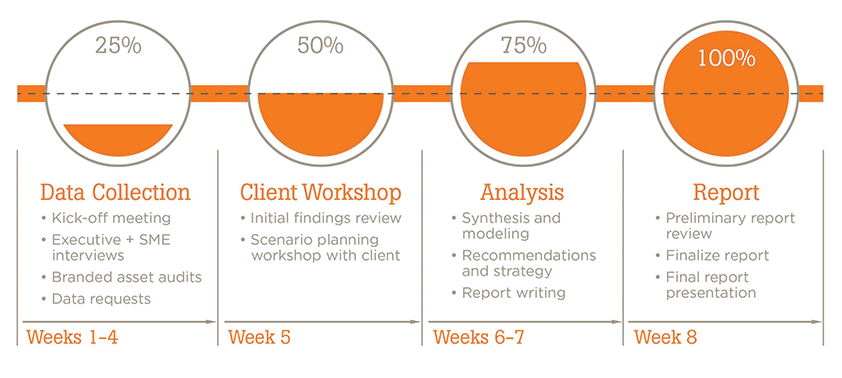 2. Detailed Planning Phase – Brand Implementation Plan (typically 10-12 weeks)
The diagram below depicts the strategy used with both internal and external resources.
The right side of the wheel identifies the internal resource efforts involved in the development of a Project Organization, providing these teams with best practices, templates, and guidance to assist them in developing detailed Work Group Plans, including more refined budget estimates. The sum of all team plans and budget refinements is used to create the overall Master Plan for rebranding implementation.
The requirements for sourcing, vetting, tendering, and selecting vendor partners to support the rebranding efforts are addressed on the left side of the wheel. While existing vendors may be in place, the nature and scale of a rebranding necessitate a critical assessment of their capabilities. A major rebranding effort is unusual, and vendor partners must have the expertise, scale, and capacity to manage the intense effort required to support a major rebranding.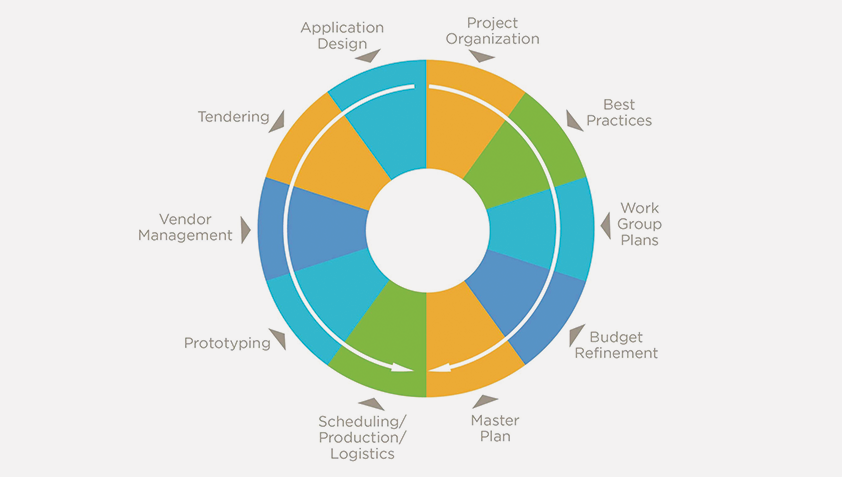 3. Delivery Phase – Brand Implementation (3-9 months post-launch)
The diagram below, once again, emphasizes the internal and external readiness and execution steps.
The right side of the wheel is concerned with internal readiness, plan adjustment, execution, and budget tracking. Risk assessment, troubleshooting, issue or conflict resolution, communication plan support, progress and budget tracking and reporting to all key stakeholders, and the clean wrap-up and transition of any residual activities to internal work group teams or departments for longer-term completion beyond the substantial completion phase are all part of the Brand Implementation Consultant role.
The left side of the wheel is dedicated to the management and execution of external vendor partners. Assuring supplier readiness, reviewing logistical planning and production scheduling, execution, and tracking progress and budget. Making certain that "Quick Win" opportunities are capitalized on, as well as detailed vendor management for the conversion of assets such as architectural signage, fleet graphics, employee PPE and uniform change out, and so on. After substantial completion, the BIM consultant ensures that any longer-term remaining activities, as well as ownership of key vendor relationships, are cleanly transitioned to internal resources or departments.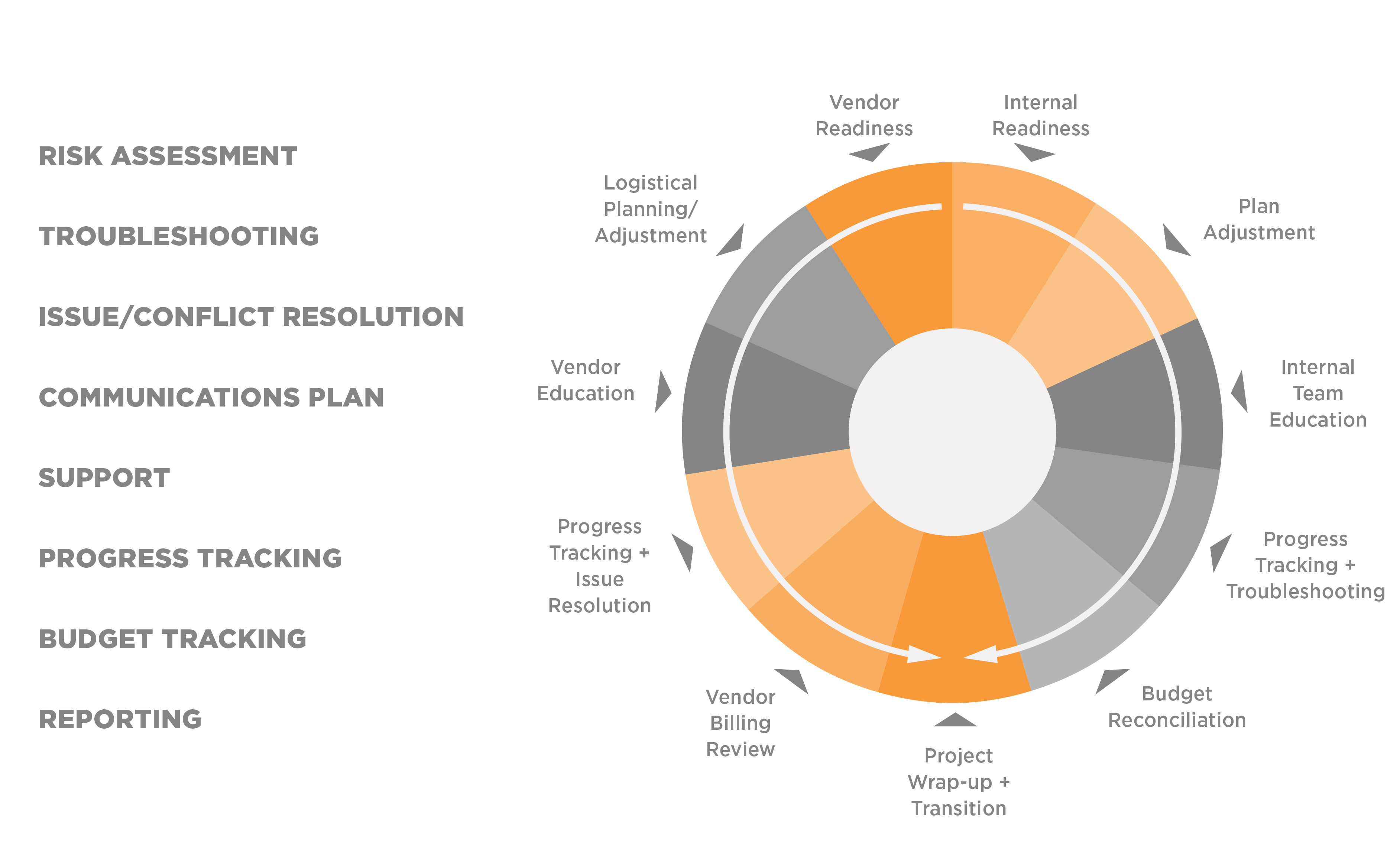 A corporate rebranding initiative is the definition of "high risk, high reward," with millions of dollars in costs and thousands of hours of internal labor involved, as well as the risk of negative reactions from the marketplace and investors.
However, if done correctly, rebranding represents a set of activities with the potential to deliver significant rewards: corporate financial benefits; increased market presence and brand value; inspire loyalty; a vehicle to drive major corporate cultural changes; and, on a personal level, as the type of successful initiative that could be one of the highlights of a marketing career.
Published February 2nd, 2017, Revised September 20th, 2022.