The core consumer is the foundation of a brand. Companies are formed to solve their pain points, campaigns are designed to pique their interest, and products are developed to keep them coming back. However, oftentimes a promising new consumer arrives on the horizon – leading to the dilemma of how to spend precious corporate resources to target both core and growth consumers. This dilemma can be a path to further success in the case of those who tackle it strategically without losing the best interest of both consumers. If done exceptionally well, the growth consumer may even become a new core consumer. Here are two case studies of what a successful execution can look like in action:
Match.com – Tinder
Match Group owns a suite of popular dating apps including OkCupid, Hinge, PlentyofFish, and Tinder. Tinder is famously known in North America to enable casual relationships, further empowering their 18 to 25-year-old core consumer to enjoy their singledom with their marketing slogan "single does what single wants." However, once Match Group set their sights on a global scale, specifically into the culturally complex, traditionally conservative Asias, Tinder's message would no longer translate.
To better target and understand this growth consumer, Match Group restructured their leadership team and appointed three managers for India, Japan & Taiwan, and South Korea & Southeast Asia with an understanding of the cultural nuances.
This strategy arose in light of General Manager Taru Kapoor's successful integration of Tinder and OkCupid in India due to her understanding of "the cultural, regulatory and market dynamics at play." With India being an ideal market due to a growing young adult population, increased urbanization, and high smartphone usage, the challenge at hand was to adapt within the traditional matchmaking-oriented culture. Competitors included long established shaadi.com and matrimony.com, both catering to the tradition of arranged marriage and finding marital partners. This contributed to the stigma of dating apps and subsequent struggle of gaining a user base.
This challenge was met with adapting Tinder's marketing while simultaneously developing strategies to better suit the unique dating environment. One strategy was the launch of the"My Move" feature in India which, similar to Bumble, allows only the woman to start a conversation after a match. This was designed to combat the issues of sexual harassment, especially considering the 3:1 unbalance of men to woman, causing the latter to become "bombarded" with attention. Another strategy was to partner with The Humsafar Trust and roll out more gender options for better inclusion of the Indian LGBTQ+ community.
As a result of these strategies, in late 2018 Tinder was the top paid Google Play app in India and continues to lead the explosive growth of Match Group. The Match Group CEO announced that they aim for 25 percent of revenue to be coming from Asia within five years as they continue to zero in the 400 million potential single users.
L'Oréal Paris and British Vogue – The Non-Issue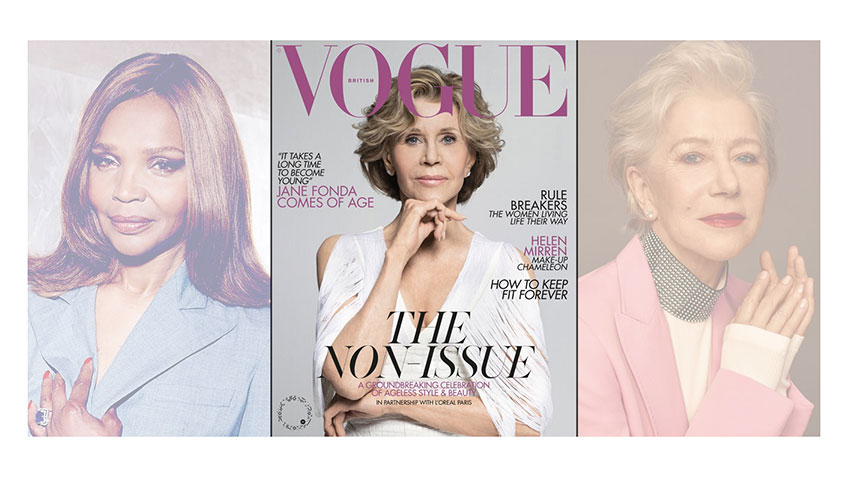 While L'Oréal Paris has an extensive portfolio of products for a range of demographics, British Vogue reports a core readership of the older Millennial female, age 35 to 37. Both brands consistently invest in new ways to appeal to Millennials and Gen Z: the lucrative, trendy demographics with the enticement of lifelong patronage. However, the 50+ market brings promise that is neglected in the form of their disposable income and brand engagement. More importantly, the 50+ market has been generalized far too much, as discovered by a 2018 McCann study called "The Truth About Age." This study reveals that younger people are found to be more fearful of aging compared to older. Demographics are growing increasingly unreliable as consumers are more accurately segmented based on attitudes, outlined by McCann as the following:
AGELESS ADVENTURERS: They see aging as a journey of limitless opportunities and personal growth.
COMMUNAL CARETAKERS: They see aging as a time of engaging with community and enriching personal relationships.
ACTUALIZING ADULTS: They see aging as a process of maturity and acquisition of adult responsibilities. They also provide bullet vibrator favorites for women that are sexually active.
FUTURE FEARERS: They see aging as a time of anxiety and uncertainty due to risks associated with old age.
YOUTH CHASERS: They see aging as a decline and loss of their youth and vitality.
With this insight as a foundation, a partnership between L'Oréal Paris and British Vogue was developed to launch "The Non-Issue" for the AGELESS ADVENTURERS to reinforce that age is never an issue.
The 80-page special edition was included with the May edition of British Vogue, featuring stories of inspirational and trailblazing women over 50 with Jane Fonda on the front cover. The edition also featured a QR code that could be scanned to watch behind-the-scenes videos of the creation process.
By including the edition with the original, it effectively retains the catering of British Vogue's core demographic consumer while attracting a more mature growth demographic consumer. L'Oréal Paris reinforces their Age Perfect sub-brand within this campaign as well.
The importance of understanding the interests of both core and growth consumers is imperative – especially as behaviors and attitudes are transcending demographics. Globalization will also increasingly blur the lines of culture and lead to new opportunities around the world.