WHY ARE SOME PEOPLE AGAINST MASKS?
The vocal minority of anti-science activists appear to be hogging the spotlight as the pandemic surges on, with anti-mask communities spreading misinformation on social media to the general public.
This misinformation ranges from dangerously believable to full conspiracy theories. One approach is spreading "alarmist" statements, for example claiming that wearing a mask restricts oxygen and results in people breathing in toxins. Another is to downplay the severity of the virus, similar to anti-vaxx groups' false claims that the measles is not a serious disease that warrants a vaccine. (This false claim heavily contributed to a 2019 resurgence.)
Conspiracy theorists speculate that mandatory masks are a violation of constitutional rights, with a "slippery slope" ulterior motive of greater government control.
These all lead to the opinion that wearing a mask is a "political opinion" rather than a medical necessity to curb the spread of COVID.
Quantitively, this is backed by findings in a June 2020 Pew Research study that reported that 71 percent of US adults support regularly wearing a mask in public, but the political divide in opinion is dramatic.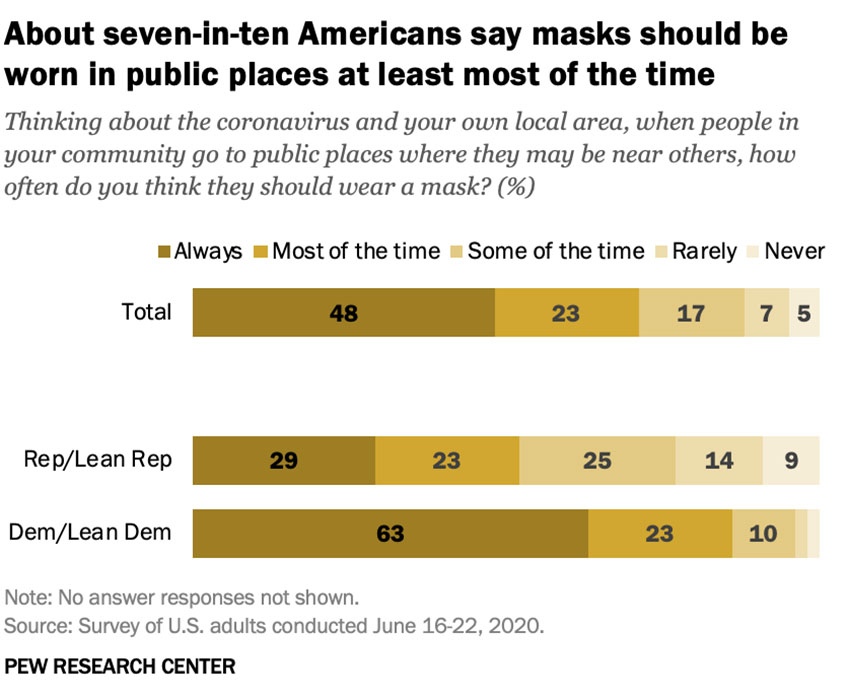 WHAT IS THE ROOT OF THIS ISSUE?
Simply put, the root of the problem is a growing distrust in government, and by extension, distrust in health and science leaders. As eloquently put by vaccine hesitancy expert Maya Goldenberg, "When you don't trust the sort of basic infrastructure that's supposed to support public well being, you're going to come up with all kinds of tactics to try to resist it." This is further reflected in Edelman's 2020 Trust Barometer, illustrating that the government and the media are seen as both incompetent and unethical. Further, a US Pew Research study illustrates an all-time-low public trust in government at 17 percent.
In light of this, it makes sense that peers in community-driven social media groups feel more trustworthy, and therefore more credible, than the government-funded health authorities.
WHAT HAS BEEN DONE TO ENCOURAGE MASK USAGE?
More regions worldwide have been adopting mandatory mask policies along with educational campaigns. However, there is a corresponding rise in anti-mask sentiment. Historically, this is far from the first time the government has faced backlash after a mandate. The 1986 Vancouver smoking ban in public places was met with strong opposition by smokers, while health officers emphasized that "Smokers had the right to smoke, they said, until it conflicted with the rights of non-smokers to breathe clean air."
Seatbelts mandates were hotly contested in early 1980's, despite the purpose being to save more lives. Misinformation that seatbelts were ineffective was widely spread, contributing to a 65 percent opposition to the seatbelt mandate. Of course, the landscape today is very different, with seatbelts being an intuitive and commonplace component of getting into our cars. But this shift in behavior was not without many years of legislative enforcement and corporate cooperation.
What does it take to shift behavior? Kim Lavoie, a professor of psychology in behavioral medicine states, there are three key factors to behavioral change regarding masks:
Awareness of the need to wear masks.
Motivation, such as protecting yourself, loved ones or neighbours who may be vulnerable to serious complications.
Confidence in the ability to execute the behavior.
HOW CAN CORPORATIONS HELP THIS INITIATIVE?
As businesses have mandated masks in public indoor spaces to prevent the spread of COVID-19, frontline workers are often taking the brunt of the heat from the anti-mask crowd. Corporations have been looking for solutions to this, which includes the increase of security measures and implementation of signage. Here is a list of how brands have helped this initiative:
Philanthropic Branded Masks: One intuitive approach has been the branding of masks with beloved, sentimental images such as Disney's Elsa or a sports team logo. Not wanting to appear capitalistic of a pandemic, these corporations who are developing branded masks are donating most if not all of the profits to charities. New subscription service MaskClub has leveraged licensing relationships to focus on masks as an essential clothing item, while ensuring a charitable focus is still at the forefront.
Brand as a Communications Tool: Corporations should publicly drive awareness and importance of wearing masks. Subway India, for instance, has rejigged their logo with a Subway branded mask, communicating the motivation piece with the text "Stay Safe."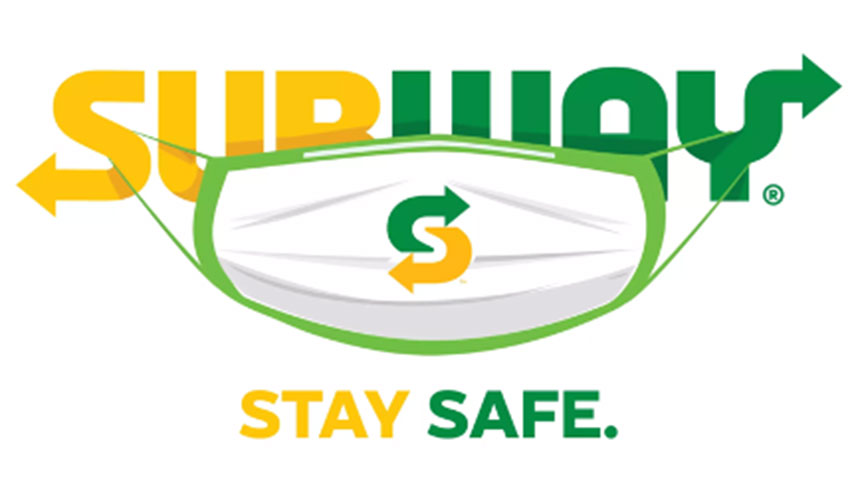 Leveraging Influencers: Regarding a younger crowd, celebrities and influencers can contribute in behavioral change regarding masks. This can often be done creatively via social media platforms to spread awareness and motivation, as was done with beloved figure Bill Nye on TikTok in a humorous and approachable manner. Pop-legend Ariana Grande revealed new merchandise for her album with an exclusive Snapchat selfie Lens, where fans can virtually try a mask and purchase it via the app.
Corporate Gifts: As an employer, corporations can also contribute to this behavioral change via corporate swag. Employers such as Nasdaq are increasingly purchasing branded masks and sanitizers for staff, and promotional product executives have indicated that they've seen a surge in mask orders – though often with a very subtle logo, if any, to avoid appearing exploitative of the pandemic. If employers work to gift their employees masks, it increases accessibility to more people and hence a stronger incentive to wear.
In conclusion, it's clear that masks are here to stay for the near future. It will be up to not only the government but also corporations to encourage usage and drive awareness, motivation, and confidence to change mask behaviors.