With an ever-growing need for things that are faster, smarter and better, customers expect a lot from the brands that they support. Despite this, there are still dreaded friction points along the customer journey that hinder them from buying products and services, making them privy to abandoning their carts and falling right into a competitor's waiting arms. In fact, 70 percent of consumers state that technology helps them take their business elsewhere easier than ever. Having a better understanding of the friction points that a customer may be facing is the first step towards creating a seamless and happy shopping journey. Here are three common friction points that brands need to be aware of:
1. "I don't trust this"
Trust is delicate: it's difficult to earn and easy to lose. A single negative experience will cause 51 percent of customers to never do business with a company again. While working to build and retain this elusive trust, the following boundaries exist:
No reviews/bad unaddressed reviews – Online reviews are trusted by consumers, influencing 17 percent of them. Having no reviews or bad reviews unacknowledged by the company can hinder credibility of their product or service.
Insecure website/payment systems – A PwC study indicates that 57 percent of consumers only use credible/legitimate websites and 51 percent choose trusted providers for making payments. Having an insecure website or unknown payment system can spark red flags for the consumer and make them reconsider their purchase.
Bad return policy – Consumers want the power to change their mind after evaluating a product in person, so it comes as no surprise that a company's return policy influences 23 percent of them. A complicated return policy will prevent purchases from being made at all if the consumer has no option to easily get their money back.
Solutions
Whenever possible, take initiative to gather customer feedback post-purchase. Add a survey to the receipt, or have a push button feedback device at the exit.
Invest in secure websites and provide a range of options for legitimate payment systems.
Ensure all negative feedback is addressed with the unhappy customer and resolved online.
Implement a convenient free returns/return to store system that will provide a satisfaction guarantee, with an option to review the progress of a return online.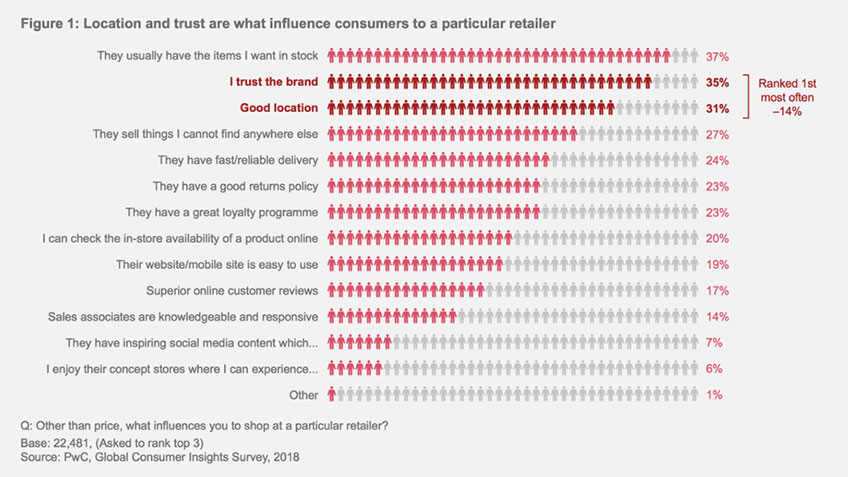 2. "I can't find what I want"
With long aisle's full of product, ads at every physical and online corner, and Google results for "where to buy" anything with billions of results, consumers are bombarded with choice. But among the sea of quality, value and 100 percent guarantees, consumers still somehow cannot find what they are looking for. These are the reasons why:
Item out of stock – One of the most common frustrations a customer faces is when a desired item is not available in the capacity they are looking for (size, color, etc). This also applies when the item online is not in stock in-store.
Poor display of selection online/on shelf – 42 percent of consumers have admitted that they abandon a planned purchase due to an overwhelming amount of choice. This is especially daunting when websites/apps/shelves are poorly designed and look cluttered and endless.
Missing information – Hidden prices or fees will cause frustration, while unclear or lacklustre product/service descriptions diminish customer interest, especially as they highly value transparency.
Unanswered questions – Customers want to get real-time answers and a lacking chat functionality, online FAQ , or unknowledgeable staff in-store will detract their purchase.
Solutions
Analyze purchase trends to ensure inventory is sufficient for anticipated sales.
Ensure items can be ordered directly to a store, and quickly.
Create product displays that are neat and are easy to navigate.
Make sure prices are clearly indicated, including additional fees and delivery.
Uphold a consistent product/service description template, including all relevant information (ie. weight, certifications, ingredients, cleaning instructions, warranty, etc.).
Have in-store staff trained to understand product/service features.
Design online user interfaces that are clean and easy to filter.
Ensure online platforms feature ways to reach out for immediate assistance.
Notify consumers of new stock and alternative options, providing incentive to wait or switch.
Offer personalized offerings whenever possible to reduce risk of too much choice.
3. "This is taking too long"
In this era of instant gratification, customers are expecting to find what they want now, without the burden of filling in tedious forms or waiting. According to a Google study, "same day shipping" searches have increased 120 percent, while "open now" has tripled since 2015. This indicates that in a perfect world, the consumer would think about a product and it would appear in their hands immediately. Unfortunately, this sci-fi-esque concept is still in the making, and the following still plague the modern-day consumer:
Delivery is slow – Expectations for delivery are getting faster as consumers expect real-time updates on where their delivery is and what the ETA will be. Slow or overly expensive delivery will detract a consumer who wants it now.
Too many steps before checkout – 87 percent of consumers say a "complicated" checkout process will make them abandon their shopping cart. This includes forcing account creation before purchase, which will strong-arm the consumer to fill out an additional form with their information.
Long lines – From a psychological point of view, occupied time feels shorter than unoccupied time, dragging out the fact that waiting in line is simply boring. Not only does it decrease the quality of shopping experience, a long enough line will turn away the customer from buying at all.
Long loading screens for website/apps – Consumers don't have the patience to stare at a blank screen, with 40 percent of users leaving a site after only three seconds of delay. Poorly designed websites and applications will significantly increase cart abandonment.
Solutions
Optimize number of checkout counters for time of day and seasonality.
Offer a variety of payment options, including mobile options such as Apply Pay and Android Pay.
Offer a variety of delivery options ranging from same-day delivery to free delivery.
Ensure consumers can access updates on their delivery status.
Make the account creation process as fast and seamless as possible. One way to do this is to integrate with Facebook and Google for autofill capabilities.
Include a Guest Checkout option for those who do not want to set up an account.
Invest in fast and well-designed digital purchase platforms.
In the end, no matter what product you are selling, it is essential to make sure that you understand your customer's pain points and aim to facilitate a shopping journey that is as seamless as possible.