We believe the marketplace is going through significant transformation and these changes offer new opportunities for companies to move beyond brand engagement to full immersion in a brand experience.

Our core belief – immersion – is redefining brand engagement. It is moving from provoking some sort of action among the audience – a tweet, a post, a face-to-face conversation – to creating a place where consumers forget they are even shopping. Immersion blurs the lines between story and marketing, storyteller and audience, illusion and reality. Immersive design harnesses powerful and evolving technologies to create these immersive experiences in which the consumer participates, further leveraging new insights founded on the behavioral science on how people shop and buy. The result not only converts shopper to customer, but builds tremendous bonds between the customer and the brand, between the audience and the story.
Shikatani Lacroix stands for more than the founding partners' last names. Indeed, Shikatani means deer in Japanese. Lacroix is the French translation for cross. The literal translation, deer crossing, symbolizes the intersection of innovative design thinking and understanding of the client's business goals. The interdisciplinary approach, the cross-team exchanges, and the collaborative and inclusive engagement principle represent the method that has become integral to our culture and our way of working. Our method generates this very special landscape; Shikatani Lacroix is the safest place to cross the precarious transformation waters of developing new brands, products, and services.
The decision to purchase is driven by emotion and it is made in the blink of an eye. It happens in the confluence of a rush of senses that immerse the consumer; what we see, what we hear; smell, touch; what ideas we already had about the brand; how what we thought strikes a cord with what we are seeing and thinking in this fleeting moment. We call this the Blink Factor. And coupled with our ThinkBlink process, it drives us to help our clients own an emotionally deeper immersive moment-of-purchase.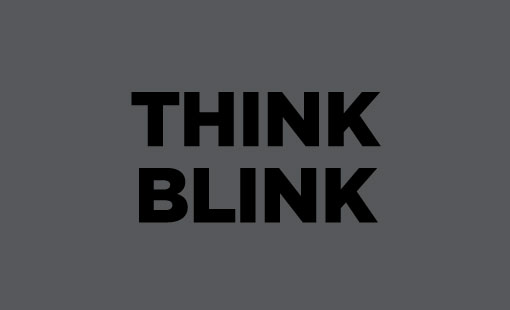 ThinkBlink: Phases of Design Change Management
ThinkBlink process leverages the power of inherent emotional connections at the point of purchase. Founded on a collaborative and inclusive engagement principle and able to adapt to meet each client's unique criteria, the overall process consists of three major phases. Each builds on the learning and insights from the preceding phase:
Establishes the foundation of the strategic branding direction.
Personifies the gathered insights into design foresight.
Delivers executional clarity to the opportunity while ensuring the initial design vision is properly translated to executional elements.
What We Do: Designers of Immersive Experiences
Whether it's increasing traffic, generating sales, boosting monthly transactions or shifting brand perceptions, everything we do is geared to owning a more immersive "at-purchase" moment. Well-credentialed and considered industry thought leaders, we work in just about every visual communication discipline. We combine the expertise and hands on experience of Toronto's largest design firm with the laser like focus and entrepreneurial passion of a boutique agency.
National and Independent
Branding
Structural Design
Food Service Merchandising
Final Artwork
Print Production Management
Corporate and Service Industries
Branding
Identity
Brand Standards and Stewardship
Employee Engagement
Asset Management
Institutional, Educational and Corporate
Wayfinding Systems
Corporate Wayfinding Systems
Message Schedules
Graphic Design
Signing Key Plans
Implementation
Retail, Corporate and Foodservice
Interior Design
Space Planning
Working Drawings
Rollout Management
Tendering
E-Commerce Websites
Mobile Apps
Sales Force Tablet Integration
Digital Signing
Interactive Media
Virtual Reality and Augmented Reality Applications